Active Adventure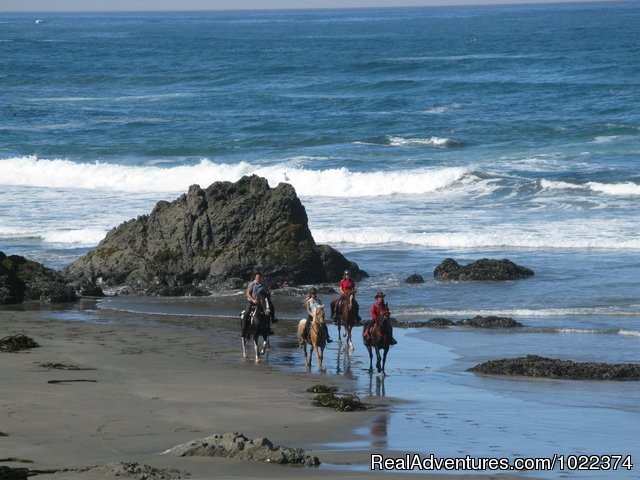 horse back riding
along romantic California beaches and in magnificent Redwood forests, through vast cattle and horse ranches, under Virgin Redwoods. Ricochet Ridge Ranch offers adventure vacations and daily
trail rides
. Horseback holidays touring the Mendocino coast in N. California are complete with lodging at unique Bed & Breakfast Inns, elegant dining with select wines, hot tubs and internationally acclaimed musicians entertaining you at night. Lari Shea, successful horse trainer and competitor (winner of the 1989 Tevis Cup 100 Mile Endurance race, and many others), offers exceptional Arabian, Quarter Horses, Russian Orlov, Akhal-Teke, Tennessee Walkers and Appaloosa horses, many of whom have won in dressage and endurance, English or Western styles, suitable for novice through expert riders. Treks last 1-6 days year round, and range from $295-$2295 in cost. Custom and shorter rides, including $45 group
trail ride
s on the beach, scheduled daily by appointment. You won't believe the quality of the horses!
Typical Day
We offer 1 1/2 hour, 3 hour, 4 hour, and all day rides, in addition to spectacular riding vacations in Mendocino, California, Australia, Africa, and India. A typical day is spent riding on the Ten Mile Beach, through vast cattle ranches overlooking the Pacific ocean, and in the magnificent redwood forests, with opportunities for experienced riders to trot and canter for miles. Novice riders are welcome, and will receive plenty of instruction. Pack lunches available for All Day trailrides.
Age range, type of group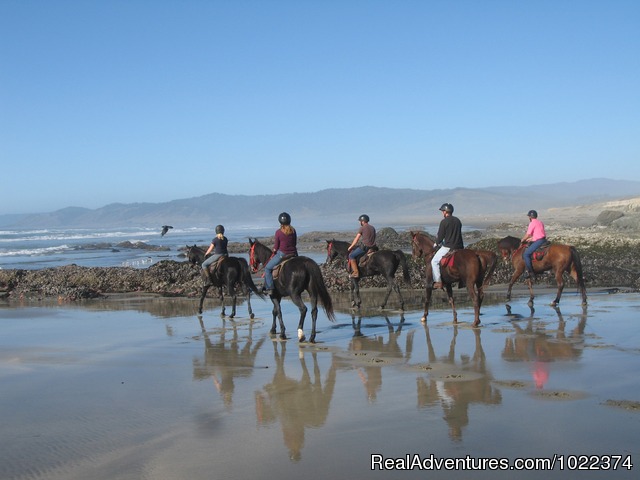 We accept riders age six and up. In fact, 98 year old Connie Reeves joined one of our riding vacations and had a fabulous time! Horses are available to suit all riding styles and abilities.
Sleeping and meals
Packages vary, from a 1 1/2 hour group trail ride on the beach, to an all inclusive week long riding vacation. Horseback holidays touring the Mendocino coast in N. California are complete with lodging at unique Bed & Breakfast Inns, elegant dining with select wines, hot tubs and internationally acclaimed musicians entertaining you at night. Multi-activity vacations are available, including our exclusive Equine, Wine & Song Redwood Coast Riding Vacation, which includes the world famous Mendocino Music Festival, and our Surf and Turf Packages. Special events, proposals and weddings on horseback, corporate outings, girl/boy scout troops, all welcome!
Restrictions

Please, bring children after they have reached the age of six. Liability release must be signed by parents/legal guardians (the form is available to print from our website if parents won't be present).
Rates

Rates vary, starting at $45 per person for a 1 1/2 hour ride on the beach, to $2245 for an all-inclusive week-long riding vacation package, including lodging at unique B&B's and boutique hotels, fine dining, California wines, entertainment two nights, a party another night, with massages and hot tubs available locally [private treaty].
Other Information

Read about us in articles published in Conde Nast Traveler Magazine, New York Times Travel Section, Cowboys and Indians, Practical Horseman, Horse and Rider, TrailBlazer, Trail Rider and other magazines. Links and articles on our website.
Discounts Offered

Sign up 10 people for any ride or vacation, and you ride free!Contact Owner For More Information »