Surrounding Area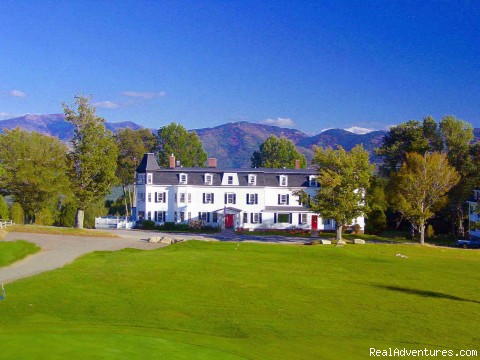 Robert Frost lived here and wrote "The Road Less Travelled" while inspired by the same mountains that you will enjoy. Franconia Notch State Park ("one of the 10 best state parks in the United States") probably has the greatest concentration of natural attractions in New England. Most famous is NH's "Old Man of the Mountains" as featured on our state quarter. There's also the Pool, the Basin, Boise Rock, the Flume, Cannon Mountain Aerial Tramway (first in America), downhill skiing (highest vertical drop in NH), Boating, Biking, Hiking (the Appalacian Trail runs through the park). Sugar Hill, our village, has its own charm and offerings. In the book "New England's Most Beautiful Villages, it is just one of three NH villages chosen for inclusion. Nearby there is considerable antiqueing, shopping, golf courses, covered bridges and cultural events, seasonal festivals and other things to do. There are also numerous tourist attractions such as Clarks Trading Post, Storyland, Heritage New Hampshire, Cog Railroad and Auto Road to the summit of Mt Washington, Santa's Village, scenic Train rides etc. In short, whether you are looking to relax with a book and the mountains or want to be on the go every day for a week, there's plenty to do and see.
Accommodations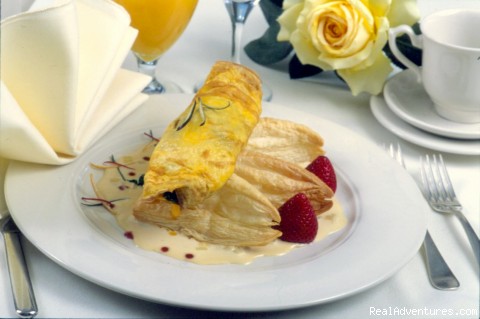 The present-day
inn
began life as the primary annex building for one of the largest of the White Mountain's storied grand hotels. The original Sunset Hill House could accommodate 350 guests, had over 200
guest rooms
, the longest porch on a single side in New Hampshire, garage for 50 automobiles, casino, bowling ally, and golf course (Bobby Jones played here). The main hotel was torn down in 1974 due to an aging infrastructure when the present-day inn began its present existence as destination lodging in a small resort setting. Built over a 50 year beginning in 1880, the main inn remains true to it's 2d Empire Victorian heritage with Mansard roof, dormered and bow windows and corner tower. Our annex building "Hill House" was built in 1910 as a 13 room "cottage" for the Hill family. Later on, the building became part of the hotel and was converted to 7 guest rooms plus servant's quarters and an owner's apartment. All public areas are in the main inn and take up most of the terrace and first-floor levels. Across the back of the building are four fireplaced dining room overlooking the Presidential, Franconia, Kinsman and Dalton ranges of the White Mountains. In front, facing the golf course and Vermont's Green Mountains, are three fireplaced living rooms, our reception area and our tavern. Rooms at the inn range from the traditionally simple and comfortable to opulant. All rooms have private baths, telephones for outgoing calls and views of either the White or Green Mountains (suites have views of both). We have three classes of rooms. Traditional rooms have bed sizes ranging from a pair of twins or doubles, but mostly queens and kings. Two traditional rooms also have private porches. Our Grand rooms have either a 2-person Jacuzzi or a gas fireplace or a large private deck overlooking the White Mountains. All beds are either queen or king sized. The suites include a seperate living room, seperate bedroom with King bed, 2-person Jacuzzi, gas fireplace and views of both the White and Green Mountains. One suite also has a wetbar and private deck overlooking the White Mountains. Please visit our website at
Rooms/Suites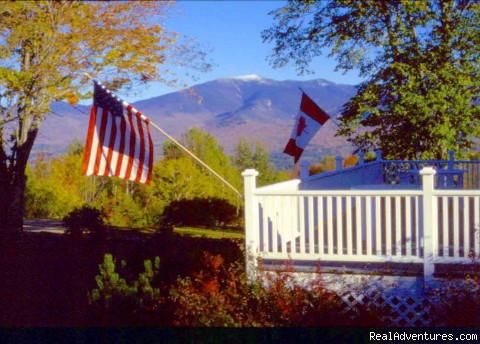 All rooms have private bathrooms and views of either the White or Green Mountains and AC. Traditional rooms have twins, doubles, queens and kings, but no extra amenities such as Jacuzzis or fireplaces. Grand rooms have queen or king beds and either a fireplace, a 2 person Jacuzzi or a private porch. Suites have a King bed, a separate living room, a separate bedroom, gas fireplace, 2-person Jacuzzi, and views of both the White and Green Mountains.
Other Information
Large (2000 square foot) meeting room with 16x80' deck overlooking the Presidential, Franconia and Kinsman ranges of the White Mountains. Ideal for small conventions, specialty shows, and weddings. Up to nine private breakout rooms and areas.
Discounts Offered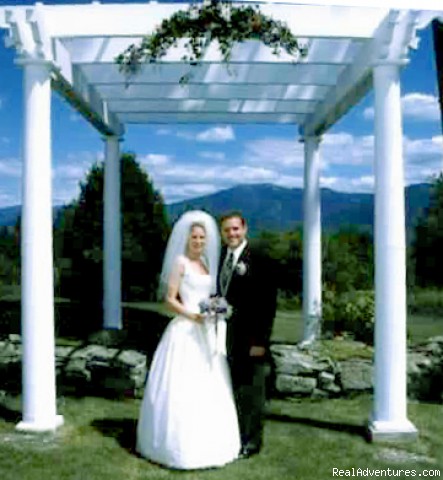 Active-duty military, 50% off midweek any room non-foliage.Numerous special events--check our website for details.