ELEGANT and LOW-COST APARTMENTS IN PALERMO CENTRE
Palermo, Italy Vacation Rentals
Surrounding Area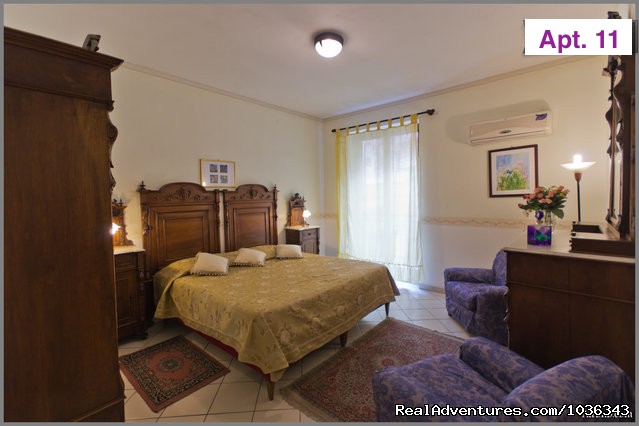 Free WI-FI, Air-Con, Sat-TV Elegant Apartments in the Historical Centre of Palermo
Our Apartments are elegant, fully-equipped and charmingly furnished in an elegant Mediterranean style. They are located in a distinguished and totally refurbished building (with elevator) of the end of the 19° century, situated in the Centre of Palermo, 5 minutes walking from POLITEAMA THEATRE, the main square of the city and the heart of Palermo Centre!
The location is perfect as a base for visiting the best shops of the centre, cafes, bars, Arabic-Norman churches and every architectural and historical treasure of Palermo, all of which are very close by. A short walk will take you to the Massimo theatre, the Archaeological Museum and the hidden marvels of the city! Night life is exciting as well: shows and concerts are nearby!
Vacation Rental Property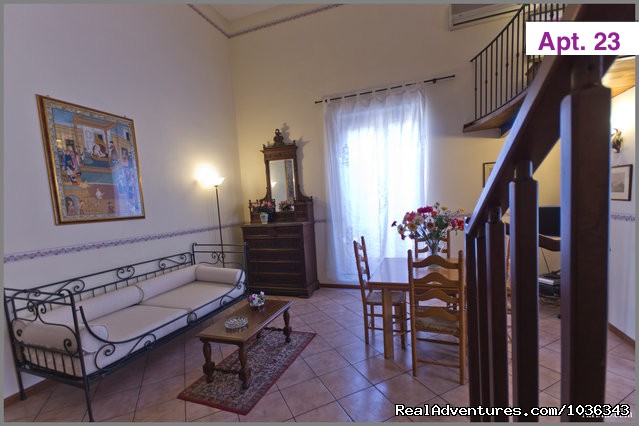 We are also very close to an old and traditional market called "BORGO VECCHIO", in which you can find all kinds of typical Sicilian products (all that you will NEVER find outside Sicily - trust me, I speak out of experience...) and also the best fresh fish, just caught the night before!
Sleeps & # of Bedrooms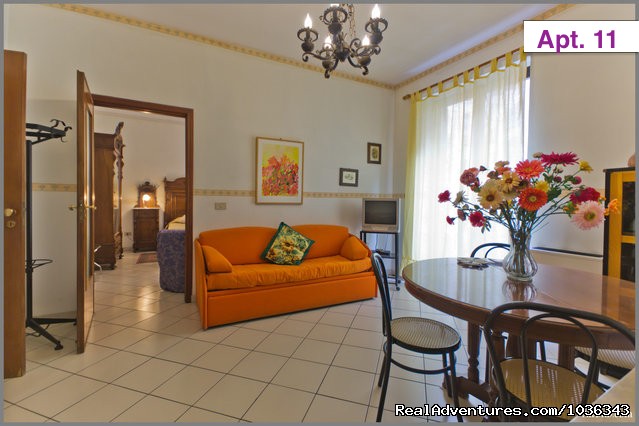 Our elegant apartments are fully furnished in an elegant Mediterranean style. The two-roomed apartments are all composed of spacious living-room, elegant bedroom, bathroom with shower, and a spacious cooking area or separate kitchen. The Studio apartments, elegant, bright and spacious, are composed of a large and comfortable room, a bathroom with shower, and equipped with a fully-equipped cooking area as well. The cooking areas are all fully furnished with pots, cooker, microwave oven, refrigerator, freezer and all kitchenware.
Amenities
Politeama Theatre Square is really the heart of the city! The bus stop from / to the Airport is just 200 meters far from us! From Politeama Theatre also starts the double-decker tour bus that takes you on a scheduled panoramic tour of Palermo with an English-speaking guide. Also - and MOREOVER - Politeama Square is ideally connected by public transportation to the famous SAND BEACH OF MONDELLO: about 10 minutes by bus or air-con luxury coach (they both cost just 1 euro!)
Services Offered


They are also provided with: Free WI-FI, Air-conditioned, heating, SAT TV, Bed linen and bath towels, Iron and ironing board, Hairdryer, Cot, Washing Machine on request. Tours desk, Free luggage storage, Free Internet Point. Private Kitchen and stove tops included
Policies & Restrictions
We don't normally offer check-in after 11 PM. However, if you let us know in advance, we would be glad to wait for you - we would just have to ask you a small fee for the extra-work of the porter.
Rates & Availability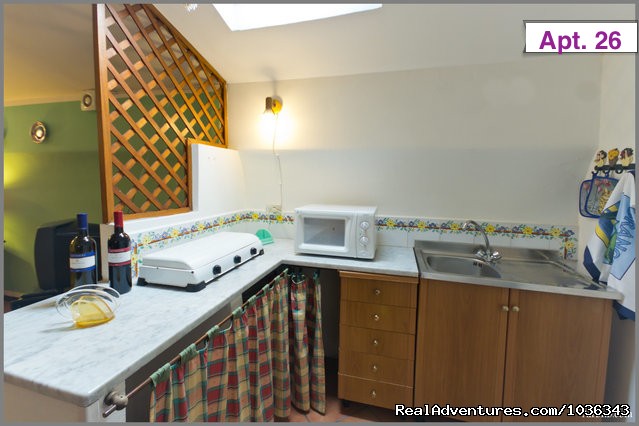 DAILY PRICES (per person):
1 person: euros 41.90
2 person: euros 22.50
3 person: euros 19.90
4 person: euros 18.90
5 person: euros 18.50
6 person: euros 17.90
7 person: euros 16.90

Weekly prices:
2 persons: euros 279 / 299
additional bed: euros 30 each
final cleanings: euros 30
Directions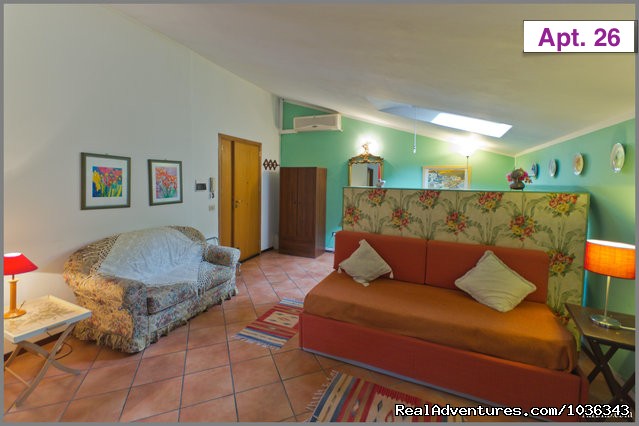 The easiest way to arrive:
Getting out of the Airport, walking 30 meters on the right, you will see the coach "Prestia e Comandè", which starts every 30 minutes, and takes about another 30 minutes to arrive. It costs 6.50 euro per person.
Get out at the "Porto" bus stop, which is just behind Politeama Square. Then, walking with the seaside on your right, in 120 meters you are arrived!
On your left side you will see a street departing from the Seaside, called "Corso Domenico Scinà". Our Apartments are at the n. 27.
Discounts Offered
Our guests are always happy with us, and many of them come back!
This is the most rewarding part of my job: helping people to feel at home with us!