Activity/Tour
whale watching tour
aboard New Brunswicks most beautiful tall ship. See whales, seals, porpoise, eagles and more in the Bay of Fundy.
Classic wooden spars, teak decks, hemp line and memories of a lifetime.
Comfortable seating, licensed bar. Homemade soup included.
Full cabin, salon, galley, washroom below.
Jacket and blankets available.
Typical Day
Enjoy your complimentary breakfast or homemade hot soup while you enjoy the lighthouses, beautiful islands and the wonderful wildlife.
Guests may participate in hauling up a sail, steering the boat or sitting back and enjoy the sights with a beer or wine from the licensed bar.
Plenty of children's activities including a touch tank with starfish and crabs, pirate costumes, whale coloring. Homemade hot soup pm tours and breakfast am tours included. Plenty of humour and a few tall tales. Meaningful encounters with whales exceeds 95%!
Discounts Offered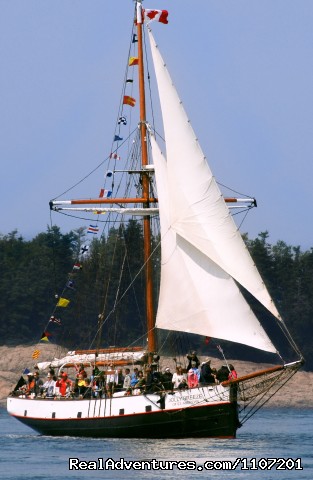 13% tax free discount with local hotel stay the night before for am tours.
Complimentary breakfast am tours. Complimentary homemade soup and crackers pm tours.