Active Adventure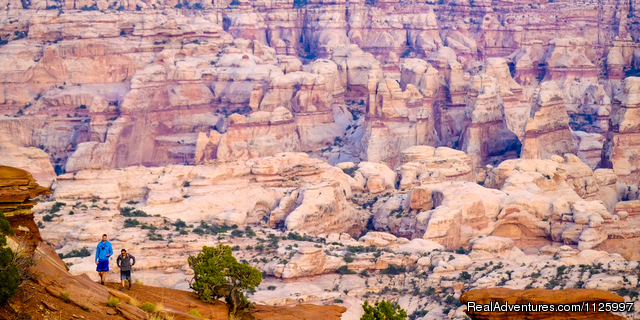 Cutting the second deepest canyon in North America, the Salmon River is a clear mountain river with pine forests and white sandy beaches. The canyon abounds in deserted homesteads and, of special interest to river travelers, natural hot springs: aah…feels good. One crowd appreciates this road-less country even more than us. Deer, bighorn sheep, moose, birds of prey, elk and the frolicking river otter call this refuge home.
Translucent emerald water, responding to the drop and irregularities of the river bottom, form over forty rapids. That means you have first class whitewater on each day of the trip. Around July the hands-on types can request inflatable kayaks and meet the Salmon River whitewater on their own terms.
Typical Day
Day Two- Day Five: Each day brings new discoveries: exciting rapids like Black Creek, Bailey, 5 Mile, Split Rock, Big Mallard, Elkhorn and Growler rapids, historical sites such as Buckskin Bill's homestead and Jim Moore's place (maybe you'll find the fortune he buried in the hillside!), and the much anticipated Barth Hot Springs. Visit Barth Hot Springs, known as the best hot spring in the Pacific Northwest. We may stop and visit with several families that live along the river year round and they will share their stories of living "off the grid" in the wilderness and take us on a tour of their homesteads. Visit with Sue and Greg Metz at Yellow Pine homestead, Doug and Phyllis Tims at Campbells Ferry homestead and Five Mile Bar, the home of the river's most famous resident "Buckskin Bill". There are abundant hiking options up many of the side drainages. Hike up Indian Creek to visit very rare 2,000 year old Yew trees, also called the immortal tree, which the Plains Native Americans used to make longbows from the wood. Hikes up Chamberlain or Bargamin Creeks give you another perspective of the river or hike up to Rabbit Point for amazing views.
Day Six: We float for 5-10 miles this morning and run challenging rapids like Chittam and Vinegar Creek and arrive at the take-out at Carey Creek around 10am. Please see section below on "last day of trip" for logistics today.
Age range, type of group

Singles, Families, Couples
Sleeping and meals

Camping along the river beach. Guides prepare meals starting with lunch the first day and ending with lunch the last day.
Restrictions

Minimum age of 8 years
Rates & Availability

6 Day Rate $1,699 per person. Group, Senior (65+) Rate $1,530 and Youth (18 and under) Rate $1,299Get More Information or Make Your Reservation »