Cruise Boat
MV Celebes Explorer
, is the only liveaboard diving around Sipadan area. We provide diving around Sipadan, Mabul, Kapalai and Si Amil islands. A week cruise with us will have 4 full days of diving (4-5 dives subject to weather condition) in Sipadan, which is well known for its Si Amil which is full of soft and hard corals as well as macros. All the diving activities are conducted through our chased boat which can comfortably fit in 10 guests at any one time. Our liveabord will overnight either at Mabul or Si Amil islands.
MV Celebes Explorer is 29 M (99 FT) long with draft of 2 M (6.6 FT).
Onboard CE, all our 8 cabins, double bed and double decker, are private ensuited with hot water shower and air conditioned. Our spacious air conditioned saloon area are able to accommodate 16-20 guests comfortably to dine and chit-chatting at any one time. There is also a roomy sundeck on the top deck with sun beds for our guests to rest and relax. For guests who bring alone cameras, we have a camera rack for charging purposes just before the entrance to the saloon. The power supply onboard is 240 V. Our changing area at the back of deck is also roomy enough for guests to change before and after diving. A wash area is at the back lower deck with fresh water hosts for rinse purposes.
All together there are 12 crews and dive guides onboard to ensure our guests safeties and enjoy their dive holiday with us. With MV Celebes Explorer, our guests will be able to dive Sipadan in comfort everytime.
Typical Day
In the interior and at higher altitudes it can get quite cold at night. Relative humidity is usually 85-95 per cent.
Rainfall is common throughout the year, and varies from about 150 cm (60 inches) to over 450 cm (180 inches) per year. In most parts of Sabah the wetter period occurs during the North East Monsoon from October to February and the drier season during the South West Monsoon from March to September but often there is no really sharp division between the two. It is sufficient to say that on the whole, sunny blue skies are the norm but when it rains, the heavens open.
Sleeping and meals
The food served on board are authentic Asian cuisine buffet style inclusive in the package. A 24 hour self-service hot beverage corner as well as a supply of biscuits and bread with toast on the side for the convenient of our guests.
There are other chargeable items on board like soft drinks, beers, wines, mineral water and t-shirts.
Other Information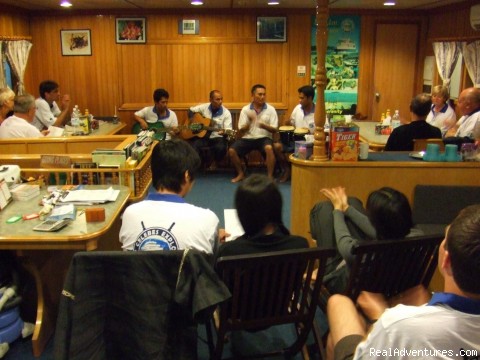 BGB Country Tours & Travel (Borneo) Sdn Bhd (KKKP 4669)
Lot 29, Ground Floor, Karamunsing Godown, Jalan Karamunsing,
88800 Kota Kinabalu, Sabah, Malaysia