Active Adventure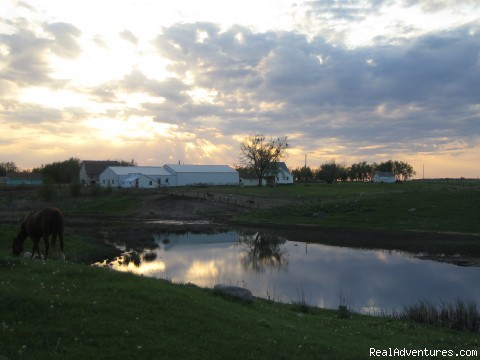 At Pheasant Phun we custom fit the adventure with the guests needs and wishes. Every fall the ranch offers guided all inclusive wild pheasant
hunting
. The rest of the year our guest enjoy many other outdoor activities. Please call and let our staff help customize your trip to South Dakota. Corporate Events and Groups welcome. We do it all from weddings to birthdays.
Typical Day

Phun, Phun, and more Phun. Custom tailor your South Dakota Holiday here. Call to reserve the PHUN BUS to Tour South Dakota. See pheasant, deer, waterfowl, and other our local neighbors on daily treks. Sunsets are the best, stars at night will amaze you.
Age range, type of group

All ages welcome to the ranch, our guest can also request exlusive use of the lodge for either group. Special rates apply.
Sleeping and meals

Rustic upscale western lodge is cozzy and comforatble. Tile and wood floors throughout, four fireplaces welcome you to snuggle in a well desirved rest. Fine linens and pillow top matteresses for your comfort on every bed. Home cooked meals as well as wonderful suprise dishes are enjoyed daily. Nature just footsteps away from the lodge door. AWESOME.
Policies & Restrictions

No smoking inside the lodge, smoking locations are availible away from the main lodge building. Pets welcome as we have a onsite kennel. We are an equine friendly lodge as well.
Rates

Call for info and bookings
Other Information

Custom adventures start at Pheasant Phun. Olsen's OJ Bar Ranch welcomes your group with wonderful Hospitality.
Discounts Offered

Member discounts availible, please ask when booking.Get More Information or Make Your Reservation »