Activity/Tour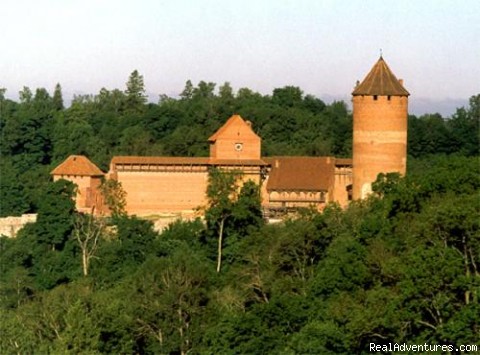 Riga Old Town tour (from 5,00 Eur/pers.)
This tour will give you chance to get acquainted with Old Riga and most famous architectural monuments: the Freedom Monument - the symbol of Latvia's independence and strength, 13th century St.Peter's Church, St.George's Church, St. John's Church, a part of restored city wall and the medieval John's yard.
Than you will walk to the heart of old Riga - the Dome Square - Dome Cathedral and learn about the famous 19th century organ - one of the biggest organs in Europe.
The route also includes visits to the medieval dwelling houses "Three Brothers", 13th century St.Jacob's Church, 14th century Riga Castle, Convent Yard, The Philharmonic Square, the Saeima building, Jacob's Barracks, the Powder Tower and Smilsu street, the Swedish Gate (inspired numerous myths and legends) and the Latvian National Opera.
Art Nouveau in Riga (from 5,00 Eur/pers.)
Riga is mostly known for being the capital of Art Nouveau architecture. In Riga, more than one-third of the buildings in the city centre are Art Nouveau in style - no other city in Europe comes close.This style dominated in Riga at the end of the 19th century and at the beginning of the 20th century for a short time and it left behind extraordinary colorful architectural examples.
Art Nouveau stresses a complete creative freedom, an expressive flight of fantasy with a tendency to show all utilitarian construction elements as artistic value. Characteristic features of this style are sinuous lines and geometrical ornaments, divided into two main directions in Riga: decorative and romantic nationalistic Art Nouveau.
The most beautiful street of Art Noveau in Riga is Elizabetes. In addition to Elizabetes Street, Alberta and Strelnieku Streets are also feature impressive examples of the style.
In total, there are about 800 Art Nouveau buildings in Riga, but finding them all would be quite an ambitious undertaking, so we will try to guide you to the most noteworthy one.
Ethnographical Open-Air Museum (from 9,00 Eur/pers.)
The museum was founded in 1924 and now the Latvian Ethnographic Museum is one of the oldest open-air museums in Europe. Historical dwellings, peasants', fishermen's and artisans' homesteads, a tavern and windmills have been gathered here from all over Latvia. Masters of 18 different crafts demonstrate their work: spoon-carvers, bee-keepers, potters and others. The collection contains 100000 items.
Jurmala resort (from 10,00 Eur/pers.)
Jurmala - the largest resort city in the Baltic States is well-known for its natural treasures-the mild climate, sea, healthy air, curative mud and mineral water and 33 km long white sand beach.In Jurmala you will discover a combination of charming wooden houses built in the beginning of the last century and modern resort buildings.
You will enjoy a walk along the central pedestrian Jomas Street with its numerous cafes and souvenir shops and local amusemens and feel the typical Jurmala atmosphere, you will see Sea Pavilion, Jurmalas "Globe", Sculpture "The Turtle", Former Swimming Establishment of E.Racene and visit other places in Jurmala.
Sigulda & Gauja National park (from 10,00 Eur/pers.)
Sigulda is one of the most picturesque towns in Latvia in the Gauja River valley, situated in the Gauja National Park and is known as the most popular tourist and leisure destination as well as famous winter sport resort in Latvia because of its bobsleigh track and the down-hill skiing routes.
You will see the Medieval Sigulda Castle, Sigulda new Castle (Kropotkin Palace), Turaida Medieval Castle, visit local history museum, Gutmana cave, Krimulda Manor and other historical and natural objects
Cesis Medieval Town (from 12,00 Eur/pers.)
Cesis is an ancient, little town placed 90 km from Riga. And it's really ancient! In 2006 Cesis had 800th anniversary celebration.Cesis has unique medieval atmosphere, wonderful nature to be found around the town, interesting festivals and different recreation opportunities.Taking a walk along Cesis tiny streets, you will get a flavour of this medieval town, see St. John's Church-the largest church in northern Latvia, Council House, Trader's House, Harmony House and the Princesses House, as well as discover the magic of the Livs and Rose Squares. Guide will introduce you to the Cesis Castle complex and will show you the Castle Park that adjoins the Old Town where will see the Nut clan – Cesis oldest resident, - and its Castle mound.In the second part of the excursion you will have the chance to be introduced to a witness of recent history – the Victory Monument which is dedicated to the memory of those who fell during the battles for Latvia's freedom. Also you will see other historical and beautiful places of the city.Cesis is one of the Latvia's towns that is really worth to see. Enjoy it!
Rundale Palace (from 12,00 Eur/pers.)
Rundale Palace is one of the most outstanding monuments of Baroque and Rococo art in Latvia. It was built between 1736 and 1740 as a summer residence of Duke Ernst Johann of Courland.The Italian architect Francesco Bartolomeo Rastrelli designed Rundale Palace and supervised construction work.The major part of the interior was made in the period between 1765 and 1768.