Surrounding Area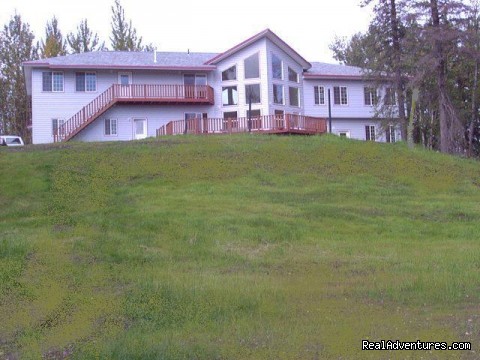 We are conveniently located only 2 miles out of Palmer, on a beautifully wooded 15 acres with peaceful walking trails, a barn with the sheep we raise, and the moose who meander through our back yard. The most incredible thing we have to offer is the spectacular view of the surrounding mountains. Featured on our opening page is just part of our view!
Accommodations
The suites are equipped with kitchenettes housing a microwave oven, toaster oven, coffee maker and compact refrigerator/freezer. Once booked, each is stocked with coffee, creamer, sugar, flavored teas, hot chocolate, peanut butter, fresh fruit, fresh pastries, muffins, instant oatmeal, cereal, milk, orange juice, apple juice, bagels and creamed cheese, bread, butter, jelly, and many other extras.
The Main house kitchen, is available for your use. A large freezer, and additional refrigerator are also available in the garage. For an undesignated donation amount, our washer and dryer may be used, laundry soap is provided.
We have lengthy extension cords and electrical posts outside for vehicle plugin if needed.
Amenities
Each of the 5 Rooms/Suites will provide the following amenities for our guests: The items are either located in the room or stocked in the adjoining restroom.
* TV/VCR/DVD; stereo, cassette, CD Player
* Telephone, additional computer modem jack (labeled FAX)
* Wi/Fi Broadband Internet
* Convenient and emergency phone numbers, including restaurants, etc.
* Flyers, pamplets and maps for vacation activities and tourist attractions
* Alaskan books and magazines
* Extra blankets and pillows
* Ironing board and iron
* Fire extinguisher
* Cards, board games and puzzles
* Blow dryer and curling iron
* Scissors, tape, and Miscellaneous toiletry needs such as cotton balls, Q-Tips, conditioner, shampoo, lotion, individually wrapped soap and homemade soaps.
All 5 bathrooms are fully stocked with all the above, including extra towels and washcloths, feminine needs, and paper cups.
Rates & Availability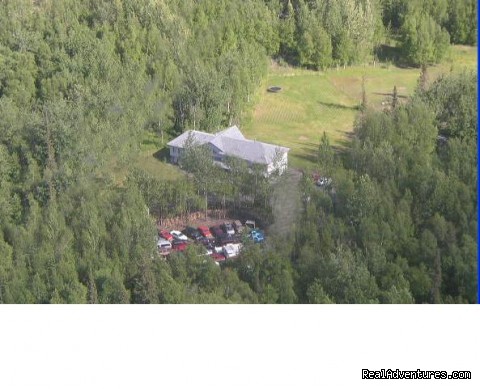 Reservations
If you'd like to make a reservation, you can either email or call us, and have the following information ready:
* Name
* Mailing Address
* Phone Number
* Arrival and Departure Dates and Times
* Number of People
* Number of Rooms
* Credit Card Number and Expiration Date
Rates & Policies
* Bear's Den$100.00/night
* Reindeer Room$100.00/night
* Creekside$100.00/night
* Gold Mine$100.00/night
* Pioneer Suite$135.00/night
* Colony House$160/night OR $500.00/week + utility deposit of $100.00
All rates are single/double occupancy per night
$15.00 per extra person per room (applies to those over age 10)
Rates do not include the Alaska state required 5% bedtax
MasterCard and Visa, cash, local checks and Traveler's checks accepted. No charges until you arrive. Credit card number and expiration date required to hold room reservation.
Cancellation Policy:
No charges if canceled prior to 14 days in summer months (7 days prior in winter) from date of your first reserved night of stay. Cancellation fee charged to your credit card in the amount of the first night's stay for each room reserved.
Reservation implies agreement with cancellation policy.
Check In: Anytime after 4PM
Check Out: 11:00 AM
(unless prior arrangements are made)
Alaska's Harvest b&b is a member of Greater Palmer Chamber of Commerce, Alaska's Mat-Su B&B Association, and the B&B Association of Alaska.
Directions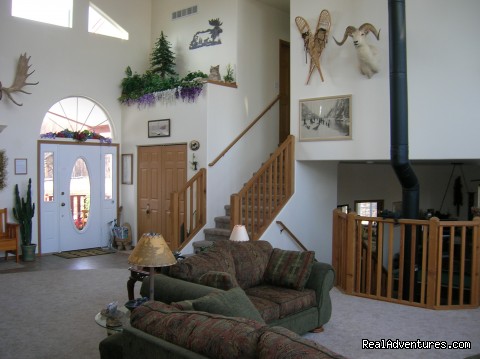 From Anchorage: Take the Glenn Highway to Palmer. The road will come to a street light that intersects at Glenn Highway and Palmer/Wasilla Highway. (at this corner there is a McDonalds, Chevron and Carrs) Take a left onto the Palmer/Was highway and go 2.2 miles to Arabian Ln. Turn right (or North) onto Arabian Ln and go .6 of a mile until you take a right onto Harvest. Pass only one house on the right and take the very next right onto Love Dr. That is a cul-de-sac and we are the entire end of that road.. drive straight ahead and you will come straight up our driveway. 2252 Love Dr. Palmer, AK 99645