Surrounding Area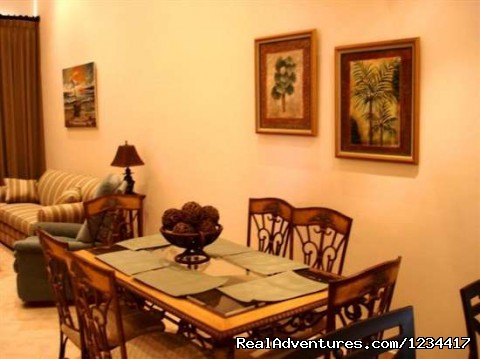 The La Tortuga at Sunrise Condominium
View beautiful sunrises and sunsets from the ocean view penthouse level of Sunrise Condominiums. Look down on a beautifully designed private pool. Cross the street and SURF'S UP! Beautiful sandy beaches welcome you.
As your surfing skills improve, go just around the bend to Playa Grande to catch even better waves or take a trip to Witch's Rock with a local surf company. If you are not into surfing, do not worry. There is a golf course just minutes away, or fabulous tours can be booked through local tour companies daily. Test your nerves on the many Canopy Tours offered where you will soar through the trees like monkeys.
Visit local national parks with birds, monkeys, and various other animals. Watch turtles nesting on the beach or visit a nearby volcano. Check out the natural hot springs and mud baths while you are there. Hike or horseback through a rain forest. Try your luck at sportfishing, or just relax.
Vacation Rental Property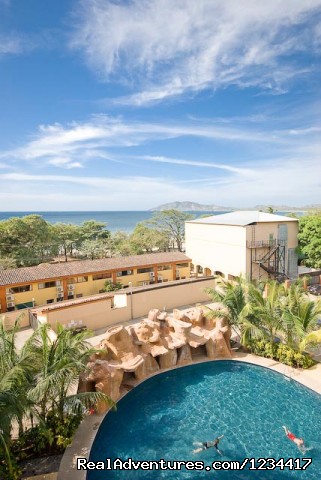 General:
• Paper-Towels • On site security
• Maid service (2 times a week) • Toilet-Paper • Soaps-Basic
• Towels provided • Linens provided • Ceiling-Fans
• Air-conditioning
Kitchen:
• Refrigerator • Oven
• Blender • Washing machine • Clothes dryer
• Coffee maker • Iron & Board • Ice-Maker
• Toaster • Microwave • Cooking utensils
Dining:
• Dining area • Seating for 6 people
Bathrooms:
• 2 bathroom(s) • Both - Toilet, Shower
Bedrooms:
• 2 bedrooms, sleeps maximum of 5 people • Bedroom 1 -1 King
• Bedroom 2 - 1 Full Size Bed
Living Room:
• 1 Sofa bed
Entertainment:
• TV
• Cable
Internet Access:
• Internet access • Wireless broadband
Outside:
• Dedicated parking • Balcony
• PA • Garden
Swimming Pools:
• Outdoor pool
Suitability:
• Children welcome • Pets not allowed
• Long term renters welcome • Elevator
Local Activities:
• Swimming • Tennis
• Mountain biking • Sailing • Fishing
• Deep sea-Fishing • Surfing • Nature Walking
• Mountaineering • Cycling • Horseback riding
• Scuba diving or snorkeling • Golf • Hiking
• Sight-Seeing