Active Adventure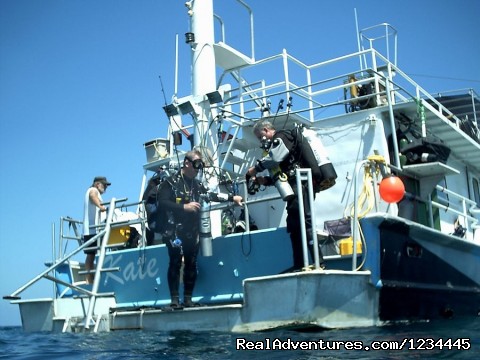 When a diver swims over a coral garden, the abundance of life creates a spectacle difficult to imagine. The first to attract the eye are the many dazzling fish that move with endless energy.
These coral reefs and wrecks are the domain of where many of our earth's most beautiful and bazaar creatures make their homes.
The diversity of the exotic and colorful species can only be rivaled by the worlds great rainforest's.
Think of what wonderful things can be accomplished by those individuals, who some how muster up the courage to leave the domestic life behind for a little while, in pursuit of a dream that will take them on a great adventure aboard the vessel "KATE" with a well trained and experienced crew that are there for you at all times to help you in your pursuit to explore our Earth's most diverse and visually stunning ecosystem.
So please come and join us in our travels exploring the endless wonders of the seas.
Typical Day
scuba diving
in warm, tropical water is great enough, but when you combine the perfect water conditions with amazing visibility and underwater life, then you have incredible
scuba
diving destinations. The list of shipwrecks that we have here are unparalleled to none.
These are just a few of the ships that we have to choose from to play with here in the Keys. Think about it no passports, no customs to deal with just great food, great friends and great diving.
Just a few of the Wrecks we have to choose from for our dives:
· USS Spiegel Grove
· USCGC Duane
· USCGC Bibb
· Eagle
· Benwood
· City of Washington
· Thunderbolt
· Adolphus Bush
· Cayman Salvager
· USS Curb
· Joe's Tug
· USAFS Gen Hoyt S Vandenberg
A few Reefs waiting for us to dive
Carysfort
The Elbow
Dry Rocks
Molasses
Conch
Davis
Hen and Chickens
Alligator
Coffins Patch
Sambo
No hidden fuel charges or port taxes
Price for this trip is $1,980 plus tax
Upper Keys Shipwreck Medallion included in package
Price includes:
All meals, snacks, iced tea or lemonade, liveaboard accommodation,
dive tanks (aluminum 80's 3000PSI), air fills, weights and belts
NITROX available for extra charge
Please feel free to bring your own sodas, wine, beer or liquor
Advanced Diving certification and Dive Computers are required for deep wreck dives. If you are not Advanced certified contact me and I'll tell you how we can make this happen during your trip.
You may board the "M/V KATE" anytime the evening of the first day after 7:00 P.M. and put away your gear. This is a good time to meet the crew and get acquainted with the vessel. We have a great local pub next door called "Shipwrecks" this is a great place to have some great food at reasonable prices. We will meet back at the boat at 10:00 P.M. to address paperwork and briefings.
Sometime around 6:00 A.M. the "KATE" will head out and hook up to the mooring balls at the first dive site.
You will awake to a wonderful breakfast prepared by our infamous galley wench Pasha. As soon as you are ready you can start your first dive of the day. We normally pick a shallow dive, something in the 30 foot range or less, to get everyone acquainted with the Florida Keys water. (and your weight adjusted.) Dive two will be a deep wreck such as the USS Spiegel Grove followed by a reef dive. By now it should be close to lunchtime and Pasha will have us a hardy meal spread out in the galley. This is followed by two more dives, and then a nice home cooked dinner. Weather permitting after dinner we will do a night dive on a shallow reef. After that its time to anchor up in a nice protected area and settle in for the night, maybe watch a movie from Capt Scotty's collection or maybe watch some video that one of the guest shot during the day or just set up on the top deck and watch the stars and enjoy the night air.
The schedule for the whole week will be very close to this. We will travel more than 200 miles up and down the wonderful Florida Keys coast line making our journey. We will be diving the best reefs and shipwrecks that the Keys have to offer. We will return to our dock around noon on the last day.


Capt Scotty