Active Adventure
Enjoy
horseback riding
the thousands of acres in the beautiful Florida
horse park
and Cross Florida Greenway trail system. We offer rides for beginners through advanced riders. All rides are guided and we have GREAT horses! With over 90,000 acres of trails, the riding is simply unlimited. We can take you riding for an hour, or on an all-day adventure for the more serious rider. The oak hammocks, pine forest, and open meadows keep the ride interesting and cool enough in all seasons. You don't want to miss riding in this park!
Typical Day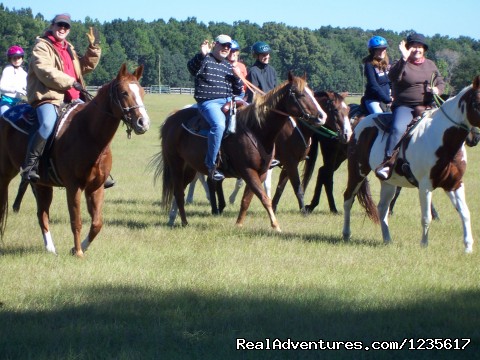 We typically ride at 10 am and again at 2pm. Our normal rides are for 1 hr, 90 minutes, 2 hours or 3 hours. We also offer custom rides for your group and can go all day! We ride by reservation. Please call ahead. You will arrive 1/2 hour early to complete the paperwork and to get acquainted with your guide and your horse. We offer instruction before and during every ride, so you will feel confident on your mount. Our focus is on fun and safety.
Our most popular custom ride for is 4 hours....it is an amazing ride!
Age range, type of group
We take ages 6 and up. We have great horses for the beginners and timid riders. Our good horses will really give you confidence no matter what your age! We take singles, families, youth groups, corporate teams, and romantic couples.
Restrictions
We can only take 6 years old and older on the rides. No double riding. This is a restriction by our insurance provider. No smoking while riding.
Rates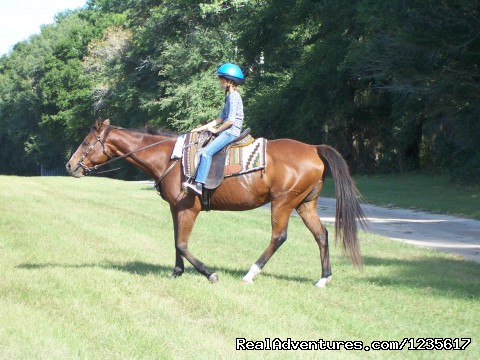 $40 per person - 1 hour ride
$50 per person - 1-1/2 hour ride (most popular)
$60 per person - 2 hour ride
$80 per person - 3 hour ride (this is usually our custom ride and where we take advanced riders)