Surrounding Area
Our resort is located in lovely Montgomery, Texas which is about forty minutes from Sam Houston National Forest. The area is characterized by visually stunning wooded landscapes and the tranquil beauty of Lake Conroe. Wildlife is plentiful and our skies offer some of the most visually stunning sunsets one can imagine. Our location provides a stunningly clear canvas for spiritual attunement, as well as physical healing. We have more than 50 acres of pristine, natural woodlands, combined with colorful and lush landscaping which is loved by the local wildlife.
The unique architecture of our intimate facility is accentuated with statuary and installations from around the world. All of these things, combined with the magic of our qualified, talented staff make you feel as if you have been transported to a calmer, more peaceful world.
Accommodations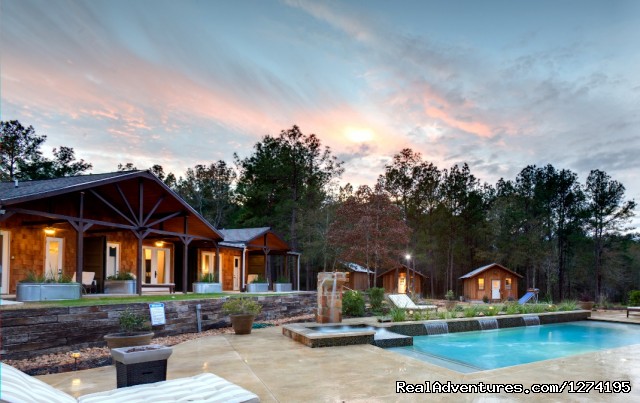 We've taken great care to create a serene, sustainable atmosphere for your personal quest for well-being. Deer Lake Lodge presents a harmony between the natural world and a luxurious one. Everyone's idea of the perfect spa experience is unique and Deer Lake Lodge programs can be customized to accommodate your goals. Are you on a spiritual quest? Just want to feel better? Is vanity the motivation for the visit & mental clarity during the next one? Your motivation for self-improvement can change with each visit because of our holistic approach.
Rooms/Suites
All rooms are stocked with organic cotton towels, bedding, pillows, robes and slippers. All mattresses are made of natural materials. All cleaning products and pest control are also organic.
Suite: Two queen beds located near the pool.
Cabins: Two queen beds or a king bed in a secluded cabin with screened porch and wooded vistas.
Amenities
• Fasting and Relaxation Lounge • Heated Saltwater Pool and Hot Tub • Infrared Sauna • Massage Therapies • Facials, Pedicures, Manicures and Cleansing Therapies • Jacuzzi • Scenic Countryside Walking • 50 Acres of Tranquility • Yoga and Meditation Classes • Nutritional Classes • Life Enhancement Consultants
Services Offered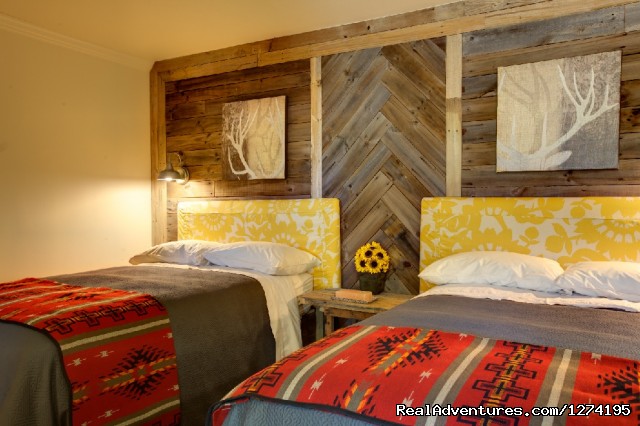 Our spa and detox professionals are always available for guidance on how to derive the most benefit from your stay, while providing space for whenever you seek "me time.".
Complimentary Classes include:
Yoga classes
Life Enhancements on Healthy Living
Breath Work and Meditation
Nutritional and Cooking classes
Spa Treatments include:
Massages
Skin Care
Hands & Feet
Holistic Rituals
Body Scrubs
Cleansing Therapies