Company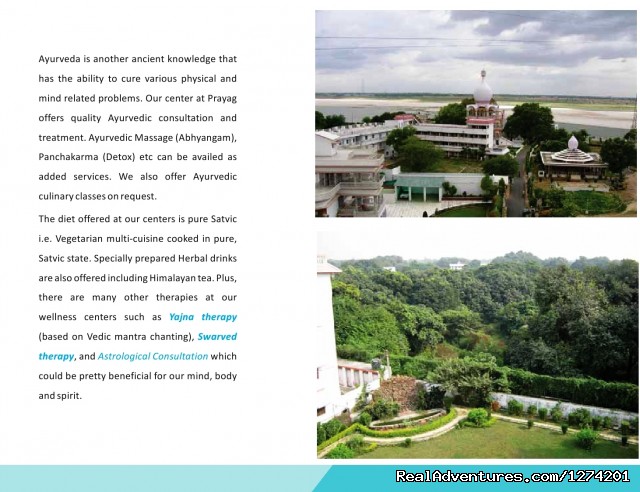 Vihangam Yoga along with the Sukrit Wellness Tours presents a special Kumbh retreat in the divine lands of ancient civilization (Prayag).Key features of the packages offered are exploring the unexplored places of these ancient lands through expert guides and understanding the cultures that run thousands of years back – their lifestyle, their charm, and their legend. Just imagine the thrill and magic of such explorations. Our wellness center is located right in the heart of these ancient lands. We offer not just informative and exploring sights but most importantly the knowledge that has been preserved since those ancient times – that of Vedic culture, Yoga & Ayurveda. The Maha Kumbh aims at this very ancient knowledge itself which indeed is the true elixir ofhumanlife. Through Yoga, we get to know ourselves. In other words, we explore ourselves. We offer guided healing, breathing, relaxation and meditation techniques through our Yoga trainers that help an individual break free from the shackles of stress and negative thought process, and rejuvenate him.
Typical Day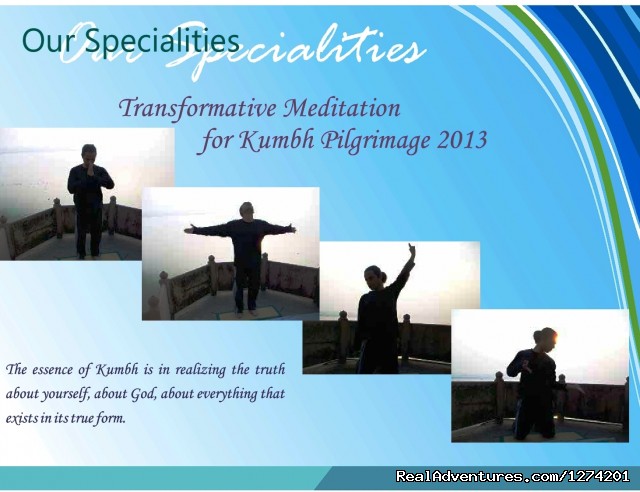 Kumbh bathing Schedule:
27th Jan 2013 : Paush Purnima
06th Feb 2013 : Ekadashi Snan
10th Feb 2013 : Mauni Amavasya Snan
15th Feb 2013 : Basant Panchami Snan
17th Feb 2013 : Rath Saptami Snan
18th Feb 2013 : Bhisma Ekadashi Snan
25th Feb 2013 : Maghi Purnima Snan
10th March 2013 : Shivratri Snan
Rates
A comfortable stay makes a lot of difference in any travel at all. What could be more rewarding than to stay at a lush green, serene, pious Ashram, located right at the bank of holy river Ganges, overlooking the Sangam amid peacock calls, chirping of birds and pure, soothing and pollution free air. That too along with the first hand experience of ancient Vedic lifestyle, free of cost Yoga, Meditation, Ayurveda, Hawan and spiritual discourses. A life time opportunity to experience the Mahakumbh Kumbh at its best.
There are multiple types of accommodation available with us, many with river view:
AC Rooms
Well furnished AC rooms with attached toilet and all modern amenities.Gallery.
Type - 1 (with western toilet, double bed)..................... INR 10,000/- per night
Type - 2 (with Indian toilet, double bed)........................ INR 9,500/- per night
Deluxe Rooms:
Well furnished, large Non AC rooms with geyser and heater amid lush greenery. Gallery.
Type - 1 (double bed, attached toilet) .......................... INR 8,000/- per night
Type - 2 (4 seater, attached toilet) ............................... INR 12,000/- per night
Type - 3 (dormitory) ..................................................... INR 2,000/- per bed
Swiss cottages:
A classical, life time memorable stay in luxurious, well furnished air heated tents with all modern amenities. More details.
Double bed tents .......................................................... INR 9,000/- per night
Service tax 12.36% extra. Charges would be 50% higher on bathing dates. Included in the package:
Pure vegetarian, healthy meals (Herbal drink, B/F, Lunch, Ayurvedic tea, Dinner)
Bathing rituals on our fully secure private bathing ghat
Free consultation with our Ayurveda and Naadi expert
Vedic Agnihotra & Yagya
Yoga training from experienced trainers (Postures, breathing techniques for better health & lifestyle)
Guided Meditation sessions (ancient meditation technique with proven results & scientific validity)
Understanding of ancient vedic culture that has been prevalent since ancient times
Spiritual guidance from the Saints and Spiritual Master
spiritual workshops: Yoga in modern life, Science of spirituality, Anatomy of Yoga, Lifestyle & Stress management etc.
Swarveda therapy
Not included in the package:
Transport
Packaged consumables such as mineral water etc
Medicines, books
Laundry
Other Information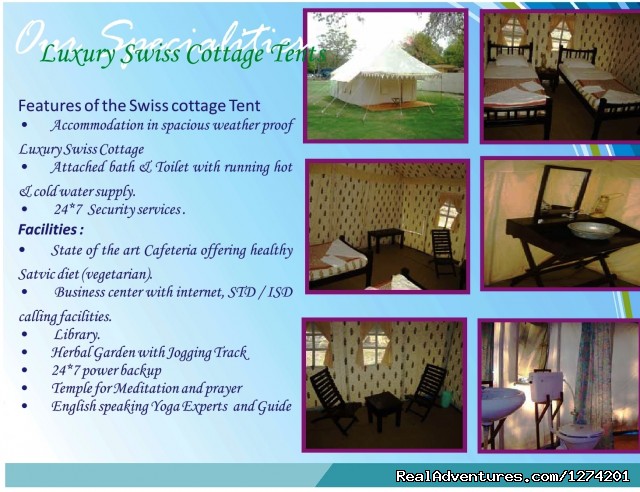 Early morning session at the Yoga studio of relaxation, healing, light exercises and Yoga nidra. Sunset session in the ashram premises comprising of Swarved therapy, relaxation and meditation. Listen to some amazing anecdotes relating to the spirituality of the ashram. Attend the evening aarti at Mahamandir."Agna Yog Martyo Duvo Dhyang Jujosh Dhitivhih
Bhasannu Sha Pra Purvya Ishang Vuritaavase'
He who prays to the Almighty, worships the almighty and performs sacred rituals (Yajnas) not only attains all forms of material glory such as power, health, wealth, luck and prosperity but also spiritual progress. Yajna (also Havanam,Havana) is the term for a sacred purifying Vedic ritual that involves a fire ceremony.Early morning walk to our private and fully secure bathing ghat on the holy confluence for purification on the occasion of the nexus of cosmic energies in the galaxy marking the dawn of a new era. Bathing will take place only on the major bathing dates. Rituals involving mantra chanting for ethereal purificationAyurveda is an ancient knowledge that has the ability to cure various physical and mind related problems. Our center at Prayag offers quality Ayurvedic consultation and treatment. Our spate of Ayurvedic packages addresses various common problems that we have today such as stress, lifestyle disorder, arthritis, excess weight, toxins etc. Some Ayurvedic services such as pulse diagnosis and consultation with physician, Massage (Abhyangam), herbal medication, detox diet, etc. can be availed. Plus, we also offer Ayurvedic culinary class so that you are able to maintain your diet and good health when you go back home.Ashram tour: The huge campus of the ashram is spiritually and naturally blessed and comprises of a number of unforgettably mystic sites. Some such sites are the Taposthali Gufa (Cave of austerity), Aakashvani sthal (where Maharshi Sadafaldeo spoke from the void), Mahamandir (5 storied temple with meditation cave), Shankh Madhav temple (an ancient temple), etc.Swarveda - A book that heals (Swarveda therapy)Transformational Workshop: Kumbh 2013 SpecialHandloom Shops, Astrology & Gems shop, Ayurvedic center, Yoga product , Books and more…