This lovely, luxurious, comfortable condo offers unparalleled, palm-fringed ocean vistas. You're only steps from the ocean! Completely remodeled in September, 1999, here is the spot you have dreamed of for a romantic getaway, or family vacation!
Vacation Rental Property
vacation rentals
. It is on the second floor of the small (14-unit) complex called Gulf Beach. It sits directly on the beach, offering privacy and seclusion amid the palm trees and spectacular ocean vistas. The master bedroom, living room, dining room, lanai and full kitchen all face the Gulf of Mexico. This second floor unit is accessible by both stairs and an elevator.
Rates & Availability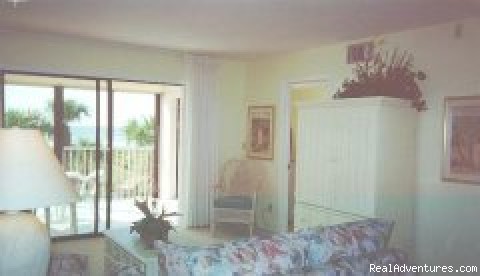 April 29, 2000 to August 25, 2000: $849 per week
August 26, 2000 to September 29, 2000: $749 per week
September 30, 2000 to November 17, 2000: $849 per week
November 18, 2000 to November 24, 2000: $1049 per week
November 25, 2000 to December 22, 2000: $849 per week
December 23, 2000 to December 29, 2000: $1849 per week
December 30, 2000 to January 26, 2001: $1299 per week
January 27, 2001 to April 20, 2001: $1849 per week
April 21, 2001 to August 24, 2001: $889 per week
August 25, 2001 to September 28, 2001: $789 per week