Historic Downtown Queen Anne Bed & Breakfast Inn
Historic, Sustainable, Romantic, National Register Victorians bordering downtown Denver. 14 guest rooms/suites, tubs-for-two. Walk to restaurants, shops, Pedestrian Mall, Capitol, museums, offices. Hot breakfast and evening Colorado wines. 38 awards.
Starting at
USD $
150
per Night
---
Surrounding Area
bed and breakfast inn
is located in downtown Denver, Colorado, facing Benedict Fountain Park in the the quiet Clements Historic District just five blocks from the State Capitol building. It's only four to five blcoks (short two minute walking blocks) from the Brown Palace, Hyatt Regency, Marriot Hotels, the Pedestrian Mall (also called the 16th Street Mall), and only three blocks from the business/financial center of the city. It's a short seven blocks to the Convention Center and the Center for the Performing Arts and walking distance from shops, restaurants, museums, tourisn attractions, and major league sports.
Accommodations
inn
is housed in two side-by-side Victorians listed on the National Register of Historic Places and dating from 1879 and 1886. Gardens stretch behind the two historic buildings. There are 10 guestrooms in one Victorian and four two-room "gallery" suites in the second. A two-car garage and a 5-place car park are behind the barden fence. A 3-place open car park is behind the adjacent home, also available to the inn. All rooms have private baths, period furnishings, piped-in chamber music, fresh flowers, growing plants, direct dial modem ready phones, wireless internet access, writing desks. Cable television is available in eight of the room (locat TV in the other 6). There are special tubs in seven rooms of which five have jet tubs or spas. Two rooms have gas log fireplaces. Three rooms have historical wall covering murals and there is a waterfall in a corner of the parlor. The inn is air-conditioned on the second and third floors. Window units are installed on the first floor windows. The Inn also has a small meetings room in owner, Tom King's, adjacent property.
Rooms/Suites

The Frederic Remington Suite The Frederic Remington Suite is dedicated to the western artist and sculptor. Selected prints and bronze statue are in the bedroom which includes hanging Indian rugs, king size bed, cable TV, antique writing desk and sofa reading area. The original brick stretches across one entire wall. The bath has a cast iron antique clawfoot tub/shower. Instead of a formal sitting room, there is a small enclosed porch with a deep jetted hot tub private to that suite. The porch gives access to the garden during the day. (First Floor)
The Norman Rockwell Suite The Norman Rockwell Suite is dedicated to this artist who saw so much character and amusement in the faces and actions of Americans. Five-foot windows face the park in the sitting room which includes an antique couch, cable TV, and a gas coal fireplace. A casement window opens to the interior of the 35-foot turret. A sliding pocket door secludes the bay window bedroom with its king-size bed (can be twin single beds). The bath has a relaxed deep soaker tub/shower. (Second Floor)

The John James Audubon Suite The John James Audubon Suite is dedicated to one many consider "the greatest bird painter the Western World has known." There is a cathedral ceiling in the sitting room that stretches the width of the house with a working desk, cable TV, lounge area and antique coffee table. Its three windows have a partial view of the city skyline. The separate bedroom has a king size bed. The unusual bathroom has double washbasins and a deep, sunken, rectangular tub-for-two with three shower heads including one in the ceiling. (Second Floor)
Fountain Room Originally the Master Bedroom in 1879 facing the park. This room now features a redesigned two person jetted tub (not shown) enclosed in a white and merlot marble alcove with matching double basin and vanity. Five windows; views of Benedict Park; morning sunshine; four-poster canopied queen bed with feather mattress and spread; white wicker chaise lounge, ottoman and chair, and cable TV. (Second Floor)
Fountain Room

Tower Room Large room built into the turret with bay windows view of the park and skyline; European carved king bed (can be twin single beds); antique cherry armoire, loveseat, writing desk; tiled bath with elaborate cherry mantle-top mirror. (Second Floor)
Tower Room

Skyline Room Four windows; one with colorful leaded glass insert; partial view of the city skyline and garden below; antique brass queen bed with partial canopy; secretary; comfortable seating area; marble wash stand and cable TV; tiled bathroom with 4' x 5' two-person jetted tub/shower. (Second Floor)
Columbine Room Named for the state flower, it overlooks the garden; has an 1850's teaster queen bed with a partial canopy, armoire, sitting area, desk, leaded glass window insert. (Eight steps up from the main floor)
Aspen Room The most photographed room with an unusual mural of an aspen forest covering all 4 sides of the room and ceiling which rises to the peak of the Victorian turret. There is an aspen wood queen bed, antique pine desk and armoire. The bath has a walk-in shower. The bay windows of the turret provide a partial view of the park and the city skyscrapers lighted at night. (Third Floor)
Aspen Room

Rooftop Room French doors open to the private deck with two-person jetted spa, table and chairs and a spectacular view of the city skyline. The bedroom has a queen bed & sitting area, library table, cable TV, tiled bath with a walk-in shower, barber's sink, and large walk-in closet with bureau. (Third Floor)

Park Room One of our show rooms with a large wall mural of what one might see if they were looking out their window in the 1800's. A large room with a view of the park; gets morning sun; walnut king bed (can be twin beds) two easy chairs; antique walnut armoire and desk; full bath with sink installed in an antique occasional table. (Third Floor)
Garden Room Garden view; enjoys afternoon sun; queen bed with canopy, antique oak armoire and library table, ceiling fan, full bath. (Seven steps down from Main Floor)
Tabor Room Honors Augusta Pierce Tabor, pioneering Colorado settler to whom many give credit for the family's mining success. The inn occupies the home built for her brother, Edwin Pierce, in 1879. Covering one entire wall of the room is an original mural of a lawn party in 1894 in front of Augusta's home at 17th and Lincoln. The Tabor Room also has pictorial memorabilia about Augusta, queen bed, game table desk and full bath. (Second Floor)
Oak Room Perhaps the most historic room in the inn, this was the family parlor in 1879. The original oak wainscoting, antique double size bed (with feather pillows, spread and mattress), 12-foot ceiling, tiled bath with pedestal tub shower, and pull-chain commode give the room an 1800's feel. It is convenient to the living room and dining room of the inn. (Main Floor)
Amenities
Services Offered
Travel Packages with the Queen Anne Inn
Romantic Getaway
"Romantic Getaway For Any Night" (Except Holidays)
1. Choose your romantic gallery suite or distinctive double.
2. Choose to ride a carriage to dinner downtown one evening.
3. Choose your favorite downtown area restaurant to spend $50 from the Queen Anne.
4. Choose a glass of the Queen's white or red wine to start out.
5. Choose champagne on arrival or a champagne breakfast in bed.
6. Two Queen Anne Coffee Mugs to take home.
7. Bouquet of Red Roses on Arrival.
For a romantic couple: Any day of the week, $345.00 plus tax.
Not valid in conjunction with any other promotions or on holidays.
Four One-Day Seminars For Would Be b&b Owners
"Dates for the Seminars are Sundays 10 AM - 3 PM"
Hands-On-Seminars for prospective innkeepers and owners of bed and breakfast inns, first since 1998 to be taught by hotelier and innkeeper Tom King.
Seminar Subjects: What you need to know about-
Searching for an inn at a fair price.
The financial reality of an inn investment.
Marketing your inn before and after you open.
Selling your inn.
Price = $250 Single or Double for each seminar, $600 Single for all four seminars, and $650 for Couples.
For more information, call 303-296-6666, 800-432-INNS (4667)
Four Day / Three Night "Hands On" Seminar For Prospective Innkeepers:
"Call for schedule in 2007"
You are invited to join me in operating this successful 14-room bed and breakfast inn during the four-day/three-night "Hands-On Seminar". The Seminar starts at 6pm on Sunday and ends the following Wednesday by 4 pm.
Up to five guestrooms are held for "students" while the rest of the 14 rooms are reserved for our business and leisure traveler guests. Thus you will be directly involved in the actual day-to-day operation of the inn.
Whether you intend to acquire an existing inn or start a new one or simply wish to find out more about inn keeping before making a decision for this lifestyle, career change, and major investment, the Seminar agenda is intended to take the mystery out of the daily operation and to make you conversant with the basics of bed and breakfast inn ownership as a business and as a substantial financial investment.
(1) You will get first hand experience in the operation including the all-important telephone reservations, guest/innkeeper contact and the checklists for the morning and afternoon innkeeper and housekeeper duties.
(2) You will use and receive the inn's written policies on deposits, credit, cancellations, refunds, promotional discounts, special event pricing.
(3) You will make out the printed reservation, confirmation, registration and gift certificate forms, first by hand and then using the reservation software.
(4) You will discuss with the innkeeper the sources of guests and the public relations, promotions, and advertising to reach potential guests, particularly those utilizing the internet to build awareness and the growing opportunity for "online" sales.
(5) You will learn (a) the financial benefits of owning and living in your inn, and pros/cons of starting one or acquiring an existing inn; (b) the size and occupancy needed to breakeven on expenses, (c) cash income you can expect, (d) how to search for an inn and needed financing, (e) how to determine a fair price for an existing inn or maximum investment budget limit for an entirely new inn, (f) what the business plan should include (you will see mine) and the form in which potential lenders will expect to see your proposal.
The Seminar Package includes three nights lodging, Sunday night supper, all breakfasts, light lunches, evening beverage time at the inn, take home 75-page file of all lists, forms, policies, checklists used at the inn. Not included: transportation to/from Denver; dinners other than on Sunday; local transport. Room assignment preference will be followed to the extent possible but I reserve the right to move students during the seminar if necessary to accommodate guests.
No matter which guestroom you are in, the price for all is the same: $650 for a couple or two persons sharing the same room; and $600 for a single person; plus the local tax of $35.00 on the room portion of the price.
The detailed agenda for the Seminar is enclosed. If you plan to join me, please make a reservation soon in view of the four-room limit. Full prepayment by personal check or major credit card is required to confirm your reservation. Should you have to cancel, there is a full refund of your deposit if you advise me at least 14 days prior to the Seminar starting date.
If you decide to arrive a day earlier or stay a day later, you are welcome at the business discount of 15% from the brochure rate for your room.
The Gardens Of The Queen Anne For Weddings / Receptions / Events
"Dates for the Gardens are June 1st. through October 31st, depending on weather."
Availability - Sunday thru Thursday - 11 AM - 6 PM.
Friday - Saturday - 12 Noon - 4 PM.
Capacity - Up to 50 Guests.
Included:
1. Exclusive use of the gardens for three hours, including direct trellis-way access from street.
2. The Frederic Remington Suite (Connects to Gardens) for dressing room, guest bathroom, and two nights guest occupancy.
3. Canopy for sun and weather cover.
4. Free parking on quiet front street.
Price = $1100.00 Plus Tax
Non-denominational Magistrate provided by us: $150
DJ for ceremony music only: $100
Not Included: Caterer, Food/Beverage, Music, Table/Chairs, Horse-Drawn Carriage.
(We can make helpful supplier recommendations.)
Gift Ideas
"We can mail them to you or anywhere you wish. Prices shown are without taxes or mailing charges. You can order by phone, E-Mail or Fax using a credit card."
GIFT CERTIFICATE TIME for Christmas, Birthdays, Anniversaries, Honeymoons, ANYTIME. Gift certificates for a stay at the inn are valid for a year. The Certificate can be for a specific room or for the amount to credit toward the recipient's choice of rooms since each is distinctive in decor, furnishings, view or art. We will make them out for you to present or, if time is short, we will mail or Fed Ex them direct to the recipient.
Almost Native; How To Pass As a Coloradan, by Linda Murdock. $12.95 plus tax.
Denver, A Boomtown History, by Gayle Baker. $9.95
So You Want To Be An Innkeeper. Best selling book about starting, acquiring and operating a B&B and written by four inn-owners. $16.95 plus tax.
The Complete Guide to bed & breakfast, Inns & Guest-Houses in the USA/Canada by Pamela Lanier. $16.95 plus tax.
A Busy Cook's Guide to Spices by Linda Murdock. $22.98 plus tax.
Our wassail spices in a gift jar makes three gallons of spiced apple cider. $17.00 plus tax.
The Queen's coffee in a gift jar makes four 12- cup drip pots. $14.00 plus tax.
We also sell our coffee by the pound and up.
The Inn's anniversary china coffee mug. $4.50 plus tax.
Policies & Restrictions
Queen Anne Bed and Breakfast Inn is a no-smoking inn and is not able to accommodate family pets..
Rates shown are for one or two people.
Extra adult or child age one or more: $35
Local taxes are additional.
Seasons
Rates are subject to change without notice.
Policies
Check-in / Check-out
Check-in time is from 3 PM to 9 PM. Must call if delayed.
Check-out time is as late as 12 noon.
Luggage may be left with the innkeeper if arriving early or departing later.
Amenities and Services
Room rates include: Breakfast in the dining room served buffet style 7:15 - 9:00 AM. You may take a tray to the garden, the sunny front porch or your room. Colorado wine served in the dining room or garden 5:30 - 7:30 PM as a time to meet other guests, talk to the innkeeper, discuss restaurants.
All rooms have private phones and there is no charge for local calls. For long distance calls, guests are expected to use credit cards or cell phones. FAX is available to guests. There is no charge for incoming messages. Outgoing messages within the US are $1 for the first page and $1 per page thereafter. Outgoing messages to Canada and other nations are $5 for the first page and $1 per page thereafter. Free high speed internet access with guest's laptop is available to guests 24/7 from their rooms.
The inn does not charge for parking. There is lighted off-street parking on-site at no charge. There is also on-street parking in front of the inn overnight.
Innkeeper concierge assistance is available for arranging horse-drawn carriage rides; restaurant reservations; airport shuttle pickup at the inn; tour reservations for pick-up at the Inn; special occasion amenities including wine, flowers, dinner deliveries for consumption at the inn; catering of special events; wedding/reception arrangements; trip reservations at other Colorado bed and breakfast inns.
Payment
One night or 50% deposit, whichever is greater, is required to confirm a reservation made 15 days or more in advance of arrival. Alternatively, credit cards can be used to guarantee payment for reservations made less than 15 days prior to arrival. Major credit cards, personal checks, money transfers, travelers checks may be used for pre-payments.
Refunds
There is a liberal refund policy. If you cancel or change your reservation at least 3 days or more prior to 6 PM on each date you have reserved, there will be a full refund of your deposit. Cancellations less than the 3 days, or number of days specified, prior to arrival will only have deposits refunded if the room is resold. When canceling a group reservation of three or more rooms, 14 to 30 days notice may be required for full refund.

Directions
Map & Directions:
Easy access to and from major highways:
I-25, I-70, US 36.
Centrally located bordering Downtown Denver on Benedict Fountain Park in the Clement Historic District.
Walking distance to the Molly Brown House, Denver's Museums, City Park and The Denver Zoo, The Convention Center, 16th Street Pedestrian Mall, Tabor Center, Larimar Square, LODO, Coors Field, and many restaurants.
Minutes from The Botanic Gardens, Cherry Creek North, sports arenas - Invesco Field and Pepsi Center . And of course, a longer but spectacular drive to the ROCKY MOUNTAINS!

Map is supplied by Vicinity Map Blast
Directions:
FROM I-25 NORTH BOUND: Exit 6th Ave East (Exit 209). Continue on 6th Ave and turn left on Logan(4 blocks past the Burger King) to 20th St. Turn left on 20th St. and make two immediate right turns (this will circle you half way around the park in front of the Inn and put you onto Tremont Place). We will be the 3rd house from the end of the block on the left side. You'll see our sign out front.
FROM I-25 SOUTH BOUND: Take the first exit after I-70 which is for Park Ave and 38th St (Exit 213), the exit then forks where you veer left onto Park Ave. Park Ave will split at Coors Field, stay in the center right lane. Park will become 22nd St. Continue on 22nd until you reach Tremont Place, which is the last stop sign before it dead ends. Turn right, the Inn will be the third house on the right facing the park.
FROM I-70 EAST BOUND: Exit I-25 South and follow the directions as listed above. You'll see Exit 213 immediately after you get on I-25 South.
FROM I-70 WEST BOUND: Exit Colorado Blvd. South, go 2.5 miles and turn right on 17th Ave., which is the first street past City Park. Stay on 17th. Ave. which will become 18th Ave. one way heading toward downtown. Turn Right on Logan, and then left on 20th. St., then two immediate right turns which will take you half way around the park and will put you on Tremont Place. We will be about 3rd house from the end of the block facing the park. You'll see our sign out front.
Discounts Offered
SUMMARY for BUSINESS TRAVELERS
Location
In downtown Denver, The inn is a short walk not only to the central business center, and state/federal offices and courts, but also to the Convention Center, Pedestrian Mall, restaurants, shops, museums, churches, sight seeing.
Easy access from the Interstate Highways of I-25, I-70, US-285, C76/85, US-40, US-6
Denver Airport Shuttle services drops off and picks up passengers at the inn. Many shuttles are available.
Horse drawn carriages to the downtown area from the Inn or to your favorite restaurant.
(Reservations required)
Free lighted off-street parking at the inn supplemented by on-street parking overnight and weekends.
Rental car agencies (Hertz, Avis, Budget, Enterprise, and Advantage) most are within 3 blocks.
Coors Field is only a 15 minute walk, and the Pepsi Center a 10 minute drive (or ask the Innkeeper for easy bus/walking combinations).
Business Amenities
Quiet - The two side-by-side historic Victorians on the National Register of Historic Places face a park on a lightly traveled residential street.
Safety - Entry is restricted to guests and their guests. Each guest has the front door pushbutton code for access at any time or for after hour arrival.
Check-in: 3 - 9 pm; Check-out as late as 12 noon.
Business rates Sunday - Thursday; no charge second person.
Included in the room rate are the hot breakfast 7:15 - 9:00 am
and evening Colorado wines from 5:30 - 7:30 pm
Overnight continental breakfast at guestroom's door is also available for early departures before 7:00 am.
Phone and writing desks in all rooms. No local call costs. Free high speed internet access with your laptop.
FAX at $1 per page outgoing in USA, no incoming charge
Liberal cancellation policy: Usually 3 days notice for full refund Sunday - Thursday. Corporate ID required for corporate rates.
Proof of quality: Awards and Selections include Top Ten B&B in the Nation; Best Places to Stay in the Rockies; Best of Denver. Inspected by members of the Distinctive Inns of Colorado and the Bed And Breakfast Inns Of Colorado, AAA, and the Professional Association of Innkeepers International.
Voted best Denver B&B in 2004 by the Rocky Mountain News.

--------------------------------------------------------------------------------


Get More Information or Make Your Reservation »
Map Legend
Historic Downtown Queen Anne Bed & Breakfast Inn
2147 Tremont Place, Denver, Colorado
Get More Information or Make Your Reservation »
No reviews yet, be the first to
write a review
for this listing.
Milan Doshi
Historic Downtown Queen Anne Bed & Breakfast Inn
Queen Anne Bed and Breakfast Inn
2147 Tremont Place
Denver, Colorado 80205
Get More Information or Make Your Reservation »
Show Filter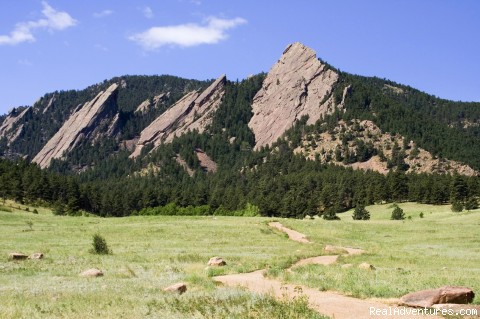 Private Health Getaway in Boulder, Color...
23.9 mi away
Boulder, Colorado Fitness & Weight Loss
From

USD $1,200

per Trip
Show Filter

Great Vacations & Exciting Destinations Listing
Add a multi-page listing promoting your accommodations, tours or travel services to customers on our network of travel sites. Your listing page can have up to 26 images, unlimited text, interactive map, availability calendar, ecards, photo-gallery and more.
Rates From US $17 Per Month
»
View Details
Free Travel Ideas Newsletter