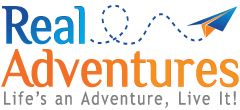 1870Banana Courtyard French Quarter/New OrleansB&B
Ooh la la. Once bordello catering to society's elite. Now B&B 3 blocks to BOURBON St. Courtyard, hammock, BALCONY wing. All INCLUSIVE rate+Cont. breakfast w/B&B room. Rate INCLUDES tax, WiFi, Lagniap+stuff hotels don't tell you about. No car needed
Contact Owner For More Information »
Map Legend
1870Banana Courtyard French Quarter/New OrleansB&B
Louisiana, United States
| Description | Distance |
| --- | --- |
| Jackson Square | .4 |
| Aquarium of the Americas | .8 |
| Insectarium | .8 |
| St. Charles Streetcar | .5 |
| Canal & Riverfront Streetcars | .2 |
| Morial Convention Center | .8 |
| Description | Distance |
| --- | --- |
| Mississippi River & cruise boats | .4 |
| St. Loius Cathedral | .4 |
| Audubon Park and Zoo | 5 |
| bars, music clubs, restaurants | .1 |
| museums | .5 |
| St. Louis cemeteries | .4 |
Contact Owner For More Information »
Surrounding Area
Jackson Square and St. Louis Cathedral
The nightlife on Bourbon St. and fine antiques on Royal St.
Wonderful food, from the local po-boy or muffuletta to world-class cuisine
Music clubs, bars
Many fine shops and museums
Riverfront streetcar line
Art galleries
The French Market and flea market/Bazaar
Mississippi River and its riverboats
Jax Brewery (shopping/dining complex)
Aquarium of the Americas
Cafe du Monde
Harrah's Casino
the historic St. Charles Streetcar
AND AN EASY WALK to other nearby attractions and sites:
The Convention Center
The Riverwalk and Canal Place (shopping/dining complexes)
Historic, above-ground cemeteries
Louis Armstrong Park & African-American Museum
BY St. Charles streetcar, Mississippi River passenger ferry, bicycle, or bus:
The Superdome
Tennis, horseback riding, golf courses, roller-blade, paddleboat & canoe rentals
City Park: lagoons, gazebos, botanical gardens, children's amusement park w/antique carousel
New Orleans Center (shopping/dining complex)
Magazine Street Antique shopping area where the locals buy their antiques
New Orleans Zoo & Botanical Gardens
Garden, Uptown, & University Districts
Riverbend shopping and restaurant area
New Orleans Museum of Art
Mardi Gras World
D-Day Museum
Accommodations
A BORDELLO SERVING POWERFUL POLITICIANS AND SOCIETY's ELITE: In the late 1800s and early 1900s, prostitution was legal in New Orleans. Although our home was not in the famous Storyville District, before and after those years, it served as a bordello during .
WHERE THE LADIES OF THE EVENING WERE SELECTED: After patrons came into the house through the front door, to their right, they entered the downstairs double parlours. The huge pocket doors (11' x 9') separating the parlours were always open (recessed into the wall), and the ladies of the evening reclined on chaise lounges and divans, displaying their "wares" to their potential partner of the evening.
THE BAR: After patrons "selected" their lady of the evening, the entered the room at the end of the long hall. Then it served as the bar where the madame collected her fee. The only picture we have been able to locate of the house when it served as a bordello, was one of bar (picture found in the city's archives -- our next project is to have a mural painted depicting it). Now, the room is used as a dining room., which is the center of morning activity, while guests get acquainted and thumb-through our collection of information on New Orleans restaurants, sightseeing, clubs, music, etc. Also of note in this room, atop a huge, Indonesian teak chest, is a stuffed peacock used as a prop in a movie set. On another wall is the antique Painted Lady, a piece from plantation family home in Peach County, Georgia., oil painted on fabric featured in the TV poetry documentary based on a poem by family friend A.J. Stahl: The Dress.
CAN I SLEEP IN ONE OF THE BORDELLO ROOMS? Unfortunately, we can only offer splendid memories of a bygone era. We can't offer guest rooms where the bordello's clients took their ladies, as the 6-bedroom wing, originally at the side of the courtyard, burned in the 1920s, but you can still imagine . . . . , can't you?
Traditionally, madams did not actively participate in prostitution, but merely oversaw the female workers and collected the proceeds from their activities, so there most likely were no clients in the madame's bedroom, upstairs.
THE MADAME"S PRIVATE QUARTERS: Upstairs is a foyer and two rooms. The larger of the two, the Madame's Steamboat Room was the madame's bedroom. Next door, was her boudoir, now called the Carriage Quilt Room because of its decoration.
WHO BUILT OUR HOUSE? "Free Men of Colour" and Chinese workmen built this house in the 1870s, as a funeral home serving the affluent of the Creole community. This is the same period when the huge live oaks were planted on Esplanade Avenue.
WHY IS THE STAIRCASE NOT FACING THE FRONT OF THE HOUSE AS DO MOST CREOLE STAIRCASES? Apparently, the person who commissioned building of the house was influenced by the Chinese workmen and their steadfast belief in Feng Shui, a practice of harnessing the natural forces of nature to promote prosperity, harmony, and vitality. As you know, the Chinese are very careful in positioning their home, so the oriented for the most favorable Feng Shui. Chinese believed that if the staircase faced the front of the house, when you swept, all the good fortune would flow out through the front. Facing the rear, good luck and joy are retained and no harm will follow..Notice the doorknob and its plate on the front door. .
FLOOR PLAN AND EXTERIOR ARCHITECTURAL DETAIL: Although the b&b's floor plan is primarily Creole, the exterior is mostly Italianate Victorian. The unusual side hall floor plan is one of the first of its kind, as traditional Creole houses had center halls or were shotgun floor plans. Native craftsmen produced an abundance of mahogany and cypress millwork. Architectural detail above the verandah and side-gallery includes cutwork panels that are banded with a frieze of bull's-eyes. There are fluted window architraves with bull's-eyes and cap-moulded cornices. The front fence is stucco with wishbone patterned wrought iron coming to Fleur de-lis points Most of the original elaborately patterned brass hinges and doorknob plates remain.
The front verandah has the traditional 3-bays of shutters, one of which is the front door. Frieze of Bull's Eyes and Fleur de Lis fence
VOODOO: In the mid-1800s, it is rumored that the house was home to one of Voodoo Queen Marie LaVeau's rivals until she placed a spell on him and he fled to Algiers Pointe. To date, I've only found one document confirming the information. However disclosed an interesting twist. The rival was a male voodoo practitioner, in an art/religion where the female dominated. No wonder he was considered a rival.
THE COURTYARD AND BANANA TREE: The side-gallery leads to a tropical courtyard where you can relax under a banana tree's shade, sip on cool drinks, or eat crawfish or seafood po-boys bought from the local seafood market, 1.5-blocks away. The centerpiece of the courtyard is a 40' banana tree brought from Cuba in 1958. While you are here, ask us and we'll tell you about its well-traveled history. There is also a 2-person hammock where you can relax under a shade-tree

Rooms/Suites
INTERIOR DETAIL OF NOTE: Since the downstairs was the showplace of the house, it has interesting detail, both in the carved wood or marble fireplaces and mantels, in the picture, cove, and crowne moulding on the walls, and on the elaborate ceiling medallions ornamented with grapes, peaches, figs, artichokes, flowers, and pomegranates, which were recently restored to their original glory. Although the medallion in the dining room was destroyed, it has been replaced with banana fronds around the chandelier. Also of note, is the hand painted border in the cove between the crowne moulding in the dining room and the banana mural on the wall.
Downstairs, there are 12' ceilings and hardwood floors throughout the house. Notice the elaborately detailed door hinges and strike plates throughout the downstairs. In the hall sealing area, throughout the house, there is an extensive, eclectic collection of books, art, antiques, Oriental rugs, antique dolls, Antebellum heirlooms, and collectibles.


MADAME'S STEAMBOAT ROOM: When the house was a bordello, this was the Madame's bedroom. Perfect for those who seek plenty of room and seclusion, and is, of course, a favorite of those who seek romance.
Peek out its graceful arched bathroom windows to see century-old live-oaks on Esplanade Avenue, the unique architecture of the French Quarter rooftops, and fireworks from the riverfront. Listen to church bells peal and the foghorns of passing ships on the Mississippi River. Sleep with room to spare on antique 4-poster beds converted to a king. Curl up on the sofa and watch your favorite news or sports program. Stretch out in a long, old-fashioned bathtub where your feet won't touch the end. For an extra guest, there is a twin bed tucked-away in the room's long alcove
CARRIAGE/QUILT ROOM: When the house was a bordello, this was the madame's boudoir This accommodation is light and airy, with an antique wedding ring quilt on the wall. It's the room favoured by many of our businesswomen guests.. It contains more family heirlooms: an antique iron bed (double) with an eyelet trimmed bedspread, and an antique wicker sofa. Many guests say this is their favorite room, "Just like being in Grandma's house". A cozy room with a twin bed for an extra person. Its private bathroom has a shower and is 3-steps away, in the hall . Antique iron bed, wedding-ring quilt, wicker baby carriage & sofa. Eyelet trimmed bedspread.
CANNONBALL ROOM: When the house was a bordello, this room was one of the double parlours. This room boasts a family heirloom - an Antebellum cannonball bed with a hidden trundle-bed underneath. The main bed was hand hewn as a wedding present for my great, great, great, great grandmother in 1830. When their house burned, they were able to save the main bed. When they returned to get the trundle bed, the house was too enveloped in flames to rescue it., Fortunately, my grandmother was able to locate a similar cannonball trundle bed, circa 1850, in which I slept as a child. Also of note in this room is an unusual, large Pichoit hanging over a marble fireplace. (re Pichoit: it's a Indian Buddhist monk painting where each monk paints his specialty, such as faces, bodies, architecture, background, etc. I've misplaced its documentation. If anyone knows the correct way to spell Pichoit, please email me.)
You can relax in the seating area with a magazine or book. In the Spring and Fall, guests enjoy access to seasonal breezes by opening the walk through, floor to ceiling windows to the front porch (the panes of the windows disappear into the wall to open.)

HEXAGON ROOM: When the house was a bordello, this room was one of the double parlours. Our spacious Hexagon Room is an unusual shape, as indicated by its name (6-sides). Relax on an antique 4-poster bed and enjoy the architectural detail in the room: crowne/cove moulding, elaborate ceiling medallion, marble fireplace on center wall with bay windows on either side. There is also an antique dressing table many business people use for their computer, a seating area with a sofa and an antique armoire converted to an entertainment area. For an extra person, there is a twin bed. In suite bathroom entrance. Powder room in the hall.

GONE WITH THE WIND: the oversized "Gone With the Wind" bathroom, features a wardrobe trunk used for costume storage in the filming of Gone with the Wind, and later sold at a studio auction. It has a huge, old fashioned bathtub, retrofitted with a shower ring.
Amenities
All our accommodations have that new-fangled stuff:
heat,
air conditioning,
television (usually cable),
telephone (free local calls)
alarm clock (usually also a radio)

Main B&B:
complimentary Continental breakfast (ask for "brown bag" if you depart early)
in-suite seating area, 'phone and cable TV
lounge / library
art
antiques
hammock
courtyard
alarm clocks
iron and ironing board
International current adapters, by request
hair dryer
fax machine
ceiling fans
decorative fireplaces
catering (special order)
picnic baskets (special order)
(and barefoot, short-clad, me, greeting you at the gate)
Amenities at our other accommodations (I try to list amenities in the description of each accommodation. Ask if the item is
available, if you aren't sure):
B&B rooms: most have an in-suite seating area and cable TV
B&B and Garret Suite accommodations include complimentary, Continental breakfast.
ALL have air conditioning, heat, and a telephone (free local calls). Most have a radio and alarm clock.
Those with kitchens are fully-equipped and stocked with coffee and tea (and appropriate "fixings") to get you started in the
morning.
some have washer and dryer
some have iron and board
Services Offered
Free welcome drink
Free Continental breakfast if staying at main B&B
Free soft drinks, beer, wine and cordials weekdays
Free concierge services (reservations for tours, restaurants, clubs, and activity planning for you)
Policies & Restrictions
Children: Some of our guest houses and cottages are suitable for children. Because of antiques and collectibles, most of our B&B
accommodations are not (too much interesting suff for little fingers).. Teenagers will probably be happier at an hotel in the midst of Bourbon Street
madness. When you call, we will determine if we have available is suitable.
Pets: We will consider a pet at some of our guest houses or cottages. Most
likely, your pet will need to either accompany you when you leave your accommodations or stay in your pet carrier. Pets must be fed in your kitchen. Pet must be less than 15 lbs., house trained and quiet. We will need a previous reference from an hotelier or inn where you have stayed before with your pet.
Smoking: Just like most small places like ours, smoking is OK outside, where there are chairs, tables and ash trays provided for your comfort.
Rates & Availability
Extended stay off season as low as $55/night, applicable tax and breakfast included. Regular rates start at $85/night. Special event and some hlidays, as low as $125/night.
Directions
Main B&B is at residential end of French Quarter. Step out into the French Quarter and walk 2.5 blocks to Bourbon St. We're a block from the luxury in where celebrities stay.
Discounts Offered
DISCOUNTS: Apply mainly to the main B&B and Garconierre, and are not available during some special events or holidays. We have sliding scale discounts for groups, reunion, multiple room, extended stay, military, firemen and police, travel agent, senior, educators, and AAA. To qualify for discount, you must ask for discount during 1st contact with us. Ask about off season, summer and December specials.
Contact Owner For More Information »
High Speed Internet
Microwave
Modem/Dataport
Refrigerator
Telephone - Free Local Calls
Television
samantha
1870Banana Courtyard French Quarter/New OrleansB&B
1422 N. Rampart St.
New Orleans, Louisiana 70116
Contact Owner For More Information »
Delaune Sailing Charters...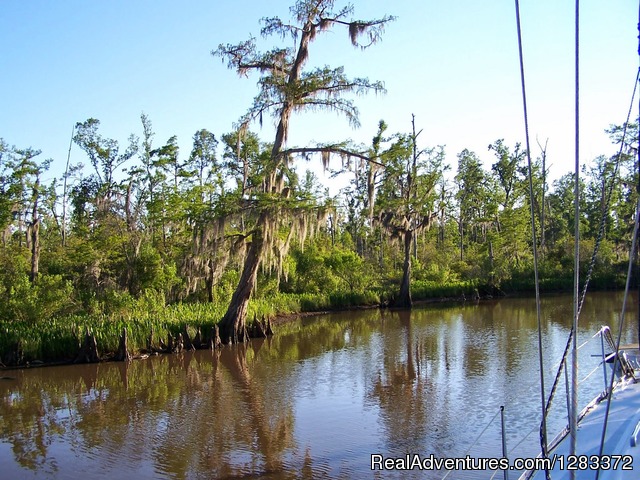 26.5 mi away
Mandeville, Louisiana
Sailing & Yacht Charters
From

USD $380

per Trip
Skydiving in Louisiana with Skydive Nawl...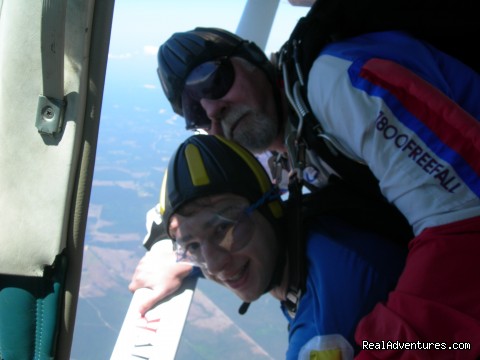 29.8 mi away
Slidell, Louisiana
Skydiving
From

USD $190

per Trip
Adventure Charters and Dive...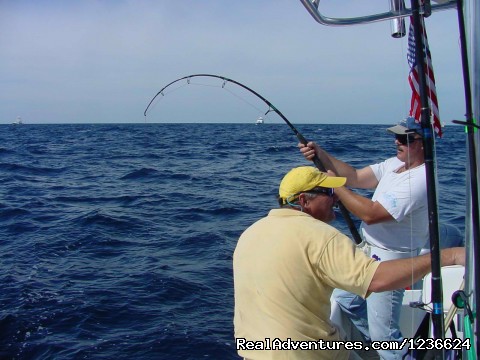 96.3 mi away
Moss Point, Mississippi
Sailing & Yacht Charters
From

USD $100

per Trip
---
---

Great Vacations & Exciting Destinations Listing
Add a multi-page listing promoting your accommodations, tours or travel services to customers on our network of travel sites. Your listing page can have up to 26 images, unlimited text, interactive map, availability calendar, ecards, photo-gallery and more.
Rates From US $17 Per Month
»
View Details