9 Days Hotel Kalender Special Bodrum Fethiye Olymp
Welcome to our Bodrum Vacations! Spend 9 days visiting Bodrum experiencing the Hamam, Bodrums night life, Halikarnas, the Catamaran, Jeep safari before heading to Fethiye and enjoying 4 days on a Gulet or Yacht to Olympos.
Starting at
USD $
566
per Trip
---
Activity/Tour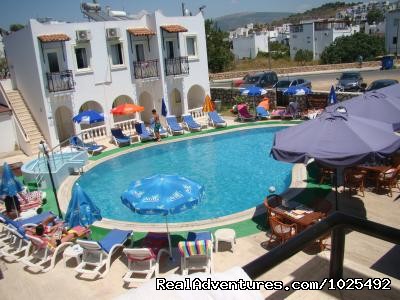 In general :
The 15
day tour
is suitable for the ones who are not in such a hurry and besides attending ANZAC Day events enjoy the cultural, touristic, historical sides of Turkey. Besides learning about the culture and history of Turkey, they will enjoy sea & sand & sun and have fun. The tour covers Istanbul, Gallipolli Battlefields, ancient ruins of Ephesus, hot springs of Pamukkale, Köyceğiz boat trip including the mud bath, magnificient Fethiye-Ölüdeniz,famous tree houses and bungalows of Olympos and the fairy chimneys & underground cities of Cappadocia.
Typical Day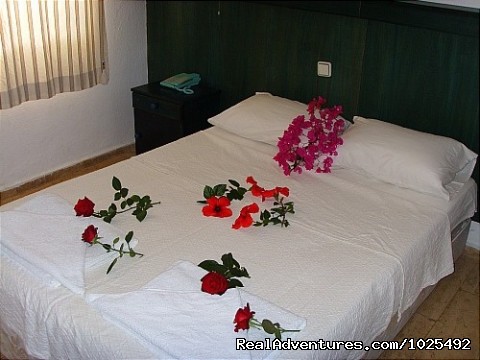 Tour itinerary :
Day One: 21- April 2006 ISTANBUL (D)
Welcome to Turkey, arrival into Istanbul. Transfer from airport & check in to your hotel. Tonight we have a WELCOME DINNER & you will meet our friendly crew and other travellers while enjoying your traditional Turkish Food including Turkish Kebab, and enjoy the mystical atmosphere of İstanbul at night.
Day Two: 22- April 2006 ISTANBUL (B)
We depart at 09:00 for the Istanbul city tour. We will begin with ancient Hippodrome, which was the scene of chariot races, with the three monuments: the Obelisk of Theodosius, the bronze Serpentine Column and the Column of Constantine. We will then continue with Sultanahmet Mosque across from St. Sophia built in the 16th century by the architect Mehmet. It is also known as the Blue Mosque because of its magnificent interior decoration of blue Iznik tiles we then arrive to our last stop which is the famous Hagia Sophia. This ancient basilica, built by Constantine the Great in the 4th century and reconstructed by Justinian in the 6th century, is one of the architectural marvels of all time. After the tour you have the option to experience The Bosphorus Cruise. You will have the chance to enjoy magnificient views of Bosphorus which is connecting Asia to Europe. The rest of the evening is your to enjoy Istanbul.
23- April ISTANBUL - GALLIPOLI (B + LB + D):
We depart for Gallipoli at 07:00. On the way we will have the chance to watch the latest documentary on the Gallipoli Campaign. We arrive in Gallipoli for lunch. We then drive to The Gallipoli Peninsula visit Kabatepe War Museum, Anzac Cove, Lone Pine Australian Memorial and Cemetery, Quinns Post, Turkish 57th Regiment Cemetery, The Nek, Chunuk-Bair New Zealand Memorial and Cemetery. We then drive to our hotel 45 minutes from Çanakkale where we will have an open buffet dinner.
24- April TROY - GALLIPOLI (B + D):
After breakfast we depart for the ancient city of Troy. Your guide will explain the mythology surrounding Troy, the Trojan Horse and Helen of Troy, as well as the history and discoveries of the archeological diggings from its discovery by Heinrich Schliemann in the 1870's to the present day and on going. Nine cities have been discovered built one on top of the other dating back to 3500 B.C. After Troy, return to our hotel where we will have dinner. We depart for Anzac Cove at 20:30 to ensure we are in good position for the Dawn Service we will spend the night at the Anzac Cove. Don't forget your sleeping bags, warm clothes, wet weather gear and torches because Gallipoli is still as dark and cold today as it was 91 years ago when your ancestors landed.
25 - April ANZAC DAY - ISTANBUL ( LB ):
05:00 Dawn Service. After Dawn Service our coaches will take us up to Chunuck Bair and Lone pine for National Ceromonies.
10:30 Australian National service,
11.30 Turkish National Service 12:30 New Zealand National service. After the ceremonies, we will depart for Kusadasi, late arrival into Kusadasi.
Day Six: 26- April – 2006 Kuşadası (B + D)
We depart at 10:00 and we visit one of the best-preserved ruins in the world 'Ephesus'. We tour this amazing site and wonder at the people who built and walked through this ancient city. We will also visit the House of Virgin Mary (supposedly where St. John brought her to live out her final days). After the tour we will visit a carpet-weaving centre, which belongs to the national arts of Turkey. In the evening, as being one of our optional activities, you will have the chance to experience the traditional Turkish bath.
Day Seven: 27 April Kuşadası-Pamukkale (B +D)
At 08:30 we depart for Pamukkale. On the way we will visit one of the famous leather production centers of the region. We then arrive at Pamukkale for lunch. Afterwards we shall visit the calcium terraces of Pamukkale (cotton castle) and the ruins of Hierapolis, then walk around this natural phenomenon and have the option of lying in the waters of the natural springs.
Day Eight: 28 April Pamukkale-Köyceğiz (Mud Bath)-Fethiye (Ölüdeniz) (B+L+D)
At 08:30 we depart for Köyceğiz. There we board a boat and cruise across Lake Köycegiz where we will have numerous opportunities to swim. We head for Turtle Beach, where the Aegean and Mediterranean meet and have a traditional Turkish lunch. On our return journey back to Köycegiz we visit the mud-bath to cover ourselves in MUCK, before jumping in the natural thermal springs. After the cruise we take a short bus trip to our night stop in Ölüdeniz.
Day Nine: 29 April Fethiye (Ölüdeniz) (B+D)
The day is yours you don't have to wake up early. Ölüdeniz is famous throughout the world for it's natural magnificent beach, crystal clear sea and paragliding activities. If you want to have a good fun, you can choose one of our optional activities like jeep safari and paragliding.
Day Ten: 30 April Fethiye - Olympos (B+D)
We depart for Olympos at 10:00. On the way we shall see one of the best panoramic views of the Mediterranean Sea. We will be passing from ancient Likya and you will have the chance to take photos of breath taking scenes. Don't forget your swimming suits because we can stop for a swim in the turquoise waters on the way. When we arrive at Olympos, you can have the choice of staying either in famous tree houses or in bungalows. We will then relax and enjoy a barbeque party.
Day Eleven: 1 May Olympos-Cappadocia (B+D)
Early morning we have a long drive to Cappadocia. After having some rest and then dinner, you will have the chance to go to the famous traditional Turkish Night, you will enjoy Whirling Dervishes, Belly Dancing & Traditional Turkish Folklore. We recommend it should not be missed.
Day Twelve: 2 May Cappadocia (B+D)
Today we will get to know the Cappadocia region, a volcanic area in which the geological formation started 10 million years ago. As a result of these formations phallic like pillars have come to life. The beautiful horse country "Katpatuka," (as the Persians called her) is an unbelievable strip of land, enchanting and mysterious. Our guided tour will start at 09:30 and cover Avcılar, Pigeon Valley, Göreme Open Air Museum, Dervent Valley, Uçhisar Castle and the pottery village of Avanos. If you want to join our optional activity of Ballooning, please contact with your guide and register because it will take place early the next morning.
Day Thirteen: 3 May Cappadocia-İstanbul (B)
We depart at 09:30 for one of the most interesting sites of Cappadocia: Derinkuyu Underground City. The Christians hid from the armies of Rome and the raids of hostile tribes in these self sufficient cities in which there were halls for stocks of crop, barns, rooms, kitchens & ventilation channels. This afternoon we will depart for Istanbul on the way we will stop for lunch.
Day Fourteen: 4 May İstanbul (B)
Today you don't have to wake up early. At 10:30 we will start a different city tour of İstanbul. We will visit the Spice (Egyptian) Bazaar, Taksim District, which is the heart of the night and intellectual life of İstanbul. It has nice bars, restaurants, café, cinemas a street in which is the centre of the Turkish Film Industry.
Day Fifteen: 5 May End of the tour (B):
After breakfast check out from the hotel. We hope your tour was a memorable one and we look forward to seeing you in the future on another Kalender Tour. See below for free airport transfers.

Sleeping and meals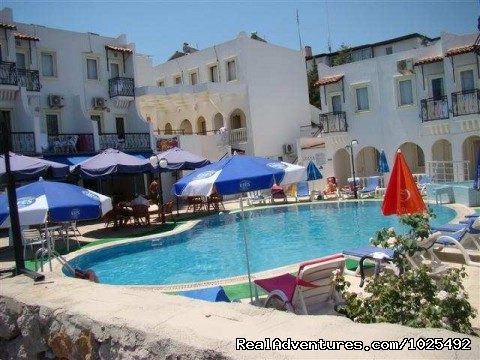 Included In Your Tour!
• 13 Breakfasts, 2 Lunch Box, 1 Lunch, 10 Dinners
• English speaking professional guide throughout.
• All transportation by private a/c tour coach
• 4 nights 3 star hotel accommodation in Istanbul,
• 1 night 3 star hotel accomodation nearby Çanakkale.
• 2 nights 3 star hotel acc.in Kuşadası
• 1 night 3 star hotel acc.in Pamukkale
• 2 nights 3 star hotel acc.in Ölüdeniz
• 1 night famous Olympos Tree Houses & Bungalows
• 2 nights 3 star hotel acc.in Cappadocia.
• Dawn and National Services (Australian, New Zealand )
• All entrance fees mentioned in the itinerary.
• Free airport – hotel transfers on the 20th & 21st between 07.30 am - midnight. Free return airport transfer services.
Policies & Restrictions

We offer 10% discounts for group bookings making our service perfect for teachers, student excursions and holidays. We would love to show you Anzac Day and all the wonders of Turkey and hope that you would contact us to see the services that we can provide.We would appreciate it if you would consider our services for your future tours of Turkey.
Rates
Prices Are: GBP:459 Single Suplement GBP:539
Early arrival in Istanbul GBP 14.00 Per night pp in double share. GBP 20.00 in Single
Airport transfer prior to the 20th April GBP 8.00

Other Information
We are young,energetic and a new travel agency. We are located in Bodrum/Turkey. All our staff is experienced professionals in their fields.They are friendly and ready to help all the time.Some of our staff were managers in other tourism agencies and hotels.Our tour itineraries are prepared in accordance with the views and critics of more than 2000 Anzac guests who had visitad Turkey previously.We have taken into consideration every single e-mail ,fax and feedback forms and filtered them into new ideas.Our fist aim is to deserve every single cent you are paying us and provide you with the necessary service.When you book a tour from us,we shall do everything that you won't regret it.We won't give any promise that we can't keep.What we would like from you is that if you are sick and tired of the big companies which still cannot keep their promises please give us a chance this time because we are new,young , professional and friendly team. If you have any new ideas that you want to share with us,you can contact us any time.We hope you will give us a chance and choose us and that way we will have the chance to make your dreams come true.
Murtaza Kalender
General Manager of the Kalender Travel Agency

Discounts Offered

We offer 10% discounts for group bookings making our service perfect for teachers, student excursions and holidays.Get More Information or Make Your Reservation »
Map Legend
Anzac Day Tours Operator &Travel Agency in Turkey,
Cevat Sakir Mah. Bites Sok No: 15, Bodrum, Turkey
| Description | Distance |
| --- | --- |
| Go to Anzac day with us | Turkey |
| Description | Distance |
| --- | --- |
| The Best Way To see Anzac Day in Turkey | Turkey |
Get More Information or Make Your Reservation »
| | Low | High | Notes |
| --- | --- | --- | --- |
| Year Round | 209 | 245 | |
*Please
contact advertiser
for rates & availability for your travel dates.
Hotel Kalender
(View My Profile)
Day and nights in Bodrum Gumbet offers a variety of pleasures for you, hotel kalender provides the perfect holiday base for you to experience all the sights and sounds of bodrum gumbet.
Hotel Kalender has now moved to a boutique style building in a fantastic new location
The new hotel kalender is a small adorable boutique hotel catering for those who are seeking an elegant hotel with a professional and very personalised service in a homely environment.
We invite you to come and visit us at our new 3 star boutique style hotel, come and take advantage of our new fantastic centralised location. The new hotel Kalender offers an array of on-site facilities, entertainment and services to ensure your stay is a relaxing and enjoyable one.
Hotel Kalender's friendly staff will be pleased to welcome you. Quality service and a fantastic location awaits you. Hotel kalender is set in peaceful gardens with a large swimming pool, baby pool with and an on-site bar and restaurant serving delicious cuisine.
Our hotel is just a few minutes walk from the shopping and entertainment centre of Gumbet and the beach is just 250 meters away, making Hotel Kalender a fantastic holiday location. Gumbet minibus services run frequently around the resort and can be stopped outside our hotel for your convenience.
All 28 rooms are spacious, modern and fully equipped with;
Private WC, Television, telephone, mini-bar, hair dryer,air conditioning and hot and cold running water 24 hours a day.
Rooms are cleaned and all bedding changed on a daily basis.
Wireless internet connection is available in all of our rooms.
Hotel Services and facilities;
Free private parking, swimming pool, bar, indoor and outdoor restaurants, safe, wake up service, 24 hour security and reception, car rentals, laundry service,travel and tour consultants can all be found on-site at Hotel Kalender.
Breakfast is included in your holiday price and is served from 08.00 to 10.00 am.
Fast food is served throughout the day at an additional charge. Dinner will be available in the evenings from the Grill Restaurants.
Hotel Kalender is located 33 km from Bodrum airport. Airport transfers can be arranged at an additional charge.
Our experienced staff are committed to making your holiday enjoyable and memorable.
Hotel Kalender Package Tour Programs
5 Day Hotel Kalender Special Bodrum Stopover Tour
7 Days Bodrum Aegean Holiday
7 Days Hotel Kalender Special Bodrum Backpakers Holiday
7 Days Hotel Kalender Special Bodrum Dream Vacation
8 Days Bodrum Family Holiday
9 Days Bodrum Fethiye Olypos Tour
12 Days Bodrum Dalyan Ephesus Pamukkale Tour
14 Days Hotel Kalender Bodrum Fethiye Olympos Tour
14 Days Bodrum Vacation
15 Days Bodrum Blue Cruise
Daily Aqua Park Tour Bodrum
Daily Bodrum City Tour
Daily Dalyan Tour
Daily Ephesus Tour
Daily Pamukkale Tour
Daily Turkish Village Tour
Daily Jeep Safari Bodrum
Daily Scuba Diving Bodrum
Daily Trekking Tour Bodrum
Daily White Water Rafting
Daily Turkish Bath Bodrum
Daily Boat Cruise Bodrum
Daily Fishing Tour Bodrum
Daily Catamaran Nightclub
Daily Halikarnas Nightclub
Ferry Bodrum Rhodes
Daily Turkish Night Bodrum
Ferry Bodrum Kos
Airport Transfer Bodrum
Daily Bodrum Dolphin Tour
3 Days Village Package
7 Days Weaving Course in Etrim Village Tour
No reviews yet, be the first to
write a review
for this listing.
Hotel Kalender
9 Days Hotel Kalender Special Bodrum Fethiye Olymp
Hotel Kalender
Eskicesme mah. Ayaz Cad No:50 Gumbet
Bodrum, Turkey 48400
Get More Information or Make Your Reservation »
Show Filter
Show Filter

Bodrum, Turkey Sight-Seeing Tours Listing
Add a multi-page listing promoting your accommodations, tours or travel services to customers on our network of travel sites. Your listing page can have up to 26 images, unlimited text, interactive map, availability calendar, ecards, photo-gallery and more.
Rates From US $17 Per Month
»
View Details
Free Travel Ideas Newsletter