The Lion Pansion - Hostel, a new and modern hostel, perfectly located in the heart of Sarajevo and close to the Town hall...
Visit our website lion.co.ba

Welcome to Hostel \'Pansion Lion\', a modern boutique hostel, perfectly located in the Old Town of Sarajevo. It\'s Close to the National Library \'Vijećnica\', The Cathedral, Gazi-Husref Bey\'s Mosque and the famous shops and buildings built in Oriental & Austro-Hungarian style. Hostel \'Pansion Lion\' offers unique elegance with the luxury of a hotel that is convenient for both business, vacation and backpack travelers, alike.
This family owned and operated pension offers single rooms, double rooms, triple rooms, four person rooms and even a dormitory style room that sleeps up to ten. All rooms are clean & bright with colorful decor unique to each and are equipped with linens & towels along with satellite television
and Wi-Fi connection.
The friendly staff are willing to help you enjoy your time here and speak numerous languages. There is even laundry service available onsite for your convenience. The reception is open and under video surveillance 24 hours a day. If you decide to visit us, we will help you to find a secure garage for your car. There is a secure garage 50 m from the pension that you can use for the price of 10 € for 24 hours.
More than just a hostel, Hostel \'Pansion Lion\' is a place where you can relax, forget your worries and enjoy the comforts and luxury that you could not expect in an ordinary hostel. Come and experience Sarajevo in the comfort of Hostel \'Pansion Lion\'. We look forward to your visit.
- The Lion Staff
Directions
Check out our Web Site http://lion.co.ba
By car
For visitors who come from Zagreb, Dubrovnik, Split and Mostar is necessary to follow the road sign which reads: Center City and trams. Hostel 'Pansion Lion' is located on street : Obala Kulina Bana, 100 meters before the National Library, 'Vijećnica'.
By taxi
A taxi from Sarajevo Airport to the Lion is approximately 20 KM (10 Euro). It costs 1.50KM (0.75 Euro) to start the meter and is 1 KM (0.50 Euro) for each additional kilometer.
From Bus station -Train station
From the Main Sarajevo bus station or train station the easiest and least expensive method is to exit the stations and proceede to the tram stop. At the tram stop there is a Kiosk which sells tram tickets outside for 1.60KM (0.80 Euro) or tickets may be purchased from the driver for 1.80KM (0.90 Euro). Take tram 1 and exit the tram at the stop just before the National Library 'Vijećnica" and cross the street. The Hostel 'Pansion Lion' entrance is on the right through the courtyard doors.
To get to the Hostel 'Pansion Lion' from the Lukavica bus station east of Sarajevo, walk 5 minutes past the taxi stand to the local bus station and take bus line 31e marked "Dobrinja- Vijećnica". Buses depart from the local bus stop every 15 minutes and stop just before the National Library 'Vijećnica" just across the street from our entrance.
We are waiting patiently for your arrival.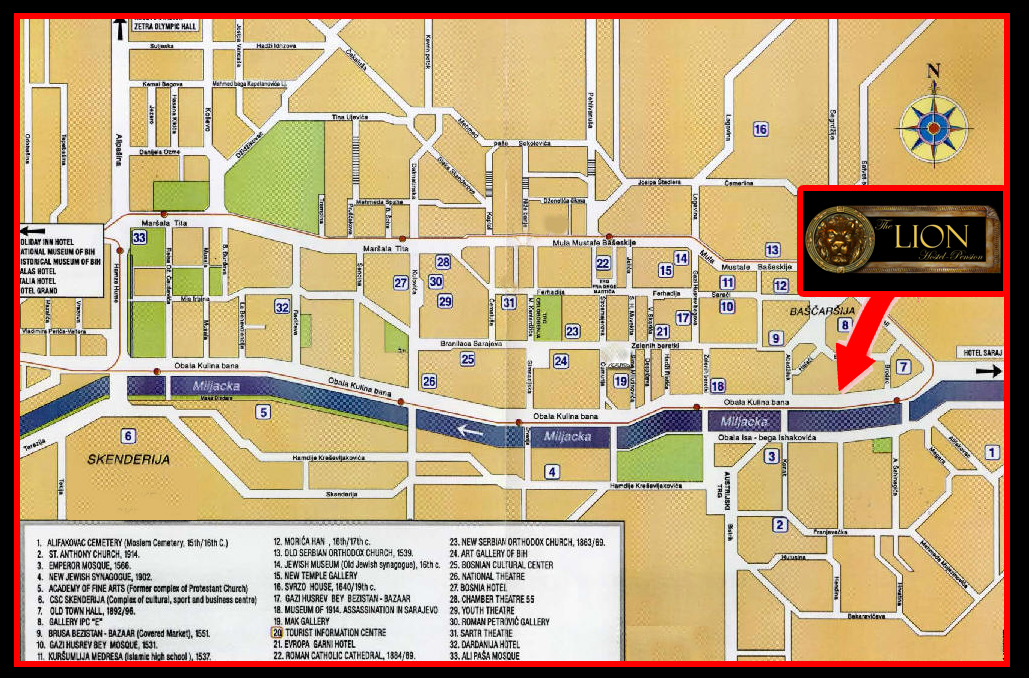 Facilities
Internet Access, Airport Pick Up, Linen Included, Luggage Storage, Telephone/Fax Facilities, 24 hour reception, Travel Desk/Travel Info, Bike Parking, 24 Hour Check In, Breakfast Not Included, WiFi in lobby, Web access in lobby, Web access in Room, WiFi in room, Air Conditioning
for this listing.