Sun God Peru has carved an enviable record of reputation well known among the Travel Agents and their clients, for quality packaged and custom-designed tour around Peru. Nobody shows you Peru, like we do.....
Typical Day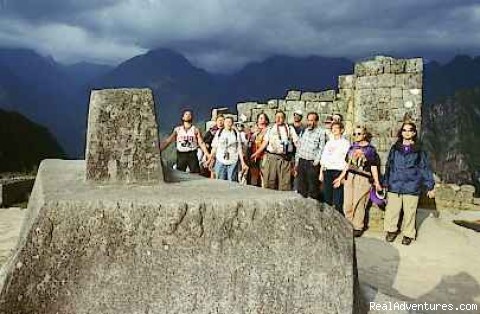 Here's a brief but unforgettable getaway to discover Peru with our Escorted Peru Tours. Sun God Expeditions has been running tours in Peru and South America for over fifteen years. With our knowledge and understanding of the industry we can deliver a service second to none when it comes to this vast and diverse continent. Most people only have one opportunity to visit South America, so it is important we deliver the best product possible. Our tours have smaller group sizes, more inclusions, and NO hidden costs and most importantly an awesome adventure delivered with enthusiasm!
Day 1- Lima: Upon your arrival into Lima, you will be met and transferred to Casa Andina Miraflores in exclusive zone of Lima in Miraflores for your overnight .
Day 2- Lima - Paracas: After breakfast transfer to the Bus Station for the Royal Class Bus to Paracas, some three hours south of Lima. Night at Posada del Emancipador 3* Hotel. (Breakfast)
Day 3- Ballestas Islands - Nazca: After breakfast, transfer to the port for the boat to the Ballestas islands. These spectacular islands, eroded into many caves and arches, provide shelter for thousands of seabirds and hundreds of sea-lions. Although the islands fall just outside the Paracas National Reserve they are protected by separate legislation. The islands are home to over 150 species of marine bird including the Humboldt penguin, cormorants, boobies and pelicans. Even condors have been known to visit. On the shores can be seen large numbers of sea-lions and in the sea it is possible to encounter dolphins and even whales. After the boat tour, return to the mainland for an excursion to the Paracas National Reserve. Here we will visit several museums showing the natural history of Paracas and also the ancient Paracas culture in addition to the beautiful "cathedral", a natural rock formation. After lunch transfer to the bus terminal for the Royal Class Bus to Nazca (about 3 hours) Arrival and transfer to our 3* Hotel Casa Andina Nazca. (Breakfast/Lunch)
Day 4- Nazca Lines - Arequipa: Flight tour over the enigmatic Nazca Lines; The Nazca lines are geoglyphs and geometric line clearings in the Peruvian desert. They were made by the Nazca people, who flourished between 200 BCE and 600 CE along rivers and streams that flow from the Andes. The desert itself runs for over 1,400 miles along the Pacific Ocean. The area of the Nazca art is called the Pampa Colorada (Red Plain). It is 15 miles wide and runs some 37 miles parallel to the Andes and the sea. Dark red surface stones and soil have been cleared away, exposing the lighter-colored subsoil, creating the "lines". There is no sand in this desert. From the air, the "lines" include not only lines and geometric shapes, but also depictions of animals and plants in stylized forms. Some of the forms, including images of humans, grace the steep hillsides at the edge of the desert. Transfer to the bus station for the Royal Class Bus to Arequipa. Arrival transfer to Casa Andina Arequipa 3* Hotel (Brekfast/Lunch)
Day 5- Arequipa: Free morning. Afternoon city tour visiting the Chilina valley and the old San Lazaro district. General view of the city from the Yanahuara Belvedere, the Plaza de Armas and its Cathedral, the cloisters of La Compania Church, the Church and Square of San Francisco and the extraordinary Santa Catalina convent which is built from volcanic lava and dates from the 16th century. Return to Hotel (Breakfast)
Day 6- Colca Canyon: Departure from Arequipa, passing near the thermal baths of Yura and climbing up towards the National Reserve of Pampa de Canahuas which is situated at 3,800m. The colors and scenery are spectacular as we pass endangered grazing Vicunas and ponds with Andean Geese. We can see many snow peaks and volcanoes from here. Winding down into the Colca, we stay at the comfortable Colca Lodge 4* hotel. (Breakfast/Lunch)
Day 7- Colca Canyon - Puno: After breakfast, early departure to reach the Cruz Del Condor viewpoint, a few kilometers before Cabanaconde, where the Colca Canyon starts. Here Andean Condors and other Birds of Prey, roost on inaccessible ledges and once hot air thermals have developed, produced by the burning Andean Sun, they circle out gaining height and provide stunning photographic opportunities. The Condors are big and one cannot help but be amazed by these creatures. Here we will see a fine view of the flight of the condors as well as of the depth of the mighty canyon. In the afternoon, journey to Puno. Arrival and transfer to Casa Andina Classic hotel. (Breakfast/ Lunch)
Day 8- Lake Titicaca: After breakfast, a tour by boat to the islands of Uros and Taquile on Lake Titicaca. Our first stop are the floating reed islands of the Uros indigenous group who maintain houses and evens schools on these floating reed islands continuing to Taquile, where members of this self-supporting island will welcome you and offer a glimpse into their ancient traditions and customs. Box Lunch on the island and an opportunity for some spectacular views over the haunting beauty of Lake Titicaca. Returm to our Hotel (Breakfast/Box lunch)
Day 9- Puno - Cusco: Early breakfast and transfer to the Bus Station to take the Tourist Bus to Cusco (Luxury Orient Express Train available), a long the way we will have stops and guided tours to the Incas sites of Andahuaylillas, Raqchi, and Pikillaqta. We have lunch at the restaurant in Sicuani. After our arrival into Cusco our staff will meet and transfer to Picoaga 4* Hotel. (Breakfast/Lunch)
Day 10- Cusco Walking tour: In the morning walking Cusco City tour of Cusco, and include: The Cathedral, Qoricancha, Temple of the Sun (the most important of Inca ceremonial sites). We return to the hotel (Breakfast )
Day 11- Sacred Valley/Explore Ollantaytambo Ruins: This morning we visit the massive Inca fortress of Ollantaytambo. This is one of the few places where the Spanish lost a battle during the conquest of Peru. In 1536, the army of Manco Inca held off a Spanish invasion company led by Hernando Pizarro. We can climb up the huge terraces guarding the ancient hilltop temple area. Then we'll enjoy lunch in a nearby village. In the afternoon, we drive to our hotel, enjoying the breathtaking sights along the way. This evening, we join a local family for a home-hosted dinner, enjoying a personal view of Peruvian cuisine and culture. Night at Pakaritampu hotel. (Breakfast /Lunch / Dinner)
Day 12- Train journey through Urubamba Valley / Explore Machu Picchu: 'ÄúLost City of the Incas'ÄĚ: Early in the morning after breakfast we aboard the tourist class train to Machu Picchu. The 2 hour train for one of the world'Äôs great railway journeys, passes through picturesque Andean scenery, traditional villages, Inca ruins and rushing rivers. We'll descend 1300 meters through the Sacred Valley of the Incas and follow the Urubamba river until the final stop at Aguas Calientes. The station for Machu Picchu is located at a bit over 6,500 feet, well below the elevation of Cusco. Night at Hanaqpacha Hotel. (Breakfast / Lunch)
Day 13- Explore Machu Picchu & Back to Cusco: We rise early to drive back to Machu Picchu after breakfast, arriving before the crowds. It is said that Machu Picchu is a place of great spirituality, and the best time of the day to sense this is at sunrise. We'll take the 20 minute bus ride up to Machu Picchu, perched 600 meters above the river. Our guide will explain the history and the myths that surround this archeological wonder. Machu Picchu, the famous lost city of the Inca is one of the most magical and mysterious places on Earth! Stand 2,430m above sea-level in the middle of a tropical mountain forest. In an extraordinarily beautiful setting, it was probably most amazing urban creation of the Inca Empire at its height, its giant walls, terraces and ramps seen as, if they have been cut naturally in the continuous rock escarpments. The natural setting on the eastern slopes of the Andes, encompasses the upper Amazon basin with its rich diversity of flora and fauna. Constructed from precisely sculptured granite blocks carefully joined with the projecting exposed stone of the surrounding mountain, the site may well be the finest architectural achievement of the new world. Afterwards we take the bus for our return to Aguas Calientes for lunch. Then, in the afternoon, we return by train through the spectacular Urubamba Gorge. Back to Cusco. When we arrive in Cuzco we check into our hotel. (Breakfast / Lunch)
Day 14: Cuzco / Explore Sacsayhuaman / Attend curandero healing ceremony: We begin this morning's explorations at the massive Sacsayhuaman fortress set on a hilltop overlooking Cuzco. Its double zigzag wall is said to symbolize a puma's teeth, and at one time there were three immense towers and a labyrinth of rooms large enough to garrison 5,000 Incan soldiers.
Today, the interior buildings are gone, having been dismantled by the Spaniards for their stone, but the imposing outer walls remain. Recent excavations have revealed this ancient stone complex to be much larger than previously thought. As we walk through, consider first that Inca workers built its walls entirely by hand, securely fitting boulders weighing as much as 125 tons without a drop of mortar. Then recall that on these ramparts in 1536, the Incan armies of Manco Inca made their final, failed attempt to recapture their city from the Spanish in the bloodiest fighting seen in any Latin conquest. At each site, we have plenty of time to walk around on foot, and take photographs.
Then, we'Äôll witness a traditional healing ceremony conducted by a curandero, an Andean medicine man. This ancient healing tradition has deep roots in Incan culture and is not simply a cure for illnesses, but also a prayer for good health and well being with an offering to Pachamama, a deity associated with fertility and Mother Earth. A curandero will often employ herbs and healing plants, and for some conditions he may conduct a religious ritual with sacred objects and shamanic chanting (called icaros). Thought to possess a gift from God to heal the sick, the curandero also sees himself as a front-line soldier in the battle between good and evil on earth'Ä"particularly when patients believe their physical ailments have supernatural causes.
In late afternoon we return to our hotel. We enjoy our last dinner in Peru at a local restaurant this evening.
Day 15- Cusco: After breakfast transfer to the airport for flight back to Lima and for your international flight.
Sleeping and meals
INCLUDED IN THE PRICE:
'-ä Meet and assist in Lima/Paracas/Nazca/Arequipa/ Puno andCusco
'-ä Private airport transfers
'-ä 14 nights hotel accommodations, tax and service included
'-ä all tours in Paracas/Nazca/ Arequipa / Puno and Cusco
'-ä Private guide at Machu Picchu with English-speaking guides
'-ä Multi-site entrance ticket for all our tours (BTC)
'-ä Qoricancha (Sun Temple) entrance ticket
'-ä Entrance ticket to Machu Picchu
'-ä Internal flights from Cusco to Lima
'-ä All meals listed on the program
'-ä Daily breakfast
PACKAGE EXLUDES:
'-ä Lunches and dinners other than those specified
'-ä Tips to guides and tour staff
'-ä Airport departure taxes
'-ä Entrance to sites and museums other than those specified
'-ä International Flights
'-ä Alcoholic beverages
'-ä Phone calls, laundry, or items of a personal nature.
Policies & Restrictions
1. Reservations: To make your Reservations with Sun God Expeditions Tours E.I.R.L we will required the clients full name, nationality, full address and flight arrivals details. 50% of the tour fee, along with a completed and signed registration form. The balance of the fee is due 45 days prior to departure. All prices are quoted in US dollars, and must be paid in US dollars. If a hotel is fully booked we will try to offer you a similar option.
2. Prices: All the prices are US$ based on costs at the time of publication. We reserve the right to change the prices at any time before your booking is confirmed. If there are any changes, we will confirm to you in writing together with our confirmation of your booking.
3. Payments: Sun God Expeditions Tours E.I.R.L require a deposit of 50 % must be paid at least 5 days after our confirmation of booking. The remaining amount must be paid at least 45 days before commencement of our tours. We accept all the payment can be paid by, direct bank transfer or credit card. If the payments have not been received in time, we reserve the right to cancel your booking. (Credit Card payment VISA,AMEX or MASTER CARD, 8% Surcharges apply. (you will required the following details to be fax to us front and back of your credit card photo copy, a details of your full billing address, amount authorization with your signature)
4. Booking on Line: We need your name so we can confirm these details to the relevant hotels, airlines etc. who the booking is for, we also need your address so that we can send you a confirmation invoice as well as your travel documents and in case we have to write to you about any part of your booking in advance of your holiday. We would need your telephone number and e-mail address in the unlikely event that we need to contact you urgently about your booking. We may also use this information to let you know about any special offers/promotions we think would be of interest to you. We need your credit card details so that we can collect payment for your booking.
5. Cancellation and Refund Policy: With written notice more than 60 days prior to the first day of the tour, 100% of your deposit will be refunded, minus a $50 service fee. With 30-60 days notice, you will receive a 50% refund of the full cost of the tour. No refund can be made with less than 30 days notice. You will receive a full refund if you provide a replacement for your spot on the tour. No partial refund can be given once a tour begins. We strongly recommend that you purchase trip cancellation insurance to protect yourself against losses due to accidents or illness. Check with your insurance agent regarding coverage you may presently have via other insurance policies that may cover illness during your trip.
for rates & availability for your travel dates.
for this listing.