Other Information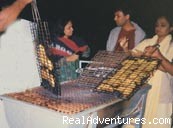 Things to Carry: • Towel • Sun hats/Sunshades • Sun burn lotion • Mosquito repellent • Board Games • Swimming gear • Binocular • Raincoat or umbrella • Binoculars • Camera • Wind breaker • Reading materials• Clothing, preferably of dark in color (i.e. dark green/ gray green). Torch • Warm cloths in winter (sometime it gets very cold).• Avoid taking things, which are bright and luminous in color.• Bird book for the bird watchers• Walking shoes with laces, which wont come off easily (there might be muddy patches in some parts of the jungle activity.)• Hard drinks of your own if needed.Reservation & Bookings: We require minimum 8 Adults to keep the trip on. 50% of the total package price should be deposited 7 days prior to your departure date to confirm your reservation; balance should be paid 72 hours prior to departure.Food Menu According to Itinerary:Day 02: Breakfast: - Bread, Eggs, (Different style), jam, jelly, Honey, fruits, Tea/CoffeeLunch: - Plain Rice, Mixed vegetables, Fish Curry/Meat, Dal, Potato Chop, Salad.Evening:- Tea: Biscuits, Chanachur, Fruits, Tea/CoffeeDinner:-Polao, Mixed Vegetables, Meat, Salad, DesertDay3:Morning: - Tea/Coffee with biscuits.Breakfast: - Chapati/Parata, Mixed Vegetables/Potato fry,Egg(different style), Tea/CoffeeLunch: - Plain Rice, Mixed vegetables, Fish Curry/Meat,Dal,Salad.Evening Tea: - Biscuits,Chanachur,Fruits,Tea/CoffeDinner: - Fried rice,Mixed vegetables,B.B.Q(Fish & Meat),French Fry, Caramel custard.DAY4:Breakfast: - Chapati/Parata, Eggs, (Different style), jam, jelly, Vegetables, fruits, Tea/CoffeeLunch: - Plain Rice, Mixed vegetables, Fish/Meat, Dal, Salad.Evening: - Tea Biscuits, Chanachur/Cake, Fruits, Tea/CoffeeDinner: - Plain rice/Polao, Mixed Vegetables, Meat, Salad, Desert
M.A.K.AZAD(MILAN)
(View My Profile)
Md. Abul Kalam Azad (Milan)
House-21(3rd floor), Road-5/A, Sector-5,
Uttara Model Town, Dhaka1230, Bangladesh.
Cell Phone: 88-01552483800, 01716224082
E-mail:bdtravelhomes@gmail.com
Objective: To be a top leader in the hospitality industry in the South Asia.
Summary of Qualification
Inner Traits
•Leadership- Having leading capability in a team for managing required activities on scheduled
time.
•Industrious- Emphasis on hard work in a creative environment.
•Consultation- Attached to the activities of consultation with people about their crucial issues of
daily affairs.
•Moral Judgment- Focus on evaluation of every matter on the basis of moral judgment and
ethical issues.
•Philosophical Knowledge- Philosophical analysis that helps to understand human attitude.
•Motivation & Honesty- Always motivated to innovate something and eager to practise honesty
in every step of life.
•Determination and Patience- Interested to seek reality of lives and hold the truth for the sake of
welfare of this earth on the humanitarian basis.
Work Experience
1. CEO, Bangladesh Travel Homes LTD - An inbound & outbound tour operator based in Bangladesh since 1999.
2. An effective member of Tour Operators' Association of Bangladesh (TOAB) since 2004.
3. Tour Organizer & Guiding in Hospitality Industry in Hong Kong from 1993-1995.
4. Supplier for world wide (including Bangladesh) hotel booking services through online.
5. Working with the counterparts from different countries in tourism sector & having expertise in
E – tourism.
6. Hospitality Management Instructor of IIHMB at Uttara Model Town.
7. Working as an interpreter of English as well as Japanese language.
8. Campaigning for tourism promotional activities with other international tour operators
(including SAARC countries) and online marketing through E-commerce.
9. Providing web designing service with effective content writing & web marketing.
10. Worked for handling tour programs of Pelican Travel Net under Nippon Express, Japan as a
franchisee in Bangladesh from 2004 to 2006.
11. Doing work with overseas ground handlers regarding regional tourism development.
12. Travel experiences to several foreign lands.
13. Attending local festivals for promotional activities of Bangladesh tourism.
14. Participation in SAARC Youth Award 2005 (The theme of the Award was 'Promotion of
Tourism on the Regional Basis in South Asia') and got nomination from Bangladesh.
15. Social activity for a cleaning project (environmental issue) of a NGO "Prokiti".
16. Research on Hindu Rajbangshi and reformation of archeological exterior design.
Training
1. Japanese Language Course, Modern Language Institute of Dhaka University.
2. Promotion of Sales & Marketing, Small & Cottage Industry Training Institute.
3. Financial Management, Small & Cottage Industry Training Institute.
4. Management Information System, Small & Cottage Industry Training Institute.
5. Production Development, Small & Cottage Industry Training Institute.
6. Human Resource Management, Small & Cottage Industry Training Institute.
7. Basket Ball Training, Basket Ball Amateur Federation.
Education
1. Post Graduate Diploma in Personnel Management at Bangladesh Institute of
Management, 1999.
2. Masters of Commerce (M.Com) at Dhaka College under National University, 1995.
3. Bachelor of Commerce (B.com) at Ideal College under University of Dhaka, 1992.
4. H.S.C. Science, B.A.F. Shaheen College, Dhaka, Tejgaon, Dhaka, 1990.
5. S.S.C. Science, B.A.F. Shaheen College, Kurmitola, Dhaka Cantonment, Dhaka , 1988.
Membership
1. Tour Operators Association of Bangladesh (TOAB),
Research, Training & Development,
and Printing & Publication Sub-Committees.
2. JATA (on process)
3. ENAT (European Network for Accessible Tourism)
Computer Skills
Major focus on Ms Word, Power point, and Internet.
Language Skills
Excellent literary and interpersonal skills in Bengali, English & Hindi, Japanese (speaking).
Other Personal Details
Father's Name : Md. Abdur Razzaque Miaji
Mother's Name : Mrs.Suraiya Miaji
Permanent Address : 12/2 Baigertack Dhaka Cantonment, Dhaka 1206
Date of Birth : 9th December, 1972.
Marital Status : Married
Religion : Islam (Sunni)
Nationality : Bangladeshi
Interest : Online global communication for business activities, Human counseling &
leadership in Hospitable Mgt., Acknowledgement with different culture,
Research & development, Traveling etc.
Reference
1. Mr. Shiblul Azam Koreshi, Vice President, Tour Operators Association of Bangladesh (TOAB).
2. Mr. Emdadul Hoque Mintu, CEO, Nova Tours & Travel.
DATED: 10th Jan 2010 SIGNATURE
(Md. Abul Kalam Azad)
for this listing.