Comfortable 2-bedroom, 2-bath, country get-away home on a half-acre, a mile from Suwannee River public boat ramp and park. Sleeps 2 to 4 in bedrooms, and 2 to 4 additional on two queen-size sleeper sofas in living room.
Surrounding Area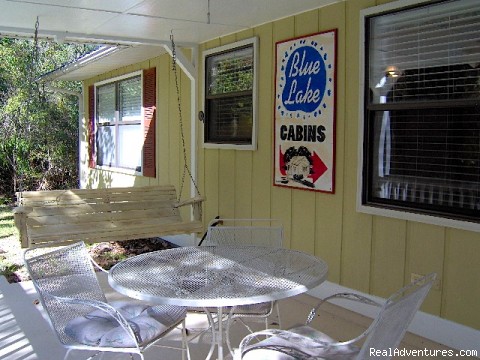 Camp Teriko is located in the Nature Coast region near the Suwannee River, with lots of state parks, rivers and springs nearby. Approximately 45-minutes to Gainesville and the University of Florida.
Here's a list of some fun things to do in the area. For more specific details, and websites to visit for more info to plan your vacation, request the "Camp Teriko Vacation Planner" by e-mail.
• Launch your boat at the nearby public ramp, fish and explore the Suwannee River. You can head up-river and continue into tributaries, like the Santa Fe, or turn downstream for the Gulf of Mexico.
• The 53,000-acre Lower Suwannee National Wildlife Refuge is nearby. It was established in 1979 to protect one of the largest undeveloped river-delta estuarine systems in the United States. Hiking, biking,
fishing, boating, canoeing, and birdwatching in the refuge.
• The Suwannee River Valley contains the highest concentration of freshwater springs on the entire planet. More than half of the springs in Florida are in this area. Local outfitters rent boats, canoes, and
kayaks. One popular tour is a 3 to 4-hour canoe trip down the Suwannee from Fanning Springs to Manatee Springs. With an average current of 3 miles-an-hour, you mostly just point the canoe (or kayak) in the right direction and enjoy the ride. Manatees are a common sight during winter months. The trip includes canoe or kayak rental and shuttle service for $24.95 per person.
• Spend an afternoon wandering the display halls of the Florida Museum of Natural History, in Gainesville on the U of F campus. Giant dinosaur skeletons, Native American and eco-system exhibits, plus the newly-opened "Butterfly Rainforest," a four-story, outdoor screened enclosure with waterfalls, a walking trail, lush tropical plants, and hundreds of live butterflies. Admission is free, but donations are accepted. Plan on spending at least a few hours; the museum has been around since 1917 and it's big.
• Bike the Nature Coast Trail, a 32-mile paved rail-trail that's that's 6-miles from the house. The trail connects Cross City, Old Town, Fanning Springs, and Chiefland, with a leg that runs to Trenton.It crosses the Suwannee River over an historic train trestle. Three trailheads are restored train depots, and the fourth is a riverside park. Great biking fun, with no car hassles. Stop at
mid-trail for a cool dip in Fanning Springs (the water is always 72-degrees) and lunch at Huckleberry's Barbecue.
• For serious road bikers, the nearby highways to the coastal towns of Suwannee and Horseshoe Beach both have dedicated bike lanes. Lots of bike-friendly roads. Check out San Felasco Hammock State Park; locals call it a "mountain biker's paradise." The nine-mile Dixie Mainline Hike/Bike trail near Suwannee is also popular with the off-road crowd.
• Watch more than 100,000 bats swarm out of their Bat House at sunset, on Museum Road across from Lake Alice, on the campus of University of Florida. "Show times" are posted at the Bat House. Then stay around for dinner, and maybe some partying in downtown clubs.
• The cuisine at Old Town area restaurants is Southern-style and features the two B's: barbecue and buffet. There's plenty of both at local eateries. Also, excellent seafood restaurants in Suwannee, Horseshoe Beach, and Steinhatchee--the small fishing
villa
ges along the Gulf coast.
• Antique-hunting at local shops in Fanning Springs, Chiefland, and Williston. Or, a little farther away, find the two antique-shop towns of High Springs and Micanopy. Just plain junk-shops, and nearby
country auctions on Friday and Saturday nights, too.
• Scallop season is July 1st thru September 10th along the Gulf Coast. Bring a bucket and wade-in for your share.
• Birdwatching is popular, both here and along the Gulf coast, especially during peak migration times. The area is part of the Great Florida Birding Trail. A detailed guide with maps to birding sites, including the nearby Andrews Wildlife Management Area, is free and available from Florida Fish and Wildlife.
• Midnight shopping at the 24-hour Super WalMart in Chiefland, 20-minutes away. It's about the only thing happening after 9 at night outside of Gainesville.
• Summer-time "U-Pick" blueberries. Check local newspaper for farms, and call ahead for driving directions.
• Spend a day at Cedar Key, the former fishing village that is now a Jimmy-Buffett-infused vacation town, complete with art galleries, condos, and gift shops. Stay for sunset happy-hour at a waterfront
bar.
• Or just stare at the moon and stars on a clear night. They are startlingly crisp and bright, away from the city lights.
• No theme parks, but lots of "the real Florida" to explore. Too many places to list them all here.
for this listing.
36 N.E. 445 Ave.