Louisville is the perfect destination to start/end your Bourbon Country adventure. Nowhere else in America will you find 7 of the best stocked & most celebrated whiskey bars in the world on the city's Urban Bourbon Trail.
Contributed By Nancy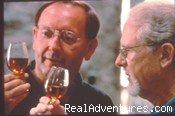 The Urban Bourbon Trail in Louisville
Louisville is the perfect destination to start and end your Bourbon Country adventure. After all, Louisville is the home of the Kentucky Derby and Churchill Downs, Louisville Slugger and Muhammad Ali. It's a city with unique, world-class museums and more art galleries than coffee shops. It's a city where one-of-a-kind is practically commonplace. Nowhere else in America will you find eight of the best stocked and most celebrated whiskey bars in the world along Louisville's one and only Urban Bourbon Trail. Walk, take a horse-drawn carriage, or take a cab because there's something new and exciting each night along the Urban Bourbon Trail.
Urban Bourbon Trail Bars:
The Bar at Blue
Bourbons Bistro
The Brown Hotel Bar
Maker's Mark Bourbon House & Lounge
Park Place on Main
Proof on Main
The Old Seelbach Bar
Jockey Silks Bourbon Bar at The Galt House

Distilleries of Bourbon Country:
JIM BEAM
The world's largest Bourbon distiller. The seventh generation of the Beam family just may be waiting to shake your hand and give you a big hello. Stroll the grounds, visit the historic T. Jeremiah Beam home, and enjoy a sample or two of the distillery's hand-crafted Small Batch Bourbons.
BUFFALO TRACE
Legendary explorers, pioneers and settlers followed ancient paths of buffalo that led America westward to new lands and adventures. Buffalo Trace is located at a point on the Kentucky River that intersected the trail known as The Great Buffalo Trace. The rolling green hills are the perfect backdrop for a warehouse tour, or seeing how this Bourbon is made, and just plain enjoying a taste.
FOUR ROSES
The Spanish Mission style architecture of the distillery building is your first hint of the unique and mellow experience to come. Starting at the Welcome Center, visitors are treated to detailed tours, giving you a taste of the history of Kentucky Bourbon. Hear the history of Four Roses itself, dating back to the 1860s, and of course, how Four Roses uniquely distills 10 distinct Bourbon recipes to create some of the world's most popular Bourbons – some of which are not sold in America, or outside of Kentucky. It is an experience that allows visitors to see, smell, feel and taste the distillation process.
HEAVEN HILL
America's largest independent family-owned distillery. Among the rickhouses where the world's second largest supply ages, you can explore interactive exhibits on the birth of Bourbon, the roles of whiskey-making pioneers Evan Williams and the Rev. Elijah Craig, and the process by which the distillery makes its Bourbons. The experience continues with a tour through one of the working rickhouses, ending with a Bourbon tasting in a unique barrel-shaped tasting room, where you can create you own personalized bottle to buy and take home.
MAKER'S MARK
History awaits you in this storybook setting outside the charming town of Loretto. This is the nation's oldest working distillery on its original site and has been named a National Historic Landmark. Step back in time as you stroll through the buildings and grounds on a guided tour and discover how this world-renowned Bourbon is made by hand every step of the way. At the end, you can purchase and hand-dip your own bottle of Maker's in its signature warm red wax to take with you.
WILD TURKEY
Bourbon has been distilled here for generations. Sitting on the crest of a hill overlooking the Kentucky River, the Wild Turkey Distillery makes a statement in simplicity, as simple and unadorned as the traditional methods used inside. The legendary Jimmy Russell still watches over this time-honored process that allows you to follow along from grain delivery to bottling – even watch as new Bourbon is poured into hand-crafted oak barrels and sent to age in timber warehouses.
WOODFORD RESERVE
Located in the heart of Kentucky's scenic Bluegrass Region and surrounded by thoroughbred horse farms you'll find, the Woodford Reserve Distillery. Now a National Historic Landmark it is on a site originally chosen by Elijah Pepper as a perfect place to distill Bourbon back in 1812. A guided tour is kept purposely intimate to allow you the opportunity to speak with guides and gain a close-up look at the distillation process - from copper pot stills to the only surviving stone aging warehouses in America. The visitors center provides a panoramic view of the entire 78-acre site and celebrates the living history of Kentucky Bourbon.
Visit the Louisville Visitors Center at 4th and Jefferson in downtown Louisville for Bourbon Country Merchandise & to pick up your Urban Bourbon Trail Passport. Monday – Saturday 10 a.m. to 6 p.m. and Sunday noon to 5 p.m.
1-888-Louisville
for this listing.