Cappadocia Tours : Want to see the most fascinating site, Cappadocia? We organise return day or two days trips to Cappadocia, we suggest at least two days to explore the entire site. Just let us know the travel dates and we will organise a great trip
Activity/Tour
Great value package for the most exciting sight in Turkey!
Duration: 2 Days - 1 Night
Highlights: Cappadocia
Departures: All year round - Guarantee Departure
DAY 1 - ISTANBUL - CAPPADOCIA
You will be picked up from your hotel around 05:30 and transfer to airport.
Depart from İstanbul 07:30
Arrive Kayseri at 08:55. Met on arrival and transfer to Cappadocia.
(1 hour drive from Kayseri to Cappadocia)
10:00 full day tour of North Cappadocia
In this day you will be able to see:
DEVRENT VALLEY: Devrent is situated on the northern slopes of Aktepe, 1km from Pasabaglari (Monks' Valley) and 5 km from Avanos. The ruins at Devrent are spread over three valleys, which also house several pointed fairy chimneys with large stems.
MONKS VALLEY: The best place to see three-headed fairy chimneys. Pasabag, the Pashas Vineyard, is surrounded by incredible natural rock formations; a spectacular scene.
AVANOS: A center of terra cotta work of art since 3000 BC, it is a town where you will be invited to visit a traditional pottery workshop, which is possibly set deep into the hillsides. The clay, which comes from the Red River passing through the town, gives life both to the land and to the local economy.
GOREME OPEN AIR MUSEUM: Goreme was an important Christian centre in the early years of the Middle Ages, was a bishopric administered by Mokissos near Aksaray in the 11th and 13th centuries. Despite the vast numer of monasteries, churches and chapels in the vicinity of Göreme, there are not many inscriptions bearing dates. For this reason, these religious buildings are mainly dated according to the iconography or architectural features.
UCHISAR: Uchisar is a troglodyte town situated right in the middle of Cappadocia. It is named after the enormous piece of rock in the center of the town, which was once used as a castle. This extraordinary rock is the highest peak of the area with the view of whole Cappadocia and Erciyes (Argeus) Mountain.
After the tour, you will be transferred back to your hotel. Overnight in Cappadocia. (Included meals: Lunch)

DAY 2 - CAPPADOCIA - ISTANBUL
Breakfast & check out the hotel.
09:30 You will be picked up from your hotel for Full day tour of South Cappadocia. In this day you will be able to see:
KIZILCUKUR: is an isolated valley behind Urgup. It has beautiful rock formation with some great hidden rock-carved churches. The most interesting part of this area is the countless tracks connecting the small villages and towns through vineyards and gardens like a spider net. It is always possible to see villagers working in the area and offering grapes, apples or apricots to you.
CAVUSIN: One of the oldest settlements in the area, Cavusin is situated 2km from Goreme, on the Göreme-Avanos road. The Church of St.John the Baptist offers a panoramic view of the village. This church and its paintigs date back to the 5th century, making the oldest church in the region. It had a large courtyard which is unusual for Cappadocia, this has been eroded away however.
HOSPITAL MONASTRY: One of the oldest monastries in Cappadocia.
KAYMAKLI: Kaymakli and Derinkuyu underground cities are the two largest and deepest of the 40 others in Cappadocia. They both have eight floors, although not all are open to the public.
PIGEON HOUSE: Visit the pigeon houses and rock formations.
After the tour, transfer to airport.
20:25 Depart from Kayseri.
21:55 Arrive back in İstanbul & transfer to hotel. End of tour and services. (Included meals: Breakfast & Lunch)
WHATS INCLUDED:
• All transportation.
• Round trip flight tickets.
• Transportation in non-smoking mini/midi bus with professional English speaking guide and experienced driver.
• 1 Night in Cappadocia at Cave hotel including breakfast.
• 2 Full Day Tour of Cappadocia with lunch.
• Meals mentioned by the itinerary.
• Entrance fees mentioned by the itinerary.
• Carpark, Gasoline, Highway & Bridge fees.
• Services charges and local taxes.
Not Included: Drinks, tips to guide, driver and personal expenses and optional tours.
PS: State the wished travel dates in the tour booking request form so that we can offer you the best value.
Typical Day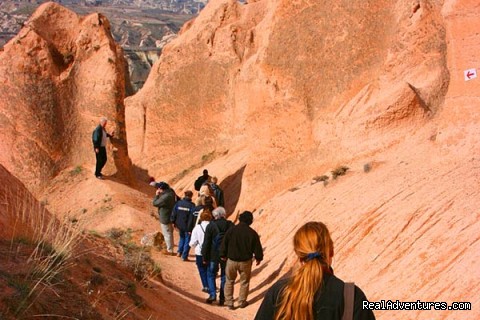 One Day Tour Details;
Visit southern part of Cappadocia.
Devrent Valley: Amazing valley where different fairy chimneys formations can be seen.
Zelve Open Air Museum: ancient village consisting of 3 valleys and dwellings carved into the rocks.
Monks Valley (Pasabaglari): Spectacular fairy chimneys unique to this region, amongst the gardens and fruit trees farmed by locals.
Avanos: A charming village situated on the banks of the Red River ,the longest river in Turkey, watch and experiment the local craft of pottery making using the ancient technique through the ages.
Goreme Open Air Museum: Churches and monasteries carved into the fairy chimneys from the 10th-13th centuries with fresqoes painted on the walls from those days.
Pigeon Valley: Panoramic view of the stunning rock formations and the pigeon that also made the history of Cappadocia.
Uchisar Castle: Another spectacular scene - the natural fortress of Uchisar to witness the unlike shades of colours as the sun sets over this beautiful valley.
Sleeping and meals
Breakfast: Breakfast is included
Lunch: Lunces served on two days
Policies & Restrictions
Tour Reservation Policy:
A 30% deposit is required on the total tour price to reserve the tour and obtain tour confirmation. The remaining balance on the total tour price can be paid in cash upon arrival in İstanbul. A credit card may also be used to pay the remaining balance.
After we receive your tour booking request we will contact you and inform you about the availailty of the tour that you have requested. Then you will be informed about the tour booking payment in the next steps.
Cancellation / Refund Policy:
If tour cancellation is 3 days prior to the start of the tour, a refund will be made of the total paid amount minus the cost of domestic flight and / or bus tickets. Once deposit payment form has been signed by clients and received by Senkron Travel, domestic flight and /or bus tickets will NOT BE REFUNDED.
If tour cancellation is within 3 days of the start of the tour, a refund will be made of the total paid amount minus the cost of domestic flight and / or bus tickets and the cost of first night hotel stay. Once deposit payment form has been signed by clients and received by OneNation Travel, domestic flight and /or bus tickets and cost of first night hotel stay will NOT BE REFUNDED.
If cancelled within 24 hours of start of any tour, NO REFUNDS will be made to clients.
CREDIT CARD PAYMENT:
We accept MASTER, VISA and AMERICAN EXPRESS.
Please e-mail us if you need any further assistance.
Or you can reach us by our +90-554 797 26 46
Rates
Groups 10 or more would get special group deals.
Other Information
THE SAME TRIP IS ALSO ORGANISED BY NIGHT BUSES IF YOU HAVE LOW BUDGET FOR THE SAME TRIP.
THE PRICE IS 125 EURO PP IN DOUBLE SHARING ROOM IF YOU PREFER TO TRAVEL BY NIGHT BUS.