Rest and relax in beach side cottage surrounded by centenary trees. Explore Kosrae with us from an unique angle!
Activity/Tour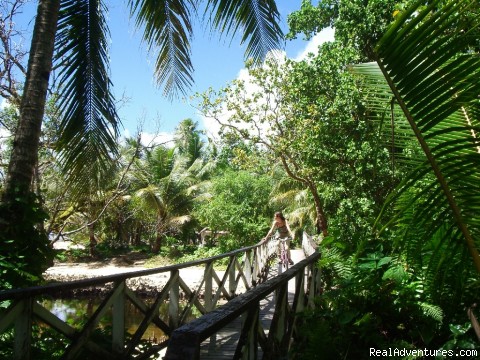 We offer everyday a full range of activities
Diving, snorkling, swimming, surfing
With its unspoiled coral reefs and prolific marine life, Kosrae is one of the best sites in the world for water activities! Visibility can easily reach 30 meters, and in summer as much as 60 meters. Looking for history? Buried in Lelu Harbor are a US PBY search plane and two Japanese boats, including a 91 meter freight,  while in Utwe, the Leonora, Bully Hayes' ship, has been hid for almost 150 years.
Fishing
In the respect of ancient traditions, fishing with us guarantees the perfect equilibrium between man and nature. You can choose between boat or spear fishing with a local fisherman. After the tour, we'll have what ever sea-food you caught prepared for you!
Canoeing & Kayaking
The mangroves of Kosrae are some of the most amazing to be found anywhere in the world. Paddle a sea kayak or a native outrigger canoe to see nature in all its peace and solitude. Ride a local boat through the jungle canopy where rivers flow below and channels rise and fall. You will discover how immense root systems and myriads of animal and plant life flourish in this complicated ecosystem.
Mountain Biking
From Okat to Utwe, the main road runs clockwise around the beautiful, jungle lined coast of the island. You will pass through villages, meet friendly natives, admire the Sleeping Lady and relax beneath palms near the Ocean's clear water.
Hiking the Sleeping Lady & Trekking in the Ruins
Kosrae has a number of wonderful hikes which will give you a real "birds eye view" of the island. Passing through the legs of the Lady you'll reach the top of her belly, Mt. Oman (1555 ft). On the way to the summit, you can stop to see, with the help of a flashlight, several World War II tunnels and later cool off in the cold waters of the triple falls.
Driving
Endemic trees and an undeveloped interior ensure Kosrae is one of the least traversed islands of Micronesia.  An exciting drive in a four wheel vehicle will let you explore the island jungle and admire superb panoramic views of the coast and cool waterfalls. One of the spectacular unpaved roads will lead you to Walung.  People of this most remote village of Kosrae go about their daily lives without cars or electricity.
Sunset Cruise
Every Thursday, admire the colors of the sunset in front of the Sleeping Lady. Foods and drinks included.
for this listing.