Whether you are honeymooners, a business or family group, semi-retired or just young at heart, you can be accommodated for on this unique island. Wake up to spectacular vistas from the comfort of our waterfront fares then spend your day leisurely en
Accommodations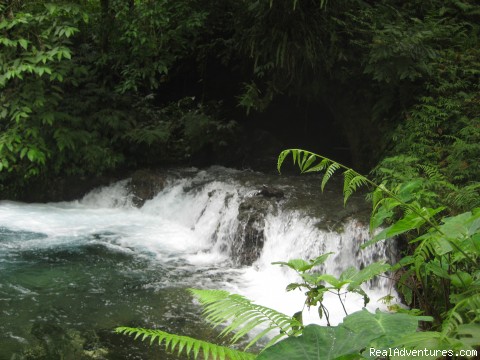 Tours and Activities those are the one you are already doing or that will be fully operational by April 09
All tours are daily and are accompanied by a local guide speaking English, French or Italian. Tours are to be considered as soft adventure type.
Activities: just relax by the pool or into an hammock, or go to discover the island with its many beaches. There is great snorkeling on the east side of the island.
Snorkeling Tour: Your guide will take you to experience the beauty of our coral reef or the underwater relics surrounding the island.( approx. one and a half hours)
Romantic picnic: Our guide will drop you off, with picnic basket to one of the many small island for you explore and have you private romantic time. Don't worry we will come to pick you up at your designated time.(As long as you want)
Diving: We can help you organize your dives to the famous SS. President Coolidge with Luganville's diving companies. And yes transfers to town can be arranged.
Tour to Blue Hole: Your guide will take you by car or by canoe to paddle up the short river which springs out of a §5m deep blue hole where you will be able to refresh yourself in the clear, fresh water (approx. one and a half hour).
Vanuatu canoe: Hire a sea kayak or a traditional canoes and learn to paddle in our totally sheltered bay. Our staff will show you the basics and you will be able to discover small coves inaccessible by foot.
North-East Santo beaches: Half day tour by local vehicle. You will visit the most famous beach in the South Pacific, Champagne Beach, then to Port Olry with its catholic mission and the village established overlooking a white sand beach and facing a beautiful island.(approx 3 hours)
Traditional Santo: Half day tour by local vehicle. You will go to the interior of Santo where the people have kept their traditions, their culture and their costumes. Visit Fanafo and adjoining villages, home to the famous Jimmy Stevens, where you will learn about ancestral customs.
Modern Santo: Half day tour by local vehicle. This tour will introduce you to the various activities of the modern tropics. Visit a coffee plantation, a coconut plantation, the agriculture research centre and a soap factory. Short stop at Luganville for shopping.
Bush and Custom village: Half day bush walk through spectacular scenery of plantations and bush, to visit a traditional village where dwellers still live as centuries ago. (approx. 3 h).
Rooms/Suites
Those waterfront private unit offer comfort in a classic Melanesian feeling. Have a stroll on the front beach, go snorkeling straight out from your unit or sit and enjoy the water sound from your private porch.
Unit features:
-Double bed
-Ceiling fans
-Private patio with outdoor furniture
-Refrigerator
-Private toilet and shower
-Private beach access
-Daily housemaid service and fresh towels
We can also make available:
Room service
Baby cots/cribs
Babysitters (at a small fee)
Tropical fruit baskets and/or wine on arrival (on request)
Rates (x night): Internet rate Single 9000vatu- Double9000vatu
More Information:
-Children are welcome
-Children's age is under 12 years old
-Infants age is up to 12 month old
-Max Number Of Adults is 2
-Max Number Of Adults and Children is 2

for this listing.