The fun, budget and different way to learn Spanish. 4-day crash course around the city of Buenos Aires.
Activity/Tour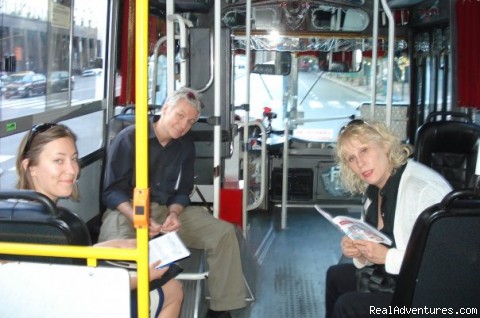 Espanol Andando is a 4 day Spanish crash course for those that have just arrived in Buenos Aires and need  and easy and fun start with the language and the city life.
We teach you Spanish while introducing you to the beautiful CITY OF BUENOS AIRES.
It's an ALTERNATIVE to the standard (and boring!) traditional language courses.
The approach is 100% COMMUNICATIVE and FUNCTIONAL: Learn Spanish by practicing Spanish!
LEARN THE BASIC LANGUAGE SURVIVAL SKILLS to give you the confidence to travel around South America.
EXPERIENCE Argentinean Culture: Find yourself taking the bus, going to the supermarket or reading a newspaper just like a local within a few hours!
Your teachers will show you Buenos Aires and at the same time will teach you WHAT TO SAY, HOW TO SAY IT and WHEN TO SAY IT, encouraging a constant INTERACTION with locals.
Espanol Andando is not a school.
There are no grammar exercises or even role plays,
for the role play is REAL.
The materials are the city.
The classroom is the city of Buenos Aires.

Join us for THE MOST REAL LANGUAGE EXPERIENCE you can have!

Typical Day
Meet at a traditional cafe in San Telmo to learn how to introduce yourself, use basic prepositions and ask for directions. Take the bus to the local bus terminal to practice what you'd learnt.
Walk around Palermo and visit some shops to learn new vocabulary to describe your likes and dislikes. Visit a Supermarket for a practical exercise.
Read the newspapers with your teacher. Learn about Argentina's most current events and use the information on the papers to learn about nouns and articles.
Taste the local specialties over lunch while you learn about adjectives and play different word games.