Everest base camp trekking is a famous and challenging trek in Khumbu Nepal. The trek is famous for its spectacular mountain peaks and friendliness of its inhabitants (Sherpa). The Everest region (Khumbu) is one of the most popular destinations.
Starting at
USD $
1,150
per Trip
---
Activity/Tour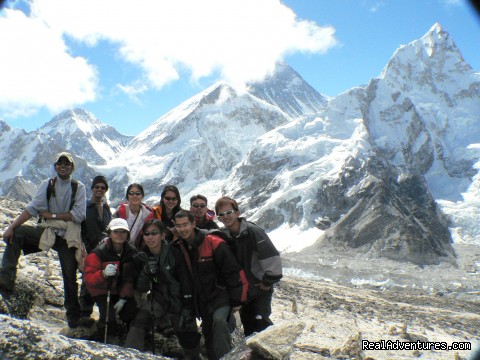 Everest base camp trekking is most popular trekking trail in Everest region, as it offers a unique and unforgettable experience with awesome views of the world's highest and most beautiful mountains Mt. Everest. Everest Base Camp has been famed from when Sir Edmund Hilary and Tensing Norgay made the first successful summit in 1953. It is the most famous and challenging trek in Khumbu region. The trek is famous for its spectacular mountain peaks and friendliness of its inhabitants (Sherpa). Khumbu is one of the most popular destinations for tourists.
The trekking to Everest base camp begins by flight from Kathmandu to the mountain airstrip to Lukla, the heart of Everest Region, then after around three hours walk, we reach at Phakding and then we continue north up to Dudh Kosi valley and to Namche bazaar, where we spend one day for acclimatization. Then next day, we continue our trekking to Kala Pattar and subsequently to the Everest base camp. We have one day rest in Dingboche or Pheriche in between and for some side-trips and for further acclimatization from the area, one can have some magnificent views of Everest along with Nuptse, Lohtse and Mount Pumori and return back to Lukla and catch the flight to Kathmandu.
Everest region trek or Mt. Everest Base Camp is considered to be one of the most rewarding adventure trip in Khumbu Himalaya range as there are superb Himalayan sceneries including of Mt. Everest (8848m), Mt Lhotse (8516m), Mt. Nuptse (7855m), Mt. Pumori (7161m), Mt. Changaste (7550m), Mt. Lingterin (6679m), Mt. Amadablam (6856m), Mt. Thamserku (6723m), Mt. Kantega( 6685m), Mt.Kusum Khagaru (6367m),Mt.Kongde (6011m), Mt. Khumbila (5761m) , Mt. Twache peak (6367m), Mt. Cholaste (6335m) ,Island peak (6179m), Lobuche peak (6145m),Pokalde peak (5806m), Honku south peak (6119m) and one can spot various animals such as musk dears, leopards, jackals, mountain Thar, birds such as Pheasant, long tails birds and beautiful blend of Sherpa culture.
Outfitter Nepal arranges the trekking in everest base camp, the whole year around, but the best times to visit are from the beginning of March to mid May and from the beginning of September to mid November.

Typical Day
Day 01: Arrive at Kathmandu airport (1345meters). You will be met by our representative and transfer to hotel and a short brief about the trekking after refreshment.
Day 02: Kathmandu Valley sightseeing tour including Kathmandu Durbar Square, Patan Durbar Square, Monkey Temple, Pashupatinath Temple and Baudhanath Stupa.
Day 03: Fly from Kathmandu to Lukla (2886m.) and Trek to Phakding: It takes about 30 minutes to fly From Kathamndu to Lukla and Takes about 3 and half hours to Trek to Phakding (2640 m.), you transfer to the domestic airport for your flight to Lukla. Lukla is a small town with an airport. There are few tea shops, lodges, hotels and general stores. You begin today's trek from Lukla following a gentle climb up the mountainside on the left bank of the Dudh Koshi. Nupla (5885m) can be seen in the distance on the opposite bank, is a peak atop the Kongde Ridge. You descend a mountainside path that merges into your route to Everest, with views to a valley to your right; and at its far end, Kusum Kang (6367m.). The Dudh Kosi approaches as you pass a Mani wall and arrive at Ghat teahouse. You continue along a small path with many climbs and descents following the left bank of Dudh Koshi to Phakding.

Day 04: Trek from Phakding to Namche Bazaar (3440 m.): It takes about five hours. The trail starts through a level path along the right bank. Thamserku looms skyward on the opposite bank. You cross a stream and climb the terraced hill from the Dudh Koshi route, to arrive at Benkar. The trail now climbs from the riverbed on the left bank into the mountain, through a forest to Chumoa. You continue along a path with many ups and downs; cross a stream, and pass by the tiny village of Monjo. Now you descend the path of stone steps and return to the right bank. After a short climb you come to Jorsale's teahouse and hotel, also stop at the National Park entrance counter where National Park fee is collected. After your departure from Jorsale you enter a forested mountainside. You follow a short walk along the riverbed of this V-shaped valley where the river forks - the right is the Dudh Koshi and the left is the Bhote Koshi that leads to Nampa La. After short distance along the Bhote Kosi you begin the steep ascent to Namche Bazar. As the mountain path zigzags uphill, you will emerge at a ridge top rest area that offers excellent views of Everest (8848m) and Lhotse (8516m.), The climb eases somewhat, and Namche Bazar appears ahead as you travel along the path surrounded by pines. Pass the plateau where the Saturday bazaar is held and enter the village. Namche Bazar (3440m) is surrounded on three sides by mountain ranges and opens out only where it faces the Bhote Koshi. The village is a central hub of the area and food, sundries and even mountain climbing equipment may be purchased here.
Day 05: Rest day at Namche Bazaar (3440 m.) for acclimatization: Namche is tucked away between two ridges amidst the giant peaks of the Khumbu and has an abundance of lodges, tea shops and souvenir shops as well as a magnificent outlook. It is an ideal place to spend a rest day for acclimatization to the high altitude before heading off towards Tyangboche. For the acclimatization you walk upto Khhumjung where you can visit monastery. Khhumjung is densely populated by Sherpa community. You can also enjoy the splendid views of Everest, Ama Dablam, Thamserku, Nuptse, Lhotse, Tawche and kongde. Or you can have an hour walk up to the Syangboche (3800m.) where Everest View Hotel is situated above Namche for the outstanding view of Everest, Nuptse, Lhotse, Ama Dablam, Thamserku and Kusum Kangaru. .There is also good views from the National Park Centre and Museum just above the town. This museum exhibits Sherpa culture.
Day 06: Trek from Namche Bazaar to Tyangboche (3867 m.): It takes about five hours. You leave the village for a climb to the top of a ridge and level mountain path that offers an excellent panorama of Thamserku, Kantega, and Kusum Kangrib. To the right there is a steep cliff that drops down to the Dudh Kosi, faintly visible on the valley floor below. As you make your way around a branch ridge, Ama Dablam (6812m) Everest, Lhotse, Nuptse (7855m) and Tawoche (6501m) suddenly appear. After a gentle descent the mountain path ends; you will come to the fork leading to Gokyo. Now you descend past two tea houses and through the village of Trashinga. Though you cannot see it, you can hear the Dudh Kosi and soon you descend to the river and arrive at Phunki Tenga. It is a long climb to Tyangboche; the first half is especially steep. As you climb through the forested zone, the incline eases and a splendid view appears. Continue climbing the mountainside diagonally until you come to the stone gate built by lamas which marks your entry into Tyangboche (3867m). You may use the large plateau in front of the splendid monastery as your campsite. There are a lodge and hotel managed by the National Park Service. Tyangboche is an important lookout point on this course, and the sunset on Everest and Ama Dablam is especially beautiful.
Day 07: Trek from Tyangboche to Dingboche (4260 m.): It takes approximately five hours. Leave Tyangboche and the Khumbu mountains as a backdrop-and descend a rhododendron covered area to emerge to a pleasant level area. Pass a long Mani stone wall to enter the village of Deboche. Go on to Minlinggo and leave the mountain path to cross over a suspension bridge to the left bank of the Imja Khola. Climb the mountain path while looking up at Ama Dablam and Kantega (6779m) as they appear on the opposite bank. Ascend the chorten-lined route, come to a fork, the upper path passes Pangboche and a monastery, take the lower path to Pangboche Olin and its stone wall-enclosed potato field. Pass through the village and cross a stream to a path skirting a rocky area to terraced hills along the riverbank. The trails climb slowly, winding above the Imjatse River, to a big Mani Stupa. From here, the walk is fairly moderate as you enter the Imjatse Valley beneath the mighty peaks of Ama Dablam, Nuptse and Lhotse with views of the eastern snow capped mountains including the Island Peak or Imjatse (6,189m) Dingboche is a beautiful patchwork of fields enclosed by stone walls protecting the crops of barley, buckwheat and potatoes from the cold winds and grazing animals.
Day 08: Rest day at Dingboche (4260 m.) for acclimatization: This is a remarkable acclimatization day. There are some breathtaking views of the North face of Ama Dablam and the Lhotse-Nuptse ridge as you explore this beautiful valley that leads up to Island Peak. The walk is short with a good chance to relax in the afternoon. You have another option as you can hike upto Chhukum. From here you can enjoy the panoramic view of Island peak, Ama Dablaml, Makalu, Tawoche peak and others.
Day 09: Trek from Dingboche to Lobuche (4930 m.): It takes about five and half hours. The onward journey leads north for up to 50-minutes until you come to a mani-prayer Stupa. The trail is gentle looking down to Pheriche village below. Today's walk offers views of the Mt.Tawache, Ama Dablam and to the north-Pokalde (5741m) Kongma-tse (5820m) and the great wall of Nuptse. After two hours walk, the trail from Pheriche joins near Dugla (4595m) before a small wooden bridge over the river of Khumbu glacier. Stop at Dugla, for lunch, before continuing for an hour up a steep hill to the top, where there are views of Mt. Pumori and other peaks west of Everest. After a short break, continue trekking up to Lobuche, hidden and sheltered from the wind.
Day 10: Trek from Lobuche to Everest Base Camp via Gorakshep (m.): It takes about seven hours. Trek up the valley following the rocky moraine path, view icy glacial pond and icebergs down below of Khumbu glacier. After the last rocky moraine dunes, a short downhill walk brings you to Gorakshep, the flat field below Kala Patthar (5545m) and Mt. Pumori (7145m.) Gorakshep is the location of the original Everest Base Camp with the new camp being further up the valley. Now the trail winds through rocky path and Khumbu glacier. The view of Nuptse, Lho-La and Khumbutse appear at the front of you. Sometime the avalanche can be seen on the way. After a great moment, you retrace back passing through Khumbu glacier with magnificent views of Lobuche, Cholatse, Mt. Pumori and Tabuche.
Day 11: Trek from Gorakshep to Kala Patthar (5545m.) and trek to Pheriche (4243m.): It takes about six hours. Early morning climb to Kala Patthar (5545m.) and enjoy the view of sunrise. From Kala Patthar you can have a panoramic view of Mt. Everest and many other mountain peaks like Mt. Pumori, Mt. Lingtren, Mt. Khumbetse, Mt. Nuptse, Mt. Lhotse, Mt. Ama Dablam, Mt. Thamserku and many more. Pheriche is the place where one can make phone calls to any part of the world. You can see the mountain Yaks in Pheriche. Yaks are normally regarded as the porters in this area. The town of Pheriche is known as windy town. There you can see the perpendicular walls of Cholatse and Tawache. There is located Himalayan Rescue Association Aid Post and foreign volunteer doctors are to provide medical treatment to trekkers as well as local people.
Day 12: Trek from Pheriche to Tyangboche (3867 m.): It takes approximately four hours. You can enjoy a morning visit to the research center. Then, trek back to Tyangboche, an easier descent passing through rhododendron forest. It is a small village with a famous monastery offering you the splendid view of Ama Dablam, green hills and river views.
Day 13: Trek from Tyangboche to Namche Bazaar (3440 m): It takes about four and half hours. The walk from Tyangboche is mostly downhill on the main busy trail with a few steep climbs for an hour from the bridge at Phungitenga, near to Shanasha. The walk to Namche is very scenic on a long winding path. En route you will visit traditional villages of Khumjung and Khunde. There is an opportunity to visit one of its monasteries, the only monastery that has a Yeti Scalp. From Khumjung village another 30 minutes walk brings you to the village of Khunde, where you can visit the Khunde Hospital funded by Sir Edmund Hillary Trust. After Khunde, a scenic and pleasant walk brings you to Namche for the overnight.
Day 14: Trek from Namche Bazaar to Lukla (2886 m.): It takes about five hours. The last day of your trek leads from Namche Bazaar via Monjo to Lukla. The trek is pleasant, except for few short uphill climbs and then down to the Bhote-Koshi River crossing it three times. The last uphill climb of 45 minutes will bring you to Lukla for your overnight stay.
Day 15: Fly from Lukla to Kathmandu. You take an early morning flight back to Kathmandu.
Day 16: Transfer to international airport for your final flight departure.

Age range, type of group
The Above Cost Includes
1) Airport picks up and Drop by private car/van/bus.
2) Guided sight
seeing tour
in Kathmandu valley with private car/van/bus.
3) Three nights standard accommodation in Three Star Hotel in Kathmandu: Hotel Marshyangdi or Same Categories Hotel.(Bed & Breakfast).
4) Your standard meals (Breakfast, Lunch and Dinner) during the trekking. (A cup of Tea/Coffee with Breakfast).
5) All necessary paper works and national park entry permits.
6) Domestic airport pick up and drop by private car/van/ Flight ticket (Kathmandu-Lukla-Kathmandu)./ domestic airport tax.
7) All accommodations in lodges/tea houses during the treks.
8) Trekkers' Information Management System (TIMS).
9) An experienced, helpful and friendly Guide, porters (1 porter for 2 peoples).
10) Salary, Food, Drinks, Accommodation, Transportation and Insurance for the Guide and Porter.
11) Arrangement of Emergency Helicopter service which will be paid by your Travel insurance company.
12) Outfitter Nepal's sleeping bag, down jackets, and walking stick, if necessary.
13) Medical supplies (first aid kit will be available).
14) All government taxes.
The Above Cost Excludes
1) Nepal entry visa fee (you may easily issue the visa upon your arrival at Tribhuwan International Airport - Kathmandu). You will require 2 passport size photos.
2) Your Travel insurance.
3) Food while you are in Kathmandu.
4) Entrance fees while sightseeing tour in Kathmandu valley.
5) Your personal expenses.
6) All the alcoholic and non alcoholic Drinks.
7) Sweet things like chocolate.
8) Hot Shower during the Trek.
9) International airfare and airport departure tax.
10) Tips for the guide, porter & driver. (Tipping is Expected But it is not mandatory).
11) Any others expenses which are not mentioned on including section.
Get More Information or Make Your Reservation »
Map Legend
Everest Base Camp Trek
Nepal
Get More Information or Make Your Reservation »
Arjun Rijal
(View My Profile)
Outfitter Nepal is an authorized company to plan and carryout all kinds of trekking, tours and adventurous activities in Nepal, Tibet, Bhutan and India and we have been successful to track the record in the country, establishing this company as a leading tour and trekking company with our experience, passion and commitment.
Our belief is to impart optimum satisfaction to our clients with quality services in reasonable price.
We have observed all the legal liabilities; similarly, we are also aware of environment correlatives along with our profession. Therefore, we devise only eco-friendly trekking and tours, with the aim to benefit the locals and conservation of the environment.
All the staffs at Outfitter Nepal are well-trained and license holders from the government to work in their fields of expertise.
Therefore, our message to you is 'Just visit us once and go through it, and then you know all.'
No reviews yet, be the first to
write a review
for this listing.
Arjun Rijal
Everest Base Camp Trek
Outfitter Nepal Treks & Expedition Pvt.
P.O. Box: 19058, Themel, Kathmandu, Nepal
Kathmandu, Nepal 00977
Get More Information or Make Your Reservation »
Show Filter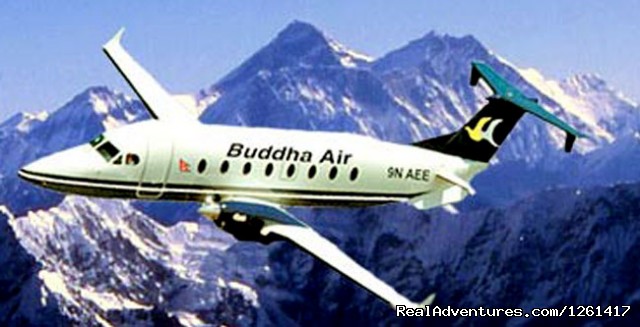 Everest Experience Mountain Flights in N...
0.3 mi away
Kathmandu, Nepal Scenic Flight Tours
From

USD $240

per Trip PP
Show Filter

Great Vacations & Exciting Destinations Listing
Add a multi-page listing promoting your accommodations, tours or travel services to customers on our network of travel sites. Your listing page can have up to 26 images, unlimited text, interactive map, availability calendar, ecards, photo-gallery and more.
Rates From US $17 Per Month
»
View Details
Free Travel Ideas Newsletter