Typical Day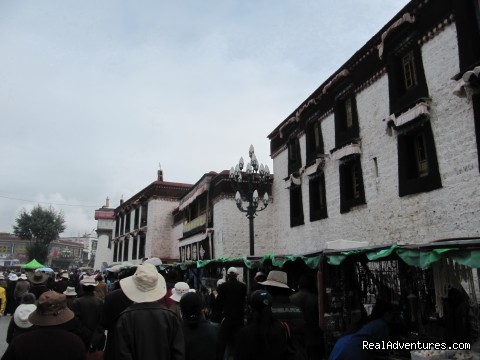 Day 1: Arrive Kunming
Free and easy. Watch the" Impressive Yunnan" the famous and gorgeous Yunnan Minority dancing performance, which excellent explains Yunnan different minority culture.
Overnight in Kunming (hotel)
Day 2: KunMing / Shangri-la
Take the morning 50-minute flight to Shangri-la. Rest and acclimatize, visit Songzanglin Tibetan temple.
Overnight in Shangri-la (hotel)
Zhongdian is the capital of Dechen Tibetan Autonomous Prefecture. It is located in the south most part of Kham, or East Tibet – traditional land of the tall, turbaned Khampa houseman. Today, Zhongdian is principally a Tibetan township but has Han Chinese people as well as a smattering of Bai, Hui and Naxi minorities.
Historically, the town was a trading center between Tibet, Burma and India. Mule caravans once made journeys to conduct commerce between regions. One of the major trade items was "brick tea" from Yunnan – in demand by Tibetan nomads and farmers.
Day 3: Dechen & Yanjing (310 km)
Depart Dechen in the morning; we will travel along the north of Mekong River valley into Tibet. Along the way, you may be able to see the sunrise above Meili Snow Mountain (Kawagebo) 6,740m on a good day. Our first stop in Tibet will be at Yanjing (Salt Well in Mandarin). Yanjing was once the main source of salt for half of the Kham Tibetan area, which ranged from northwestern Sichun down into Yunnan. You will visit the salt fields, followed by a stop at the hot springs, where you may pick your own natural hot bath overlooking Mekong - certainly the best way to relax your bodies for the adventure ahead.
The drive to Deqen is simply the best way to view great variety of landscape in the Great Rivers region. Descending to the Yangtze Basin, we may stop at a beautiful small town named Benzilan and then continue ascending the scenic Baima Snow Mountain Nature Reserve (4,296m). Journey will continue where you may enjoy the far view of Meili Snow Mountain – the highest peak in Yunnan, with an altitude of 6,740m. This peak is called Kawagebo by Tibetan which means the white snowy mountain in Tibetan language. Regarded as one of the Eight Buddhist Mountains and the Divine Mountain and Holy Land, every year the Buddhist followers from Tibet, Sichuan, Yunnan and Qinghai trek thousands of miles to pay religious homage to it. We may visit the Ganden Dongzhulin Monastery along the way.
In the evening, we will arrive in Dechen - the gateway town to Tibet Dongzhulin Lamasery, situated close to the border between Yunnan and Tibet.

Day 4: Yanjing & Markam & Zugong (368 km)
Today you will cross two high passes, one at around 3,899m, the other, Mt. Dongdala, at 5,007m. Driving past local Tibetan houses scattered round the feet of snow-capped peaks, you will soon realize that you are one of the first foreign visitors to this isolated region. On the way you will cross the Mekong River and ascend the Dongdala pass before arriving at Zugong which is located at 3,802m, overlooking the Yu Chu River.

Day 5: Zugong & Ranwu (295 km)
The drive to Ranwu is through alpine forest landscapes, through the deep valleys of the Salween River (Nu River) on the way, which is a long and tough journey. After ascending the Anjula Pass, the road will lead you to our destination - the Ranwu (Ngom Tso) Lake. Ranwu Lake is located on the shore of a spectqacular crystal blue lake, dramatically girded by snow peaks.

Day 6: Ranwu & Bomi (129 km)
Drive to Bomi and visit Tongmai, where some of the best Tibetan tea is made. You also visit a local tea factory and experience the comfortable, hospitable feeling of this area.

We will wander along the Poto-chu Valley at Tramog (2,743 m/8999 ft), located deep in the thickly forested gorge of Parlung Tsangpo with glacial waterfalls streaming from the mountainsides. We will go down several hundred meters in altitude as we reach the lowland jungle settlement of Tang-me where the Tsangpo and Parlung Tsangpo rivers meet.
Day 7: Bomi & Bayi (219 km)
Awaken to the birds singing, and an unobstructed view of the majestic Nan Jiabawa peak. After a long 6-9 hours drive, you arrive in Bayi, the capital town of Linzhi Prefecture.
Day 8: Bayi & Basong Lake & Gongbujiangda & Lhasa (355 km)
First we will drive 30 kms to visit the Lamaling monastery which an important monastery in Ningchi. And then drive to the crystal clear Basong Lake, which will seem like an oasis to you (also known as Draksum-tso) - another place you would be reluctant to leave. Enjoy the wonderful views of the 6,000m mountains that surround the lake. Some short hikes or a boat trip will be arranged. Afterwards, continue on to Gongbujiangda.

Before arriving to Lhasa, we will visit the Ganden Monastery, the first Gelugpa Monastery (built in 1409) that has remained the main seat of this Buddhist order ever since. From the monastery, there are wonderful views of the surrounding Kyichu Valley.
After the long challenging overland trip you will understand why Tibetans regard the journey to Lhasa as one of the most sacred of pilgrimages. Some of them even sacrifice their lives on this pilgrim trip. We shall arrive at Lhasa (3,650m) around late afternoon, capital of Tibet Autonomous Region. The city of Lhasa is situated on the bank of Kyichu River and has long been the "Holy Land" of Tibet.
Day 9 Destination: Arrival Lhasa
Highlights: Acclimatization
Accommodations: Rest at Hotel
Trip detail: Arrive the holy city of Lhasa, capital of the mystical Buddhist Kingdom of Tibet. Our excellent tour guide and experienced driver will meet you at the airport with Tibetan Traditional presenting Hada ceremony and a souvenir picture, and then transfer to Tsedang. The rest of the day will be at leisure for you to relax and acclimatization.
Notice: Today is very important for our respected tourists to acclimate the high altitude.You are suggested to drink some more water and eat some fruit which will help you to acclimate the high altitude. Please do not do much exercise or activities. Please do not smoke and drink alcohol if possible.
Day 10 Destination: Tsedang
Highlights: Yumbulagang, Samye Monastery
Accommodations: Hotel standard double room
Trip detail: Today is the essential of this trip. Our first stop is Yumbulagang which is the first palace of Tibet. It's a small palace but takes high reputation in Tibetan people. After lunch, we will visit Samye monastery, the first monastery in tibet. The temple was built by the Trisong Detsen (reigned 742-798) of the Tubo Kingdom and was presided over by the Buddhist master Padmasambhava. The Detsen contributed a lot to the project. First, it was said the name (meaning surprise in Tibetan) originated from an exclamation he made. When the temple was completed, Detsen took part in the foundation ceremony and then ordained seven descendants of blue blood to cultivate in the temple. They became the first group of monks to live at the temple and later the so-called 'Seven Enlighten Disciples of Samye'. Since then, Buddhism had become widespread within Tibet and forms a branch of splendid culture. Now, the temple is listed as one of the cultural relics of national importance under the protection of the state.
Day 11 Destination: Tsedang / Lhasa
Highlights: Yamdrok Lake, Palkor Chode
Accommodations: Hotel standard double room
Trip detail: After the first impression of Tibetan Buddhism, we will drive back to witness the political and cultural center of Panchen Lama in Shigatse. On the way, we will drop by Yamdrok Lake, one of the three holy lakes in Tibet. Then move to the Palkor Chode. Stay in Gyantse.
Day 12 Destination: Gyantse / Shigatse
Highlights: Tashilunpo monastery
Accommodations: Hotel standard double room
Trip detail: After breakfast, we will head to Tashilunpo monastery which locates in the second largest city of Tibet---Shigatse. Tashilunpo became the official seat of the Panchen Lama, who in turn became, in varying degrees, the chief spiritual and temporal authority in the province of Tsang. In 1922, the Thirteenth Dalai Lama, in attempting to bring the Tashilunpo firmly under the jurisdiction of Lhasa, inadvertently caused the ninth Panchen Lama to flee to China, where he spent the remaining years of his life. His successor was born in 1938 in Amdo, close to the Chinese border, and spent much of his life in China. He died mysteriously in Shigatse, in 1989, and the Chinese authorities have disputed the successor chosen by the Tibetans, hidden him and his family, and placed and imposter in his place.
Day 13 Destination: Shigatse / Lhasa
Highlights: Gandan monastery
Accommodations: Hotel standard double room
Trip detail: Today, We will drive back to Lhasa, the capital of Tibet. You will get a glance impression of Brahmaputra along the G318 Road which is reported as the most famous scenery Road . It's not a long way, but you have to take a long time in the car because of speed limitation policy in Tibet, your car will be checked 5 times for the whole day. On the way, we will drop by Gandan Monastery, which is one of the most important monasteries of Gelu Section. Arrive in Lhasa in the evening.
Day 14 Destination: Lhasa city
Highlights: Potala Palace, Jokhang Temple, Barkhore Street
Accommodations: Hotel standard double room
Trip detail: Usually our first stop is Potala Palace,which built in the 7th century by the famous Tibetan king-Songtzen Gampo. It became known as the "Winter Palace" by the 1750, when the 7th Dalai Lama built the Norbulingka Park as his summer residence.
After lunch, you will visit the Jokhang Temple, situated in the old section of Lhasa. King Songtzen Gampo built this temple in the mid-7th century A.D. Now it is the most sacred place.After Supper, you are suggested to ramble over the Barkhore Street. This is a famous local handmade crafts market. You can choose and buy some little present to your families, relatives and friends.
Notice: As you may know, to protect the Potala Palace, there is a restriction of 2000 tourists' everyday and only one-hour- sightseeing for each tourist. So we may do the converse tour as Jokhang Temple first in the morning and Potala Palace in the afternoon or changed the schedule with Day 3 in the high season (From April to October)in Tibet. In the early morning and evening, hundreds or thousands of pilgrims or local religious people come to the Jokhang Temple and circle around the Barkhore Street. You will appreciated how consecrated the city is and how religious the people is!!!
Day 15 Destination: Lhasa city
Highlights: Drepung Monastery, Sera Monastery Norbulingka Park
Accommodations: Hotel standard double room
Trip detail: We will begin our tour at Drepung Monastery which is used to be the most large monastery in Tibet where lodged more than 10000 monks at its summitin the morning.
After that, you will visit the Sera Monastery which is famous for its Buddism scriptures debating in the afternoon. You will finish today's activity after the Norbulingka Park which is the summer palace of Dalai Lama and later served as the governmental administration center.
Note: Today is very easy. But you will experience how the Lama studies the Buddhism scriptures and also touch the real life of local Tibetan people.
Day 16 Trip detail: Transfer from hotel to Airport to Kathmandu, your next destination. End trip

Sleeping and meals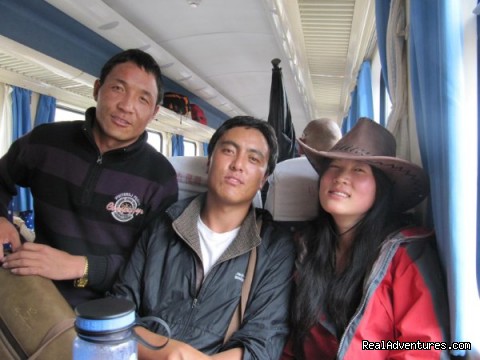 tour package
includes:
-Accommodation based on twin sharing occupancy at hotel,guesthouse and homestay .etc
-Meals as indicated in program,B=breakfast,L=lunches,D=dinner
-professional English speaking guide(professional cycling guide)
-local vehicle support and other transportation
-boat trip mention in itinerary
Service include
1. Domestic airfares Kunming-Shangri-la
1. All necessary documents and Permits
2. Transportation
3. Hotels
4. Entrance fee.
5. Tour guide: English speaking Tibetan guide
6. Presenting Hada celebration
7. A bottle of Oxygen for emergency use
8. A bottle of water everyday each person
9. A souvenir photo with Tibetan Character
10. Visiting local Tibetan family for one time
Service exclude
1. International flights to/from Kunming
2. Meals
3. Personal consumption
4. Tips for tour guide and driver
Jolie adventure can help you book the flight from Kathmandu to Kunming and Lhasa to Kathmandu.

for rates & availability for your travel dates.
Jolie Adventure is a very young and professional tour company founded by Jolie and her friends since 2009. We propose to share with people, love and wisdom through our hard work. Our dream,is one of idealism, and more perfect, more romantic, and more simplified Adventures and culture communication
Jolie is full of passion for Outdoor sports and mountain yoga; she graduated with a Bachelor's Degree in Tourism from Ningbo University in Zhejiang Province in 2005
She has been a tour leader many years in outdoor sports clubs in China, and has extensively travelled around Western China and Southeast Asia as a backpacker herself for around 2 years, She has lived in Yunnan for over 3 years, also working with a Spanish trekking guide in Yunnan for over one year, she loves Ethnic Minority culture and Buddhism, Dancing, Singing and Yoga.
She loves to help people when she can, she believes that: The most important things in this world are: love, wisdom and hardwork.
Let her bring you into an amazing and marvelous world to be discovered.
for this listing.