Lugu Lake houses the Mosuo ethnic and the last practicing matriarchal society in the world; it is also one of the most beautiful lakes worldwide. it is quiet and serene, just like a fairytale, the local people worship the local Zhamei Temple, and the
Email Owner For More Information »
Active Adventure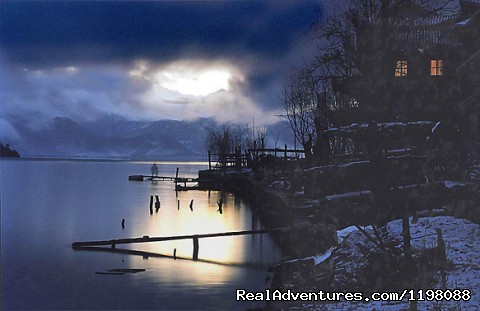 Day 1.
Departure from Kunming to Dali
stroll around Dali ancient town, spent one night in Dali hotel (B.L.D.)
Day 2 Dali
Departure: 9am in the morning, listen to legend about the Avaskavaya temple, and start the trek start from Gantong temple, adventure
hiking
through the valley, taking 4-5 hours, passing the waterfall and seven super ladies pool. Have a simple lunch in a tea house, and back Dali town (B.L.D.).
Day 3 Dali
Take a ferry or bus to Shuanglang village, Rock climbing in Shuanglang lakeside hills
Day 4 Lijiang trek to Wenhai village
Leave 9:30 in the morning. Over 3 hours' trek from the Yushui Stockaded village (2750m) to Yulong Snowmountain Pass(3250m). Another 1 hour's trek to Wenhai Villiage (3100m).Visit the Wenhai swamp.(Big luggage of clients are kept on the bus that day) Hotel
Day 5:Wenhai - Yi minority village
Trek about 4 hours ,we will pass the British Botany garden,and we will see lots of Yak and sheep in the village from the Mountain, at night we will visit the Yi local family ,and camping along the river.
Day 6 Yi minority village to Shanghai village
We will hike in the dense forest and we will go to explore a cave, camp next to the local family, the village is mist of four sides mountain.
Day 7 Shanghai village to Tiger leaping gorge
Hike in the deep forest, enjoy the peaceful moment, surrounding of lots of flowers and birds singing, and the brilliant gorge.
Day 8 Trek in Tiger leaping gorge
Enjoy the deep gorge and delicious local food.

Day 9 Back Lijiang

The Tiger leaping gorge trail is still a classic and one of the most briljant trails in the world. Although we never know how long it will last since the authority is preparing to build a train rail. Let's us enjoy this trail before it's gone.