In 1985, San Francisco Bay area designer Tom Brooks was commissioned to create an Inn from the existing structure of a historic 1940's California-Spanish style firehouse and Clocktower. Focusing on the Spanish influences predominant in the American S
Surrounding Area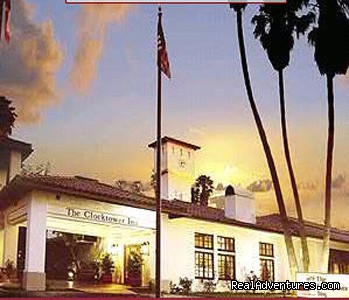 Your gateway to adventure
Set your sail to the most amazing point on the California's Central Coast - Ventura Harbor. The official gateway to Channel Islands National Park and Channel Islands National Park Visitor Center, as well as Ventura's premier oceanfront attraction Ventura Harbor Village - Shopping, Dining and Sea Side Fun!
Come explore and enjoy a host of activities available year-round at the Ventura Harbor including un-crowded beaches, specialty shops, fine dining, fresh seafood market, kayaking, peddle boats, harbor cruises, scuba diving trips, sport fishing excursions, live music, whale watching, ice cream, Village Carousel and Arcade, and tours of the spectacular Channel Islands National Park.
Ventura Harbor- Get Here…Have Fun!

--------------------------------------------------------------------------------
The Ventura Harbor Patrol is available via VHF radio channel 16
or by telephone at 805-642-8618 from 6:00 a.m. - 2:00 a.m. and
24 hours a day by dialing 911.
--------------------------------------------------------------------------------
Ventura Harbor
1603 Anchors Way Drive
Ventura, CA 93001
Local: 805-642-8538
Toll-free: 877-89-HARBOR
(click here for maps)
— UPCOMING HARBOR EVENTS —


Accommodations
Skip to SearchSkip to NavigationSkip to BodySkip to Footer
Search this park
Search nps.gov
Skip NavigationPARK HOME

PLAN YOUR VISIT

PHOTOS & MULTIMEDIA

HISTORY & CULTURE

NATURE & SCIENCE

FOR TEACHERS

FOR KIDS

NEWS

MANAGEMENT

SUPPORT YOUR PARK

Site Index
Frequently Asked Questions
Bookstore
Contact Us




view map

text size:
printer friendly





QUICKLINKS:
Directions
Operating Hours & Seasons
Fees & Reservations
Island Information
Outdoor Activities
Schedule of Events
Laws and Policies
Channel Islands Live

Close to the California mainland, yet worlds apart, Channel Islands National Park encompasses five remarkable islands (Anacapa, Santa Cruz, Santa Rosa, San Miguel, and Santa Barbara) and their ocean environment, preserving and protecting a wealth of natural and cultural resources. Isolation over thousands of years has created unique animals, plants, and archeological resources found nowhere else on Earth and helped preserve a place where visitors can experience coastal southern California as it once was.

more...



Channel Islands Live
An exciting new way to experience the wild, isolated land and seascapes of your national park and national marine sanctuary. Take a virtual visit to the Channel Islands through live interactive broadcasts and webcams (including the popular Bald Eagle Webcam) that highlight the remarkable natural and cultural resources of the islands and their surrounding waters.
more...



General Management Plan
A new General Management Plan is being undertaken to provide a vision for the park's future, as well as guidance in resource preservation, protection, and management that will help achieve that vision. The new plan also will help identify how the National Park Service may best protect cultural and natural resources while providing for visitor enjoyment of the park.
more...



Multimedia Presentations
Learn more about the park through multimedia presentations. New multimedia webpages now offer streaming or download of the park's multimedia presentations.
more...



"From Shore to Sea" Lecture Series
Every month Channel Islands National Park and Channel Islands National Marine Sanctuary jointly sponsor the "From Shore to Sea" lecture series. The purpose of the series is to further the understanding of current research on the Channel Islands and surrounding waters. Past lecture topics have included the recovery of the sea otter populations in southern California water, the French and Italian heritage of Santa Cruz Island, survival strategies of open water fishes, new approaches to understanding kelp forest ecosystem health, and park efforts to restore the Prisoners Harbor wetland.
The lectures occur at 7:00 p.m. on the 2nd Tuesday of the month, at Santa Barbara Maritime Museum, 113 Harbor Way in the Santa Barbara Harbor and the 2nd Wednesday of the month at the Channel Islands National Park Robert J. Lagomarsino Visitor Center, 1901 Spinnaker Drive in the Ventura Harbor. The programs are free and open to the public.
more...





Write to
Channel Islands National Park
1901 Spinnaker Drive
Ventura, CA 93001
E-mail Us
Phone
Visitor Information
(805) 658-5730
Fax
(805) 658-5799 Climate
In general, the islands have a Mediterranean climate year-round. Temperatures are relatively stable, with highs averaging in the mid-60s (°F) and lows in the low-50s.
more...






Skip to SearchSkip to NavigationSkip to BodySkip to Footer

Did You Know?
The Channel Islands are often called the "North American Galapagos" because they are home to over 150 endemic or unique species.



Disclaimer Accessibility Privacy Policy FOIA Notices USA.gov

Last Updated: April 28, 2010 at 15:21 EST


for rates & availability for your travel dates.
for this listing.
181 E. Santa Clara St