Visit Montana's Flathead Valley – the gateway to Glacier National Park. Imagine no crowds, genuine western hospitality, and majestic mountains with an abundance of recreational and cultural activities. Contact us for a FREE Vacation Travel Guid
Services Available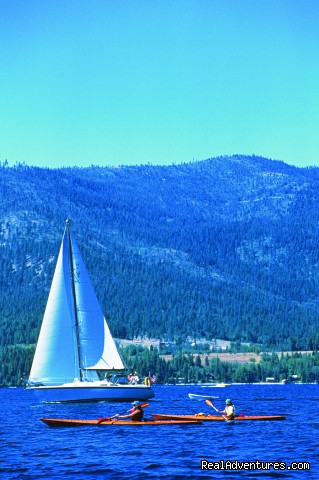 Montana's Flathead Valley
Create a special Montana memory to treasure for a lifetime - visit Montana's Flathead Valley. Imagine no crowds, genuine western hospitality, majestic mountains and an abundance of recreational and cultural activities.
Tucked into the northwest corner of Montana, the Flathead Valley is the gateway to Glacier National Park, a World Heritage Site, and home to both the Whitefish Mountain Resort on Big Mountain and Flathead Lake - the largest freshwater lake found west of the Mississippi. Discover picturesque towns, championship golf, museums, galleries, shopping, fine cuisine and a surprisingly mild climate.
Communities
The hub of the Flathead Valley is the city of Kalispell. Around Flathead Lake are the communities of Polson, Lakeside, Somers and Bigfork. To the north is the resort community of Whitefish, as well as Columbia Falls. The Greater Flathead Valley also embraces the Glacier National Park gateway communities of Hungry Horse and West Glacier.
Vacation Planning
Visitors are pleasantly surprised at the variety and quality of the vacation amenities found in the Flathead Valley. From affordable to decadent, familiar to unique, families to large groups, Montana's Flathead Valley has something for everyone when planning a vacation or special event
Getting Here is Easy
Delta Air Lines, Northwest Airlines, United and Horizon Airlines serve the Glacier Park International Airport (FCA), centrally located between Kalispell, Whitefish and Columbia Falls. Amtrak's Empire Builder pulls into the historic Whitefish Depot daily from points east and west. Automobiles and RV's can utilize I-90 to Highway 93 or take US 2 into the Flathead Valley.
Abundant Recreation
Whether you are a new guest or a return visitor, there will always be something new and exciting to try in the Flathead Valley. There is always another cove to explore, more fish to lure and more campsites to try. Popular recreational activities include: camping, hiking, mountain biking, horseback riding, golf, rafting, fishing, skiing & snowmobiling.
Arts & Culture
Whatever your passion - arts, history, culture - you'll find magical new ways and places to explore it throughout the Flathead Valley. You can take in a symphonic concert, live theatre or visit one of the valley's numerous galleries and museums which feature changing exhibits
Flathead Convention & Visitor Bureau
The mission of our organization is: To strengthen the economy of Montana's Flathead Valley through cooperative tourism marketing efforts and to encourage respect for our outstanding natural environment and quality of life. The FCVB is a non-profit organization funded primarily through membership dues with additional funding from the Montana Accommodations Tax to execute a marketing plan that benefits tourism in the Flathead Valley. The staff of the Flathead Convention & Visitor Bureau (FCVB) is ready to help with plans for any meeting, large or small. We will provide assistance with site inspections, local supplier coordination, spouse tours and activity suggestions, brochures, maps and promotional materials.

for this listing.