The "Sandiego Foundation of Nepal (SADFUN)" is a Non-Governmental Organization dedicated towards bringing awareness among the rural people regarding education, health, environment, and development-related issues.
Activity/Tour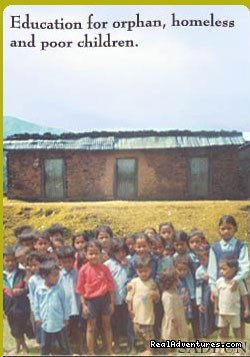 How can you help?
Please consider joining with the people of Nepal to work toward this mission by donating to SADFUN and be a contributor in this social welfare program. Our programs are funded primarily by the generosity of individual donors like you. We invite you to share in our celebration of the spirit and strength of the Nepali people. Contributions to a specific program are considered to be contributions to our total mission; when particular projects are fully funded, additional donations will be used where needed most. Prior to SADFUN's involvement in education, very few girls in the rural areas attended school beyond the primary level. Today, parents are increasingly recognizing the importance of higher education for their daughters as well as their sons.
Here are some of the ways you can be a contributor in our effort:
Sponsoring a child in a village school - A $200 per year commitment, which will make a difference to an entire community. Your annual sponsorship pays for the child's school fees and supplies, as well as providing his/her school with much-needed classrooms, equipment and teacher training. You will receive information on your sponsored child, and annual progress reports on the changes you've helped bring about.
Sponsoring a women's group - A $350 per year commitment, which will provide training and seed money - for the 2 to 3 years, it will take your group to become self-sufficient. You will receive photos and reports on your group's activities, and have the opportunity to correspond with them.
Sponsoring a child in a private school in Kathmandu - Although we no longer accept new children into this program, from time to time we may be able to offer partial or full sponsorship, and we will be happy to share the stories of some of our children with you.
Here's what your contribution can do:
$35 provides a ventilated stove (chulo) for a poor family in Nepal. These stoves help improve people's health by reducing the amount of smoke taken into the lungs.
$40 buys a goat for a women's group member, which increases family income and women's assets.
$55 buys material for a latrine. With community contributions of labor and materials, these latrines promote community ownership of the means for improved public health and sanitation.
$80 provides a 10 day training for a village-level health educator. This health educator then shares information about basic first aid, sanitation, family planning, and nutrition with all in the village.
$100 buys a water tap for several families to share. This reduces the work-load of women who often have to walk up to two hours a day to fetch water for their families.
With larger amounts of money, you or a group of friends, can sponsor a women's group, or children either in Kathmandu-based private schools or in village schools. Nepal is an enigmatic and wonderful country and is famous for the Himalayas, the jungles and its intriguing mix of many different people and hill tribes. In order to make your stay in Nepal as interesting and unforgettable as possible, you can go trekking and enjoy much of the amazing sceneries apart from your teaching job.
The small amount, say, the amount you normally expect to spend in your weekend may mean quite a lot for the poor people here, where the per capita income is 200 dollars.
Besides monetary donation you can help by other means as well such as – you may send second hand clothes for the people and other stationeries such as pen, note books, pencils for the school children.
Whatever you might have heard about Nepal, it's probably going to be different, even from what you personally expect. Living in Nepal is not living in western territories, food is different and customs and conducts in any case. Be ready for the new, open up your mind, bring frankness and patience. And lot of films of course...
If there are still questions about topics that are not mentioned or not entirely explained, then there is no reason to hesitate and send your questions and comments.

Typical Day
Day 01: Arrive - Kathmandu.
Upon arrival transfer to hotel. Detail briefing of the whole trip. Late afternoon leisure walk in Thamel, a popular tourist district in Kathmandu Valley and a bustling bazaar which offers a glimpse of Nepal's vibrant ethnic culture.

Day 02: 1 hr drive to Tokha by local bus and commence trek to Geragaun stay at home with local family. Trekking and view of the mountain range on the way. (B)
Day 03: Visit in the School and Opportunities to learn the Nepalese language and interact with the local students. (B, L, D)
Day 04: Teach students in an area of School and Involvement in some activity that locals generally engage in e.g. harvesting and rest of the time visit to the local residents' homes (B, L, D)
Day 05: Friendly game matches with the local students
Program in School and evening Overnight camp at the local school in Nepal and Campfire with singing and dancing (Nepalese Folk song Resham Fereee….) (B, L, D)
Day 06: Geragaun to Tokha and 1 hr drive to Kathmandu or continue stay for a month (B, L, D)

Day 07: Sightseeing in Pahshupati Nath, Boudhanath Stupa's and Swyambhunath (Monkey Temple) and rest of the time for shopping (B)
Day 08: Final Departure to the Airport or Trekking in the Himalaya.

for this listing.
Skyline Treks & Expedition (P) Ltd.