Activity/Tour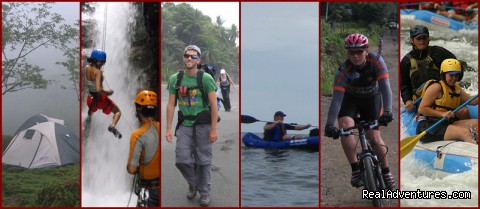 Expeditions, Trekking, Multi-Sport Tours, Training & Adventure Travel Trips in Costa Rica.
Outdoor Adventures
Costa Rica is an Eco-tourism adventure travel outfitter company offering off the beaten path expeditions, trekking, multi-sport tours and
adventure trips
to the most popular destinations all around Costa Rica.
Immersed in the deep jungles and surrounded by the Pacific and the Caribbean, Costa Rica is unlike any other place in the world. 30% of Costa Rica's territory are protected areas, and despite the small size of the country, it has 6% of the World's Biodiversity.
With postcard-perfect lush rain forest, pristine rivers, active volcanoes and tons of wildlife, there is not a secret why Costa Rica is one of the world's top adventure destinations, and in a really short period of time you can enjoy and experience the unique adventure playground that is Costa Rica, with many adventure activities like trekking, river rafting, kayaking, horseback riding, off-road adventures, canyoneering, mountain biking, canoeing, hiking, wildlife photography... and many more!! You will know why our customers feel as if they where part of a National Geographic crew... enjoying first hand what you normally find just in magazines...
"We had a fantastic day with Outdoor Adventures. We got a chance to see the Arenal Volcano before we went waterfall repelling in La Fortuna! It was one of my best days in Costa Rica. Everybody was really easy going and the whole trip was really amazing. I would definitely recommend this company and I hope to come back and take another adventure someday!" Michelle Webb, Minnesota, USA
"I spent my birthday with Mauricio and Outdoor Adventures, and it was one of the best birthdays I´ve ever had! Everything was very comfortable and professional, and I really enjoyed myself the entire time, from the moment we were picked up through until the very end. I will remember this as one of my most exciting and fun adventures in Costa Rica." Amara Lewis, Virginia, USA
Expeditions and Adventure Trips
If you want to avoid the hasless of planning, save time during your trip and just focus on enjoying your vacation time, you can take the advantage and convenience of the pre-packaged Adventure Trips in Costa Rica, designed in a seam-less flowing way and operated for you by Outdoor Adventures, and lead by an expert Adventure Leader that is going to be with you from start to finish.
"Dear Mauricio, We have just returned from the 5 days trip to Corcovado National Park organized and guided by you. We would like to send our apreciation for this outstanding experience. The organization of the equipment needed for camping, the food and the meals you prepared were great!
The depth of knowledge that you have shown about the nature of this special area was amazing. Not to mention your sharp eyes that spotted animals that we would never be able to observe without you... We have learned much about life in the jungle as well about Costa Rican culture and society in general.
Taking you as our guide and trip organizer left us free of worries about the "small details" and enabled us to have a pure enjoyable journey.
We shall strongly recommend Outdoor Adventures to all travelers! Thanks again," Halpern Eyran, MD; Halpern Naama, MD; Halpern Ido; Ram Maayan, ISRAEL
We have different options available for trips around Costa Rica, depending on your interest:
Top 5 Adventure - 6 days
This is Our most popular adventure tour in Costa Rica. In 6 days you will experience the Top5 places that make Costa Rica so famous, and make a lot of people to visit this beautiful country. For the first day you can select and do one of this trips: - the Pacuare White Water Rafting or - the Poas Volcano and La Paz Waterfall Gardens. Then you will canoe in the jungles of Tortuguero, enjoy the amazing views of Arenal Volcano, explore the cloud forest from the canopy tour in Monteverde, and deep yourself in the pristine Pacific ocean with white sand beaches at Manuel Antonio.
Reef & Forest Discovery - 6 days
Take the road less traveled while enjoying the very best adventures that Costa Rica has to offer. With Outdoor Adventures' Reef & Forest Discovery you will find yourself exploring mysterious caves, canyoneering pristine waterfalls, mountain biking or horseback riding around an amazing volcano, touring forest canopies from over 250 ft, basking in natural hot springs, and diving or snorkeling in beautiful blue water at Isla del Caño. We also offer optional activities for this Adventure package, which include Bungee Jumping, Sea Kayaking, and a second visit to the Hot Springs.
Adrenaline Rush Adventure - 6 days
In the Adrenaline Multi-sport Adventure by Outdoor Adventures you will experience a bunch of adrenaline activities, prepared for normal people. Anyone with good sense of adventure and open mind will enjoy this high-adventure quick-paced physically challenging exploration with hiking in the rainforest, canyoneering in high waterfalls, hanging in the zip-lines to have a birds eye of the cloud forest, exploring awesome caves and relaxing in the hot springs.
Corcovado Trekking Expedition - 6 days
This Trekking Expedition by Outdoor Adventures takes you to Corcovado National Park located in Osa Peninsula, Costa Rica, which is "the most biologically intense place on Earth" according to National Geographic. With around 20 Km of trekking per day, you need to be in reasonable fitness level, and Trekking / Camping experience is prefered but not completely required.

All this trips include all the tours as described, all the meals during the trip: breakfast, lunch and dinner, lodging in normal hotels, with private room and private bathroom, private 4x4 or van, depending on group size, up to 12 people; and a Adventure Guide from start to finish.
"Mauricio was our guide for a week in Costa Rica. He was knowledgeable and friendly, and did an excellent job of making us all feel secure. He took care of all the lodging and meals so that we didn't need to worry about anything. I would definitely hire him as a guide again!" Kristina Wanous, USA.

Private Custom Trips
Or, if you prefer, here in Outdoor Adventures we can design a custom made itinerary for you and your family and friends, to suit any special needs or interests, with the level of adventure and activity that you want to travel around Costa Rica.
Also we can arrange any of our tours with customized departure dates. This is the best option for families with kids.
Just tell Us your dreams, the type of travel that you want and the available time for your vacation and we will make a state of the art tour completely designed for you!!! Any trip can be customized with as little as 2 travelers.
"Outdoor Adventures was a unique, exciting, and unforgettable experience. Mauricio was enthusiastic, knowledgable, and accomodated to our every need and desire. My day spent with Outdoor Adventures was one of the best days I spent in Costa Rica." Lauren Trosch, Maryland, USA.

In Outdoor Adventures we are an adventure travel and expedition outfitter, so we directly operate this trips for you, and we have professional specialized adventure guides, with extensive experience and training in mountaineering, Search & Rescue, cartography and GPS, first aid and CPR - to mention just a few.. -, that will make everything posible so you can enjoy the lush beautiful tropic, and turn this adventure in Costa Rica to an unforgettable amazing experience!!

Thank you for your interest in Outdoor Adventures and it will be a pleasure to help you discover Costa Rica, and all that makes this little country wonderful!
Pura Vida!!!

for this listing.