Our accommodation in Hvar Ours apartments ares located in town of Hvar , in a quiet part of town, only 10 minutes from the beach and the town centre, and all important facilities like restaurants, shops, caffe bars, cosmetic lounge, hairdresser's
Vacation Rental Property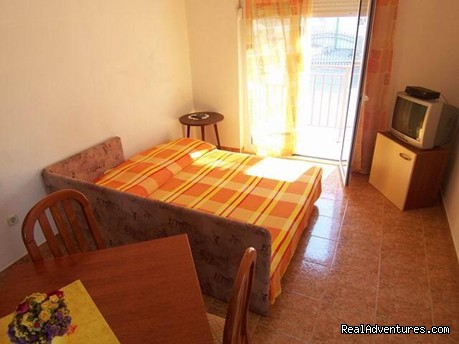 Our accommodation in Hvar
Ours apartments ares located in town of Hvar , in a quiet part of town, only 10 minutes from the beach and the town centre, and all important facilities like restaurants, shops, caffe bars, cosmetic lounge, hairdresser's an are located in the immediate vicinity.
Apartments are fashionable arranged and spacious, they have separate entrances, balconies with seaside view and its own parking area.
Each apartment includes: bedroom, bathroom and kitchen with related equipment. There are also and: air conditioner, TV, satellite television, coffee maker & refrigerator.
After difficult and yearlong working YOU are for sure deserved to feel breath of Mediterran. Dance with rhythm of relaxation and harmony.
Green, yellow and blue, are colors of our apartments. Choose the color which you most prefer. If you are not sure which is the best restaurant, where to spend the best evening, where to go on excursion, where are the best beaches, don't worry because we are here.
Your hosts: Ana & Zlatko Vučeti
Directions
Additional information:
Access to the building: accessibility to accommodation by car: excellent, public transportation services: excellent, parking space.
Information on the owner: knowledge of English, knowledge of German, knowledge of Italian, the owner lives in the house which is rented.
Traffic information of the object:
* distance from the pharmacy is 1km,
* distance from the ambulance is 1000 km,
* distance from the nearest exchange is 1000 m,
* distance from the nearest gas station 300 m,
* distance from the neighboring building 10 m,
* distance from the center is 1 km,
* distance from the grocery store is 250 m.
* Water supply: local waterworks
Traffic information:
* distance from the bus station is 1 km
* distance from the ferry port is 20 km-Stari Grad
* distance from the train station is 50 km, Split
* distance from international airport is 70 km, Split
* distance from the bus station is 50 km, Split
* distance from railway station is 50 km, Split
Beaches
Walking distance from nearest beach is 300 m, type of beach: rocky,pebble and larger stones, the distance from the sea is 300 m