Situated in a game park, a wilderness retreat and adventure camp with customized teambuilding and outdoor activity opportunities to suit your requirements, age and fitness level. Obstacle course, kloofing, canoeing, raft building, orienteering, rock
Active Adventure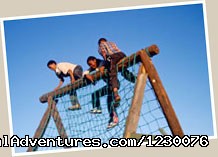 Situated in a game park, a wilderness retreat and adventure camp with customized teambuilding and outdoor activity opportunities to suit your requirements, age and fitness level. Obstacle course, kloofing, canoeing, raft building, orienteering,
rock climbing
, target shooting, horse riding, walking, bouldering, paintball, abseiling, hiking, bird-watching, assorted adventure and environmental exploring.fee are available at appropriate times.
The centre is aimed at school outings and youth camps as well as corporate teambuilding and end-of-year outings. The activities offered are geared towards the age group and ability of the group concerned. Our facilities are designed to maximise the opportunities of being in an outdoor learning setting. Teachers with their students are challenged with new and demanding activities which are facilitated to help them to develop and improve their personal skills and promote active and healthy lifestyles. The physical challenges of life in the outdoors help to develop self-reliance, personal responsibility and teach life skills. Teambuilding encourages businesses and teams to find their motivation and become more dynamic for optimal performance with synergistic benefits of tapping into each other's strengths & skills.
Our visitors are accommodated in two dormitories of 24 bunk beds each, one for girls and one for boys, all under one roof. Each dormitory has its own ablutions and visitors are required to bring their own bedding. Group leaders and facilitators are accommodated in two bedrooms both with bathrooms en suite. We provide linen and towels and can accommodate 4 in one room and 2 in the other. These rooms are in the same building as the dormitories. Our meals are simple but plentiful and provide pudding with supper and biscuits or cake for tea. Juice, tea