EZ 20 Minutes from Airport to Convenient City Edge 14 Acre Nature Setting, Wildlife Reserve, Private Decks, Expansive Views, Spectacular Mountain Sunset Over Inlet, 4 Unique Spacious Tranquil Suites, 24 hour Self Serve Kitchen,
Surrounding Area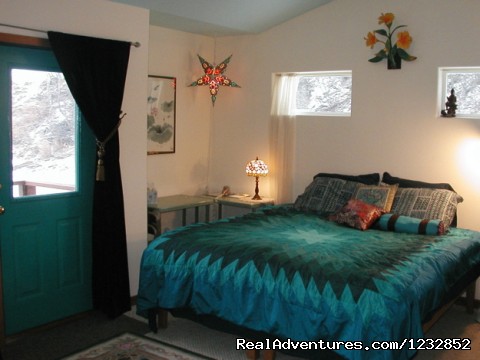 Convenient 20 EZ minutes from Anchorage Int'l Airport.
Easy access to Downtown & Scenic Pinensula. Free Wirelss.
All 4 suites have private baths with original art with a 2nd add on room potential. Delightful mood elevating atmosphere in beautiful hillside on 13+ acre nature reserve.
Surround yourself with Alaska AND be convenient to town.
Questions Answered @ aawesomeworld@yahoo. com
Accommodations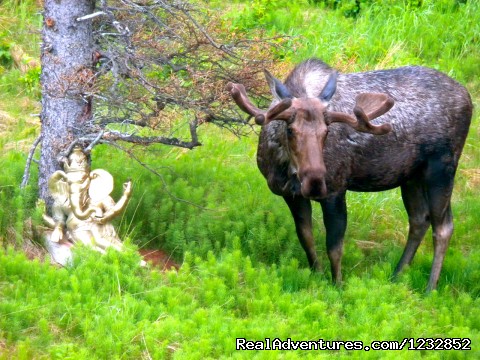 • Competitive Prices & Daily consecutive stay discount
• Extended Stay Specialists & Winter Community Home
• 20 EZ minutes to Airport & Midtown & Downtown 30 Min.
• Private, Exclusive, Peaceful, Comfortable, Spectacular, Inspiring!
• 14 Acre Reserve, Panoramic Mountain View, Onsite Trail to Scenic Pond
• Spacious Artistic Private Suites
• Comfy king & twin beds, Custom marble mosaic bathroom
• Dazzling view deck
• Full Guest 24 hr. Guest kitchen&lounge. Additional Meal prep OK
• Continental+ stocked Self serve breakfast
• Superb family Reunion
b&b
or Relocation Home Base
• Wireless, Satellite TV, Free local calls
• Pet reservations OK
*Anchorage Alaska Wild Edge Sanctuary Observatory Mountain Escape *
* ANCHORAGE ALASKA WILD EDGE SANCTUARY OBSERVATORY MOUNTAIN ESCAPE *