The Sunrise Condominium Resort is Tamarindo's newest vacation complex, steps from the surfing beach made famous in the film, "Endless Summer II"
Surrounding Area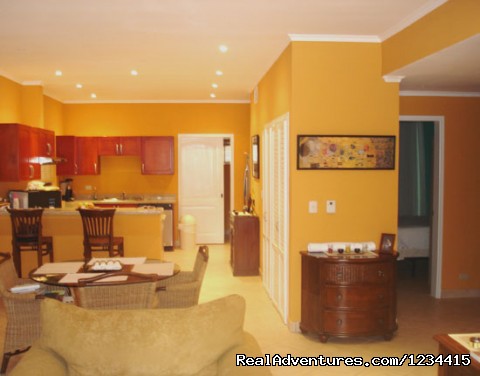 Unique 1600 sq. ft. condominium in pool level, 3 bedrooms, 2 baths, designer decor, a/c, granite countertops, cable TV.
Vacation Rental Property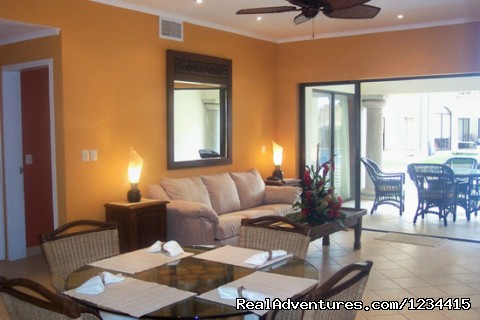 The Sunrise Condominium Resort is Tamarindo's newest vacation complex, steps from the surfing beach made famous in the film, "Endless Summer II". 52 Luxury 2 and 3 bedroom condominiums embrace one of Costa Rica's largest swimming pools and sun-drenched resort terraces. The dress code is a bathing suit, whether you step from your garden-level condo into the pool in seconds or with your surfboard into the ocean in minutes. Enjoy a good book and the pool or ocean views from one of the private terraces on an upper floor. Each condo has been individually designed, combining contemporary pleasure with local influences. All units welcome you with covered terraces, full kitchens, central A/C, cable TV, and dedicated parking.
Amenities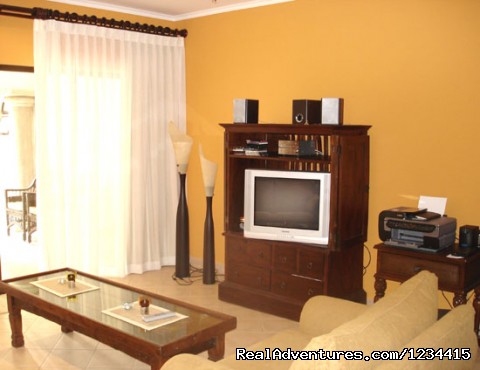 General:
• Paper-Towels • On site security
• Maid service (2 times a week) • Toilet-Paper • Soaps-Basic
• Towels provided • Linens provided • Ceiling-Fans
• Air-conditioning
Kitchen:
• Refrigerator • Oven
• Blender • Washing machine • Clothes dryer
• Coffee maker • Iron & Board • Ice-Maker
• Toaster • Microwave • Cooking utensils
Dining:
• Dining area • Seating for 6 people
Bathrooms:
• 2 bathroom(s) • Both - Toilet, Shower
Bedrooms:
• 3 bedrooms, sleeps maximum of 6 people • Bedroom 1 - 1 King
• Bedroom 2 – 1 Queen • Bedroom 3 - Futon
Entertainment:
• DVD • TV
• Cable
Internet Access:
• Internet access • Wireless broadband
Outside:
• Dedicated parking • Balcony
• PA • Garden
Swimming Pools:
• Outdoor pool
Suitability:
• Children welcome • Pets not allowed
• Long term renters welcome • Elevator
Local Activities:
• Swimming • Tennis
• Mountain biking • Sailing • Fishing
• Deep sea-Fishing • Surfing • Nature Walking
• Mountaineering • Cycling • Horseback riding
• Scuba diving or snorkeling • Golf • Hiking
• Sight-Seeing