Summit Mount Kilimanjaro Experience the challenge of climbing the highest peak in Africa. Our certified guides provide critical expertise and safety and we provide the appropriate climb from beginner to expert. Because this is our homeland
Starting at
USD $
1,500
per Trip
---
Active Adventure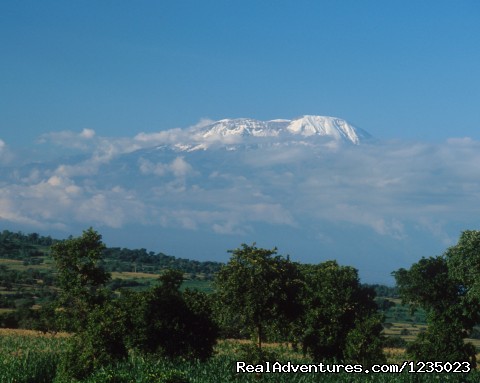 Why choose Vacation2Africa for your guide to Climb Mount Kilimanjaro?
With over 13 years of experience specializing in one country and one mountain, Vacation2Africa sets the standards for safety, success, and ethical trekking practices on Kilimanjaro.
We offer you expert advice and prevent important details from falling through the cracks because our attention is focused solely on travel to Tanzania and no other destination.
No Middleman
Vacation2africa is a U.S. based operator who works directly with Vacation2africa, Ltd in Arusha, Tanzania.
Booking a trek through an unknown third party operator can compromise your safety, the safety of the mountain staff, and allows room for important details to fall through the cracks.
Day 1: Marangu Gate (1980m) - Mandara hut (2700m)
hiking time: 5 hours | Distance: About 12 km's | Habitat: Montane forest
The drive from Moshi to the Kilimanjaro National Park gate, takes about 50 minutes. The journey passes through the village of Marangu, which is located on the lower slopes of the mountain. Once you reach the park gate, all hikers are requested to sign in at the Park office and make their final preparations for the climb. Porters will be seen arranging and loading their packs, containing the food, water, cooking gas as well as most of your equipment. Make sure that you have all your daypack items (containing at least drinking water, your lunch pack and extra clothing) with you as the porters ascend a lot quicker than the hikers. Our guides will be available to assist with any additional information or needs you might have. You now leave the Park gate and ascend on a cleared ridge trail through the rain forest. The forest, suffused with mist and dripping with beards of moss, is also where most of Kilimanjaro's animals are found. (An alternative and more scenic parallel forest trail, branches off to the left a few minutes after the gate. This trail follows the edge of a stream through the undergrowth and offers you the option to rejoin the main trail either, after 1½ hours hiking, or 1 hour before Mandara hut.)
Your first night stop, Mandara hut, is a group of wooden A-framed huts in a forest clearing. Each hut features 6-8 sleeping bunks with solar generated lighting. The total capacity of the camp is 60 climbers. Water is piped into the camp from springs above and there are flush toilets behind the main hut.
Day 2: Mandara hut (2700m) - Horombo hut (3720m)
Hiking time: 6 hours | Distance: About 15 km's | Habitat: Moorland
From Mandara hut the trail passes through a short stretch of forest, then skirts the base of the Maundi Crater and then emerges into the transition from rain forest to moorland. It is well worth a short detour to scramble up the rim of the Maundi Crater for your first really impressive view of the Kibo Crater. On a clear day, Kibo will glimmer in the distance, showing off her majestic glaciers in the morning sun. Once you are in the open moorland you will get the chance to see some of Kilimanjaro's most spectacular plants - the endemic giant lobelia which grows up to 3 m in height and the giant groundsel (Senecia Kilimanjari), which can reach heights of 5m! After about 6 hours from here you reach the Horombo hut, where you will have hot washing water, rest; an evening meal and overnight.
Day 3: Horombo hut (3720m) - Acclimatisation day
Horombo hut is a village of huts perched on a small plateau, with buildings similar to Mandara, but with a total capacity of 120 climbers! Normally bustling with hikers, guides, porters and with an atmosphere of adventure and excitement. You will meet both ascending and descending hikers here. This extra day and night at Horombo is for additional acclimatisation. A hike towards the Mawenzi hut, passing the Zebra Rocks on the way (about 3 hours up and 1.5 hours down), is strongly recommended. This hike will further assist with the process of acclimatisation. Remember to drink enough water and move slowly! All meals for the day are provided at the hut. Retire to bed early and get a last good night's rest.
Day 4: Horombo hut (3720m) - Kibo hut (4700m)
Hiking time: 6 hours | Distance: About 15 km's | Habitat: Alpine desert
After breakfast you now continue your ascent into the Alpine desert habitat. From Horombo there are two trails to the "Saddle" (which refers to the area located between the peaks of Mawenzi and Kibo). There is an upper route (right hand fork) and lower route (left hand fork) to choose from. The upper route (right hand fork) will be very familiar, as you will have climbed most of it the previous day towards Mawenzi hut. It is very stony and eroded.
The recommended lower route (left hand fork) is much easier and nearly an hour and it also passes the last watering point at 4130m. You will have to fill your water bottles with all the water you will need until your return to Horombo hut in two night's time (unless you are willing to buy Mineral water at Kibo hut). Once again remember to slow down and drink enough water!! Situated in the barren Alpine desert is Horombo hut, a stone build block house which has bunk beds for 60 climbers, but no streams with water nearby. It is however possible to buy mineral water and soft drinks at the camp office.
There are platform toilets behind the hut. The summit is now a further 1195m up and you will make your final ascent the same night. Prepare your equipment, ski-stick and thermal clothing for your summit bid. This should include the replacement of your headlamp and camera batteries and make sure you have a spare set available as well. To prevent freezing it will be wise to carry your water in a thermal flask. Go to bed at round about 19h00 and try to get as much rest and sleep as possible.
Day 5: SUMMIT ATTEMPT, Kibo hut (4700m) - Uhuru Peak (5895m) - Horombo hut (3720m)
Hiking time: 8 hours to Uhuru - 6 hours to descend to Horombo | Distance: 6 km's ascent - 21 km's descent | Habitat: Stone scree and ice-capped summit
You will rise around 23h30, and after some tea and biscuits you shuffle off into the night, and this is where the going really gets tough. The first section of the trail consists of a rocky path to the Hans Meyer Cave (5150m), also a good resting spot. The path then zigzags up to Gillman's point (5 681m), which is located on the crater rim. This section is very steep with a lot of stone scree, requiring a great physical and mental effort. Probably the most demanding section of the entire route. Do the Kili shuffle and move slowly.
From Gillman's Point you will normally encounter snow all the way up to Uhuru peak (5895m), the highest point in Africa. Total exhilaration and satisfaction - you made it. Weather conditions on the summit will determine how long you will be able to spend, taking photographs, before the 3 hour descent back to Kibo hut. After a short rest you gather all your gear you left behind for the ascent and head down to Horombo hut (3 hours) for your overnight. The return to Horombo hut will seem surprisingly fast compared to the ascent. The total time spent walking on this day is around 14 hours, so be prepared for a very tough day.
Later in the evening you enjoy your last dinner (with soft drinks and beer for sale at the camp office) on the mountain and a well-earned sleep, filled with memories and stirring emotions.
Typical Day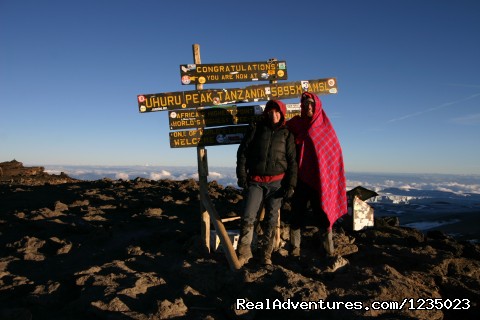 Safety Standards on Every Climb:
* • 2-5 623-liter oxygen tanks (with groups of 2 or more)
* • "Gamow" hyperbaric bag
Is oxygen really necessary?
Absolutely!
A lot of problems at altitude arise from the ever-decreasing amount of oxygen in the atmosphere. So having oxygen on board alleviates a lot of problems and prevents minor problems from developing into serious emergencies. It can and has saved lives. With groups of 2-8 we carry two 623-liter tanks of oxygen. One always goes down with an evacuation. The other remains on the climb for the rest of the group.
What is altitude sickness and what are the symptoms?
During the trek it is likely that all climbers will experience at least some form of mild altitude sickness. It is caused by the failure of the body to adapt quickly enough to the reduced level of oxygen in the air at an increased altitude. There are many different symptoms but the most common are headaches, light-headedness, nausea, loss of appetite, tingling in the toes and fingers, and a mild swell of ankles and fingers. These mild forms are not serious and will normally disappear within 48 hours. Please visit your physician for any preventative medications.
How can I prevent altitude sickness?
* 1. Stay hydrated. Try to drink at least 4-6 liters per day.
* 2. Avoid tobacco, alcohol, and other depressant drugs including barbiturates, tranquilizers, and sleeping pills.
* 3. "Don't go up until symptoms go down". People acclimatize at different rates, so make sure that you properly acclimatized before going higher.
* 4. Before your trip, maintain a good work/rest cycle – avoid excessive work hours, and last minute packing.
* 5. Listen to your body. Do not over-do things the first day or two. Avoid heavy exercise.
* 6. Take your time. Pace is a critical factor on all routes. "Pole pole" (go slowly) is the phrase of the day.
* 7. Walk high, sleep low: If you have enough energy, take an afternoon stroll further up the mountain before descending to sleep. (not if you have any symptoms of altitude sickness!

Age range, type of group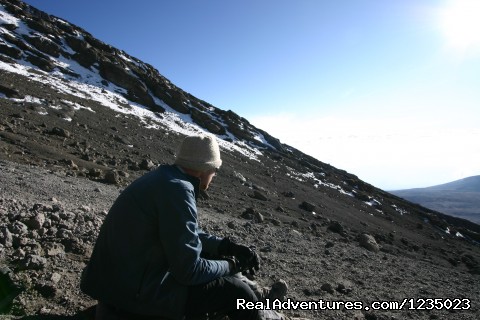 What you need to do to prepare for your climb
Reaching the highest point in Africa will be an achievement to be proud of, and complete preparation is key to your success. Below are some guidelines before you go on your climb.
You can only climb Kilimanjaro as part of an organized trek with a licensed mountain operator. Vacation 2 Africa is a licensed mountain and safari operator whose operators have great knowledge and experience of the area and about how to climb safely and successfully.
We are able to take anyhere from a single climber to groups of up to 100 climbers. Climbers are accompanied with a number of local staff, as there is a lot of equipment to be carried by porters. We recommend groups to remain around 12 to 16 climbers, but we can also arrange trips with a larger group. We arrange to have a climber-to-staff ratio of 1 climber to 3 staff.
Altitude sickness
Although there are many mysteries behind why certain individuals are more prone to altitude sickness than others, one thing the experts agree on is that picking a longer route with maximum rest and acclimatization time will increase your chances of reaching the summit.
For most companies, the success rate on Kilimanjaro is 50% because they offer a 5-day trek which allows very little time for acclimatization. Your climb guide must be fully knowledgeable in dealing with the onset of altitude sickness. Vacation 2 Africa guides are professional and licensed Kilimanjaro guides who know and prepare for dealing with people with altitude sickness, and more importantly, preventing it in the first place. We plan our climbs with built-in altitude acclimitization time. We also make sure you drink plenty of fluids, which helps the body adjust to the altitude.
You can really help your ability to deal with the tough climbing in high altitudes by being in good physical condition, planning a longer climb, staying well hydrated, taking it very slowly as you hike, and using diamox if you start getting altitude sickness.
While it is important to train far in advance and to be in great physical shape before embarking on a journey to the Roof of Africa, your chance of reaching the summit depends primarily on how your body reacts at altitude. High altitude medical specialists agree that there is no correlation between your fitness level, age, or gender and your susceptibility to altitude sickness. It is your rate of ascent that is the single most important factor in proper acclimatization
When to climb
The best time to climb Kilimanjaro is during dry seasons – from the middle of June through October or from mid-December through March. But the mountain can be climbed all year round. In fact, some people find that during the months of April, May and November are the best time because there are fewer people on the mountain.
Age and Health
The National park authorities have set a minimum age for trekking to Uhuru Peak, 19,340 ft., at 10 years old. There is no upper limit to the age of climbers. People in their seventies and eighties regularly make it to the summit. Some of the advantageous qualities in successful climbers are that they are equipped to deal with the adversity, are able to focus mentally and are intent on achieving their goal. These factors often outweigh any physical disadvantages.
Climbers considered to be in a higher health risk category should have a full medical check-up before deciding to climb or not to climb.
Chances of Success
Kilimanjaro is a strenuous undertaking but it is not only the province of super athletes. Virtually all our clients are normal people with a reasonable level of fitness and a lot of determination. Neither age nor physical disability need be a deterrent. We have taken people from 15 to 78 years old, as well as people with severe disabilities to the top of Africa.
How fit do you need to be?
The most difficult part of the climb – the six to eight hour section up to the summit, is mainly due to the extreme attitude.
For the most part, the days that preceed this ascent are not too physically demanding for anyone with a reasonable degree of fitness. That is not to say that even this is easy. A combination of adverse factors such as bad weather, altitude sickness and general tiredness arising from being out on the mountain can make even the easiest walking days very tough, indeed.
The exercise you do beforehand is important to getting you in shape for a multi-day, challenging climb such as this. You should be able to walk for several hours on consecutive days without a problem. Walk at a brisk pace and up and down hills. Any aerobic activities such as cycling or running, will get you toward the kind of fitness level that you'll need for a serious attempt on the mountain
Get More Information or Make Your Reservation »
Map Legend
Kilimanjaro Trekking
Alabama
| Description | Distance |
| --- | --- |
| Mount Meru Trekking | |
Get More Information or Make Your Reservation »
| | 7 days | 6days | Notes |
| --- | --- | --- | --- |
| Machame Rout | $1,700 | $1,500 | Perperson pertirp |
*Please
contact advertiser
for rates & availability for your travel dates.
Thomas Andrerico
(View My Profile)
Planning an African safari? Imagine yourself on the vast plains of Serengeti amidst a herd of wildebeest, zebras and antelope,as lions choose their prey from the multitudes before them. You are a close observer as the drama of predator versus prey unfolds before your eyes.
Picture a group of stately giraffes ambling across the plains as a spectacular African sun sets behind an umbrella acacia tree; or visualize yourself standing on the snow of Mt Kilimanjaro, the highest mountain in Africa as the sun rises in the east. Basking on a sunny beach in Zanzibar you relive the dream vacation of a lifetime. To dream of such experiences is one thing, to experience it is quite another
Vacation 2 Africa was established in 1997 in Tanzania. In 2004, we came to the United States to open an International booking and sales office in our efforts to make sure that our North American and other Overseas clients receive all the necessary information on time and accurately. We own and run our local operations in Tanzania and also have offices in the U.S
No reviews yet, be the first to
write a review
for this listing.
Thomas Andrerico
Kilimanjaro Trekking
vacation2africa
Tanzania
Arusha, Tanzania Tanzania
Get More Information or Make Your Reservation »
Show Filter
Show Filter

Arusha, Tanzania Hiking & Trekking Listing
Add a multi-page listing promoting your accommodations, tours or travel services to customers on our network of travel sites. Your listing page can have up to 26 images, unlimited text, interactive map, availability calendar, ecards, photo-gallery and more.
Rates From US $17 Per Month
»
View Details
Free Travel Ideas Newsletter