ATV - Quad Biking Tours In Peru
All Terrain Vehicle (ATV) or Quad Bikes, tour are a great way to experience everything from the coastal sand dunes and oasis, Andean Mountains and deepest Canyons, from the cloud forest to the Amazon basin of Peru.
Starting at
USD $
55
per Trip
---
Active Adventure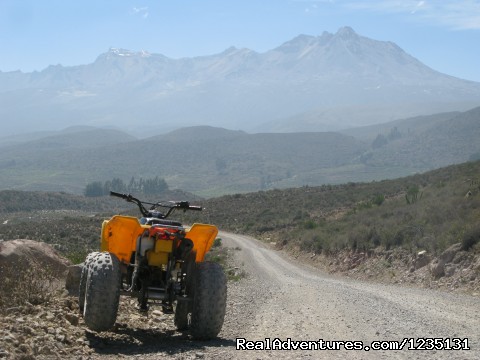 QUAD BIKE TOUR AROUND AREQUIPA $55 USD Per PersonDiscover The Countryside On 4 Wheels - Half Day Guided Tour
Arequipa is a city in southern Peru and the nation's second most-important city. The city stands at the foot of the Misti volcano in the highlands. Arequipa has many fine colonial/Spanish buildings built of sillar, a pearly white volcanic rock used extensively in the construction of the city, from which it gets its nickname La Ciudad Blanca ("the white city").
It is often said that the city's name comes from the Quechua phrase "Ari, quepay" which means "Yes, stay". Nowadays one assumes that the name is from Aymara "ari" (peak) + "kipa" (locative) and means something like "near the mountain". Arequipa is situated has been occupied back to 5000 - 6000 BCE. In the15th century, the region, then occupied by Aymara Indians, was conquered by the Inca and served as an important supplier of agrarian products to the Inca empire. The modern city of Arequipa was founded on august 15th by Garci Manuel de Carbajal, an emissary of Spanish conquistador Francisco Pizarro. As the second largest city in Peru, Arequipa is influenced by both Andalusian and Spanish Colonial ideas and architecture, such as the popular Santa Catalina Monastery, the Goyoneche palace and the Casa de Moral. Arequipa has many valuable archaeological and touristy resources including the outdoor activities such as Mountaineering, biking, trekking and Quad Biking Tours.
Typical Day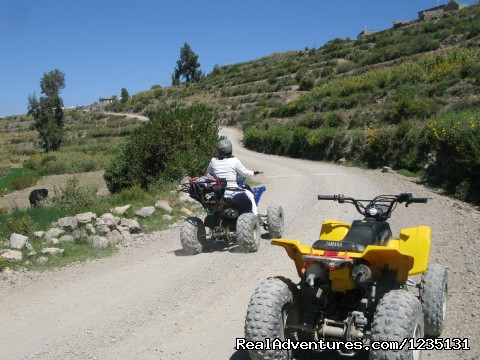 TOUR ITINERARY OF ATV TOUR AROUND AREQUIPA
This tour starts at 8am or 12pm from our local office of Arequipa, you will meet the tour guide and then transfer from downtown to the countryside of Arequipa, this transfer takes 30min to where we will find our All Terrain Vehicles or Quad Bikes.
The places where is located our Quad Bikes is in Characato district. This peaceful countryside surrounded by pure nature, colonial houses, volcanic hills and spectacular views of Pichu Picchu, Misti and Chachani volcano.
Safety talking about how to drive the ATV and then the tour guide will provide helmet, gloves and goggles. The tour includes nice drive on paved and unpaved road along the agriculture fields (terraces) where the local people produce lots crows.
The distance to drive will around 35kms with the best views for picture of the real countryside of Arequipa.
After 5 hours of guided tour you will be drooped to your hotel and end of the service.
Age range, type of group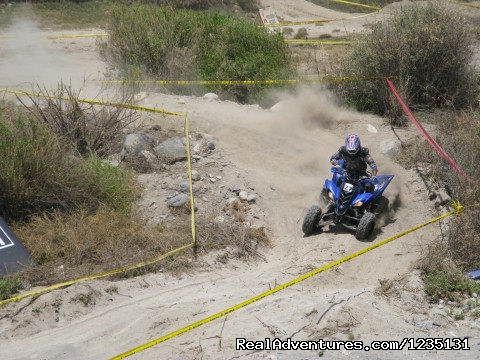 This ATV/Qaud biking tour is available only for passanger over 16 years old.
One participant per aech Quad Bike.
Sleeping and meals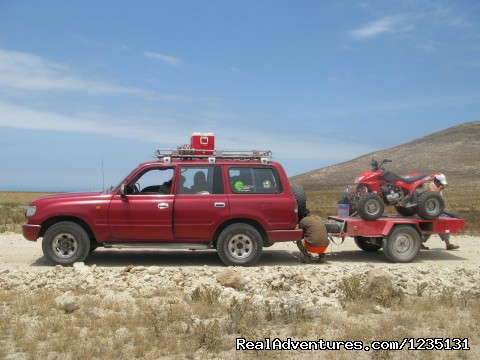 ATV TOUR AROUND AREQUIPA INCLUDES
■Bilingual speaking tour guide (Spanish - English).
■Private supporting vehicle (Private VIP Service only).
■Personal Automatic ATV Quad Bikes - Easy to operate (150cc - 250cc).
■Helmet - gloves - goggles - knee and elbow pads are obligatory to use.
■Enjoy snack and drinks included.
■1 lunch in a countryside restaurant where you can taste typical food of Arequipa cuisine (Private VIP Service only).
■Available repair kit.
Restrictions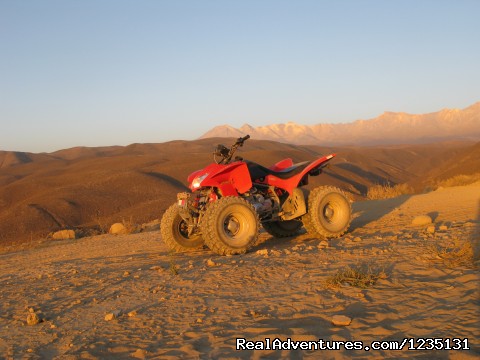 NOT INCLUDED
■Hotel in Arequipa.
■Flight tickets and airport tax.
■Taxi service.
■Client insurance.
RAINING SEASON IN AREQUIPA
Normally rains between December to March, but some days are with blue making more interesting the quad biking tour in the countryside of Arequipa. THe best season to do this tour is during and after the rain season when the mountain looks white and contrasting with the green plants and flowers on the hills. It makes more interesting for the picture lovers.
The sunny season is between April to November when the mountain lose snow and the lowlands looks more dry and the only contrast will be between the hills and the pre-Inca terraces where you will drive our Quad Bikes.
ADVICE FOR QUAD BIKE LOVERS
This outdoor activity don't demand to be fit to learn or makes long drives. You just need tobe available to support the sunny days, the dirt and dusty road especially during the dry season (April to November).
PERU ADVENTURE TOURS guides really recommend you bring normal lents and not contact lent because will be so dusty and this can makes hard your eyes. Also is recommend to bring extra change clothes in case you get weat or dusty after the tour. PERU ADVENTURE TOURS will provide you hot shower in case you will need before to reurn to Arequipa or you plan to take night bus to somewhere in Peru. Don't forget to bring your towel if you plan to get shower after the tour.
WHAT YOU NEED TO BRING?
■Small backpack.
■Rain jacket or poncho (December - April).
■Tennis shoes.
■One complete change of clothing to be used after the tour.
■Bottle of water.
■Hat or cap to protect you from the sun.
■Sun block (sun protection cream).
■Selection of small snacks, chocolate, dried fruit, biscuits etc,
■Camera, plenty of film and spare batteries.
■Sunglasses.
■Towel and sandals if you plan to get shower after the dusty ride.
IMPORTANT NOTES
The tour company reserves the right to refuse anyone that does not show experience or skill and many suspend any drivers that are causing or do not follow the guide's instructions.
Children under 6 years old are not allowed.
This tour is not for people with back problems or pregnant woman.
We refuge people under the influence of alcohol and drugs.
Always we recommend that all tour participants be careful and follow instructions given by the guides.
IMPORTANT REQUIREMENTS
Driver must be at least 16 years old.
Driver must have valid ID.
The use of helmet, knee pads, elbow pads and gloves are obligatory to use during driving time.
Rates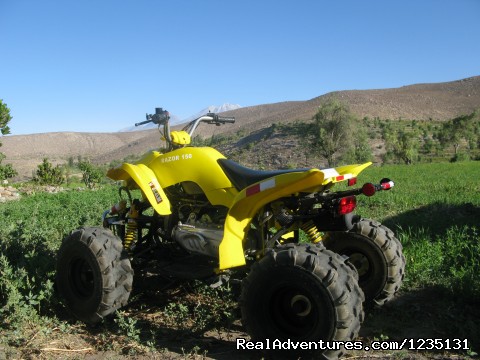 ATV – QUAD BIKING RULES
■All participants must wear a helmet.
■All participants must follow the instructions of the guide.
■We insist that participants travel at reasonable speeds to ensure safety.
■All participants must be at least 16 years old.
■All participants must follow the tour guide in a single file line spaced a minimum of 30 feet apart.
■All participants must take responsibility to become aware of the features of the ATV prior to the ride, including location of brakes, throttle, and ignition switch.
■Absolutely no drugs or alcohol.
■All participants must sign a liability waiver.
■We reserve the right to cancel or change tours due to inclement weather, safety reasons, insufficient bookings or events beyond our control.
Refunds may be offered or tours maybe rescheduled at an alternative date.
■You are responsible for the equipment you use.
■A signed credit card imprint is required to cover potential damages.
Other Information
ATV FREQUENTLY ASKED QUESTIONS - FAQ OF QUAD BIKE TOUR
How to book with Peru Adventure Tours?
There are several ways that you may want to contact us, to make a booking for your Quad Bike Experience.
Choose one of the options below and our helpful and friendly staff members, will be happy to answer any questions that you may have, and book you in at a time most suitable for you.
Do I need to have previous experience?
No prior ATV/Quad bike tour experience is necessary!
A full safety and operational instructions is given before the tour to ensure all participants are familiar and comfortable with our equipment and the safety skill needed on the trail.
Each tour is accompanied by experienced guide to help you with any inconvenient along the tour.
How old do I have to be?
All participants must have a current driver's license and reasonably fit.The minimum age is 16 years under adult authorization.
What if I want more than the standard trip?
We operate in an extensive area of valleys and volcanic land, we have a large selection of different tracks, some of which we haven't even discovered ourselves, so we can guarantee you will be kept active for as long as you wish.
Is there an age limit for quad biking?
All participants must be at least 16 years old under a familiar supervision/authorization. We have no maximum age, but due to the nature of riding quad bikes in an off road environment we would stress that participants need to be reasonably fit.
Do you need any deposit as guarantee when I book the ATV tour?
Yes, each ATV/Quad bike tour booking will require a valid credit card number to be provided for security purposes in the event of any damage to the bikes etc. (Similar to when you hire a car or hotel room).
Can I bring my own quad bike?
Unfortunately we are unable to offer this at the moment, but may look into opening up a separate course in the future.
The tour guide have experience guided a group of riders?
All of our guides are fully trained in ATV/Quad Biking guiding and have also all completed first aid training.
Our guides are specialized in guiding the very nervous and never ridden client through to the experienced and more confident riders. Before your trip commences there is a full safety brief and instructions and tuition given on how to ride your quad bike.
Once the safety briefing is completed you then head to a familiarization area where the guides will put the more experienced riders out behind the lead guide and slower riders follow, we do this so everyone is able to ride to their own ability without pressure.
The more time you spend riding the quad bike the easier it becomes. Guides are there to help if required; they are there for your safety and enjoyment.
We give you the freedom to ride at your own safe speed within your ability and to conditions.
Do I need to book in advance?
We would highly recommend pre booking due to the popularity of quad biking. Each booking needs 50% of deposit as first payment through one of our payment methods.
How long does it last?
Trips can be tailored to your own needs but usually we have from ½ and up to more days. We also arrange ATV/Quad bike tours in the Colca canyon, from Arequipa to Puno and to Cusco and around there too.
Is ATV/Quad biking tour safe?
ATV/Quad biking is safe as long as you follow the full instructions and briefing given by our fully trained staff. Safety equipment is also provided.
When is the raining season?
The raining season begins on December and end on April, you must need to bring full waterproof clothing. Between May to November is the summer season and we recommend you to bring a fleece for some late afternoon, but is advisable to wear something that you don't mind getting muddy or dusty.
What if it's raining?
Weather does not affect the departure of our tours as the quad bikes perform equally well in wet or dry conditions.
What kind of clothes should I need to bring?
We recommend you wear long pants, hiking boots or sneakers (boots are best), and a long sleeved shirt or light jacket.
It can be muddy or dusty on the trail so be prepared.
YOU WILL GET DIRTY!
Don't forget to bring additional clothes to change after the tour. Make sure you bring your camera!
How many people are in each group/depart?
We operate a maximum of 6 bikes plus an instructor to maintain adequate levels of supervision. We can currently take up to 12 people per session with additional tour guide.
What equipment is provided?
All riders will be personally fitted with their own safety helmet, full finger and windproof gloves, goggles, knee and elbow pads (obligatory) and personal bike.
How do I get there?
Pick up/drop off from our local offices.
Is It Difficult?
The bikes are very easy to learn to ride being fully automatic there is also tuition for those who need it. A guide is constantly in touch with the rider's progress during the tour evaluating skills and advising where necessary. The guide will tailor the tracks to the rider's capability.
Can I take photos?
Yes! We recommend you do, however consider how you will carry your camera on the bike.
The ATV/Quad bikes have room or something where I can fix my backpack, camera and other personal items?
Each ATV/Quad bike tour has rear rack where you can carry your backpack with your personal items as camera, sunscreen, extra jackets & etc.

Discounts Offered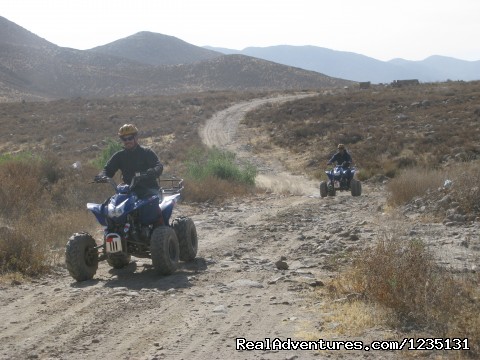 CANCELATION POLICY - TERMS AND CONDITIONS
•All the payments are 100% thirty days prior (minimum) to departure, because to guarantee quality we must pre-pay 30 days prior your arrival date the spaces in hotels, 4x4 trucks, and many other services.
•If a notification of cancellation is received until and including 30 days before the estimated date of arrival in your destination in Peru, the full deposit made for the trip is reimbursed after discounting administrative costs of 15% to 25% covered by our administration. Not Applicable for plane and train tickets.
•If alty of 50% of the total cost. Not Applicable for plane and train tickets.
•No reimbursement will be made if the notification of cancellation is received 14 or less days before the estimated date of arrival in your destination, or in the case of a no-show by passenger(s) or for cancellations made during the trip itself.
•If you decide not to continue with the, if you don't to pay the final balance for ANY REASON outside our company, if you change your travel plans because of any emergency (health, family, accident, natural phenomena, etc).
•PERU ADVENTURE TOURS reserves the right not to refund any money received as deposit or final payment for the service/tour that has not been informed 13 days before starting the tour. Even if you make a reservation of tour/service at the last moment with 50% of deposit or full payment PERU ADVENTURE TOURS reserves the right not to refund any money.
•The acceptance of the terms and conditions, proof of their personal data in the booking form, your e-mail(s) sent us to confirm the service/tour will be used as physical evidence to go to the legal authorities to carry out the total cost or the final balance of the service/tour. The customer has full freedom to choose our services/tours or to book the same without any pressure from our company or one of our stuff. The customer is totally responsible for contacting us through our website.
•If customer files a complaint, claim or complaint to any government entity or institution that creates the belief that our company should not provide the contracted services/tours in accordance with our booking form/contract PERU ADVENTURE TOURS is not responsible for damages, economic costs, etc, that may be generated to the customer through the duration of the process.
•If our company (Peru Adventure Tours) have the tests and shown that the client violated the truth, has raised false testimony or slandering our reputation PERU ADVENTURE TOURS through their lawyers proceed with the defense and denunciations by the competent authorities and demanded the offender (customer) an economic reparation not less than 15 current minimum salaries set by the government of Peru.
•PERU ADVENTURE TOURS requires 50% of deposit as first payment through our payment methods at time of booking. This will secure your booking. There is a 10% fee on credit card payments not included in each tour price. The final balance will be paid in US Dollars or local currency (Peruvian Soles).
•Quad Bike King reserves the right to change or alter the adventure for safety reasons or in extreme weather conditions. We also reserve the right to stop any of our passengers from continuing a quad bike session, if our safety instructions are not followed by the passenger, or if the passengers behaves in an unacceptable manner or are affected by alcohol.
•PERU ADVENTURE TOURS is an all weather activity. No cancellations will be accepted due to wet, windy weather or any third party accident.
PERU ADVNETURE TOURS asks that all our customers arrive minimum 10 minutes prior to departure.
No refund will be provided for late arrivals.
Get More Information or Make Your Reservation »
Map Legend
ATV - Quad Biking Tours In Peru
Peru
PERU ADVENTURE TOURS
Peru
Get More Information or Make Your Reservation »
*Please
contact advertiser
for rates & availability for your travel dates.
No reviews yet, be the first to
write a review
for this listing.
Saul
ATV - Quad Biking Tours In Peru
Arequipa, Peru areq 1
Get More Information or Make Your Reservation »

Great Vacations & Exciting Destinations Listing
Add a multi-page listing promoting your accommodations, tours or travel services to customers on our network of travel sites. Your listing page can have up to 26 images, unlimited text, interactive map, availability calendar, ecards, photo-gallery and more.
Rates From US $17 Per Month
»
View Details
Free Travel Ideas Newsletter