Highlights of Albania, Macedonia and Kosovo Tour, Meet with Local People, Explore the best Roman Ruins etc
Activity/Tour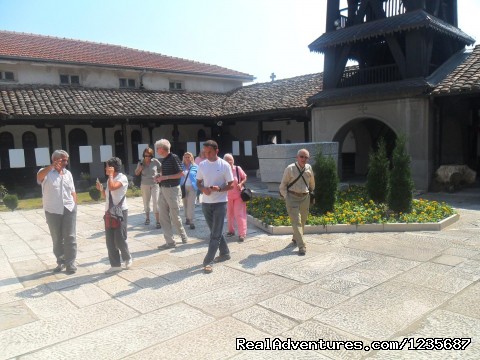 Highlights of Albania, Macedonia and Kosovo
Day 1
Arrival at Mother Theresa Airport and transfer to Tirana for dinner and overnight at hotel "De Paris." (D)
Day 2
Half day tour of Tirana and excursion to mount Dajti by cable car. In afternoon departure for Kruja, home of Albania's most important hero, Scanderbeg, who in the 15th century successfully fought off the Turks for over thirty years. Sightseeing at his castle and the impressive Scanderbeg Museum. Shopping in old bazaar. Return back to Tirana for overnight at hotel De Paris (B, L, D)
Day 3
After breakfast drive to Durres. This busy port city has one of the largest Roman amphitheaters in the Balkans. Durres is one of the oldest Roman cities in the Mediterranean and the largest seaport in Albania. After lunch we drive to Berat. Its castles and fort date back 2400 years. Afternoon visits to Onufri Museum, the Ethnographic Museum, Bachelors Mosque and the King's Mosque. Overnight at hotel "Magalemi" in Berat. (B, L, D)
Day 4
Morning departure for Fieri to visit the archaeological site of Apolonia. Then drive to the coastal city of Vlora. Vlora is legendary in Albanian history as the city where Albanian independence from Turks was proclaimed on November 28, 1912. Drive southward from Vlora to Saranda enjoying the spectacular views of mountains and the Albanian Riviera. Stop over in seaside villages of Dhermi, Himara and Borsh. Overnight at hotel "Brilant" in Saranda. (B, L, D)
Day 5
Morning visits to the Greek and Roman ruins of Butrint, Albania's most important archaeological site. After a leisurely exploration, we will lunch in Ksamil overlooking the Ionian. In afternoon departure for the Museum city of Gjirokastra to visit its fortress, the armaments museum and the ethnographic museum. Overnight at hotel "Kalaja" in Gjirokastra. (B, L, D)
Day 6
Leave Gjirokastra for Korca via Permet known for its production of traditional raki and wine. Arrival Korca, the commercial and cultural capital of Southern Albania. Overnight at hotel "Regency." (B, L, D)
Day 7
Early morning visits to the Medieval Arts Museum, Birra Korca Brewery and the first school teaching the Albanian language established in Albania in 1887. The first girls' school in the country was established in Korca in 1891. Departure from Korca, for a short journey to Pogradec, on the shores of Lake Ohrid. Cross the border into the Macedonian countryside. Short stop over in St. Naum Monastery and then drive to Ohrid for dinner and overnight at hotel "Riviera." It is in this region that the Early Christian Orthodox Bishops created the Cyrillic alphabet in about 900 AD. (B, L, D)
Day 8
Morning Departure from Ohrid to Prishtina, capital city of Kosova. Visit the Prishtina Museum, the Bazaar Mosque, the Clock Tower and the Mosque of Sultan Mehmet Fatih, followed by a stoll along the main street of Prishtina. Overnight at hotel "Prishtina." (B, L, D)
Day 9
Drive to Kosova Field, where the battle between Christian forces and ottoman invaders took place on 1389. Visit the Tomb of Sultan Murat II and the Cave of Gadima. Proceed to today's thriving modern city of Skopje to visit the Stone Bridge, the Mustafa Pasha Mosque and the Church of St.Pantelejmon. Overnight in Skpoje. (B, L, D)
Day 10
Morning departure for Tirana. En route stop over in Elbasan to visit the ruins of the Ottoman fortress at the city center and the Petrela castle. Overnight in Tirana at hotel "De Paris." (B, L, D)
Day 11 Transfer to airport for your flight home.
TOUR PRICE:
Land Cost Per Person:
(double occupancy)
• 11-14 travelers: $ 1390.00
• 9 - 10 travelers: $1528.00
• 6 - 8 travelers: $1786.00
• 3 - 5 travelers: $2135.00
• 2 travelers: $2413.00
Single supplement: $215.00
Tours guaranteed to depart with a minimum of two people. Maximum tour size is 14.
Price Includes:
• Hotel and breakfast (tourist class and better hotels)
• Lunch &Diner
• Other meals (where indicated)
• Services of driver and guide throughout
• Entrance fees
• Airport transfer
Price Does Not Include:
• Airfare (unless otherwise arranged)
• Departure and custom fees
• Gratuities and individual daily expenses
• Additional beverages
• Travel insurance
• Trip cancellation
• Medical and luggage insurance are recommended for coverage against all unforeseen circumstances
Tours Albania is a young, motivated, and ambitious inbound tourism company created at the beginning of 2007 We are specialize in offering a range of packaged tours but can also provide tailor made programs too. So if your clients want to enjoy just Sun, Sand and Sea, or visit the many cultural and archeological sites of Albania. Or perhaps do a little of both then we are the agency to help. We can be your partner on the ground here in Albania and all in Balkans.
Before establishing "Tours Albania", I (Jimmy Lama) worked for over 5 years as a freelancer Tour Guide. This is what inspired me to become a licensed local Tour Operator & guide and start introducing my country to others
for this listing.