Visit Himalaya Treks Pvt. Ltd. is one of the leading travels and trekking company in Nepal. The founder of this company are experienced and dedicated travel professionals, all qualified, trained and experienced in operating tourism in Nepal,
Email Owner For Reservations »
Active Adventure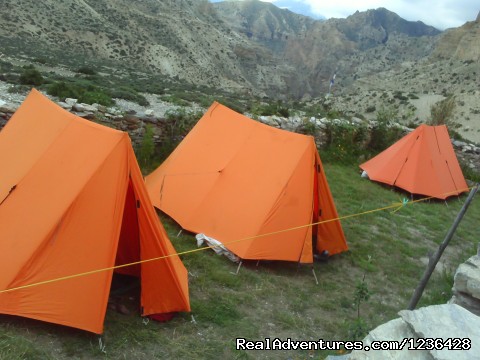 Upper Mustang trek,
Mustang is an ancient Himalayan Kingdom which lies in the northern central part of Nepal and at the top of the Kaligandaki River. Upper Mustang consists of two distinct regions: the southern part and the northern where the languages, culture and traditions are alike to those of the Tibetan people. This area is consider as one of the most interesting and picturesque places in Nepal. The whole area has an isolated and mystical feel to it, enchanting and inspiring visitors to this region.
The trek to Lo- Manthang is through high altitude desert country climbing in and out of the huge sided valley of the Kali Gandaki. In places the gorge which the Kali Gandaki River runs through is the deepest in the world. This region is full of some of Nepal's oldest Buddhist Monasteries, ancient and isolated villages with quaint white washed houses.
Luri Gompa and Yara/Ghara village is lies East South of Lo-Manthang,Luri Gompa (Cave monastery) sits high above the crumbling landscape like an eagle's nest. It is some of the last cave monasteries in Lo and Tibet. No written record exists for the construction of Luri Gompa. Luri Gompa and some other monasteries are affiliated with the Kagyu sect (one of the sect of Buddhism). The style of painting suggests they were done by Nepalese (Newari) artists working for Tibetan patrons. The cave temple dates from the 13th - 14th century. The central chamber of the Gompa is carved out of the rock creating a domed ceiling on which are painted a series of Mahasiddha, Sakyamuni Buddha and Chenrezig figures etc, which are the true masterpieces. Lining the walls are series of 14th century paintings, which depict India Mahasiddahs. Some are real individual and other mythical.
Typical Day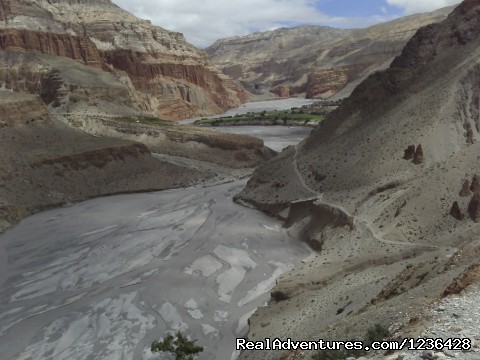 Day 01: Arrival in Kathmandu airport receipt and transfer to Hotel O/N Hotel
Day 02: Sightseeing Kathmandu valley O/N Hotel
Day 03: Drive to Pokhara (5-6 hours) and transfer to Hotel O/N Hotel
Day 04: Fly to Jomsom (25minutes) meet staff and after lunch trek to Kagbeni (2800m) O/N Camp (3-4 hrs)
(Restricted area)
Day 05: Trek to Chele (3100m) O/N Camp (5-6 hrs)
Day 06: Trek to Geling (3570m) O/N Camp (6-7 hrs)
Day 07: Trek to Dhakmar (3820m) O/N Camp (5-6 hrs)
Day 08: Trek to Lo-Manthang (3840m) via Ghar Gompa O/N Camp (5-6 hrs)
Day 09: Explore Chhosar/Garphu/Nyamdo/ Kimaling/and Thinggar and back to Camp (5-6 hrs)
Day 10: Explore around Lo- Manthang/Namgyal O/N Camp (3-4 hrs)
Day 11: Trek back to Charang/Tsarang (3560m) O/N Camp (3-4 hrs)
Day 12: Trek back to Syangboche (3800m) O/N Camp (5-6 hrs)
Day 13: Trek back to Chhusang (2980m) O/N Camp (4-5 hrs)
Day 14: Trek to Muktinath (3760m) O/N Camp (5-6 hrs)
(Exit restricted area)
Day 15: Trek back to Jomsom O/N Lodge (4-5 hrs)
Day 16: Early morning fly to Pokhara and transfer to Hotel (Afternoon sightseeing Pokhara O/N Hotel
Day 17: Sightseeing in Pokhara valley O/N Hotel
Day 18: Drive back to Kathmandu O/N Hotel
Day 19: Free day at Kathmandu O/N Hotel
Day 20: Transfer to airport for departure to home land,
Please write us further more information and price details.