Borne Dream offers the widest scuba diving trips along the west coast of Sabah for beginners to the most advanced. We also offer diving certification and is the only Rebreather trainer in the whole of Borneo.We visit TARP Islands, Pulau Tiga & Usukan
Active Adventure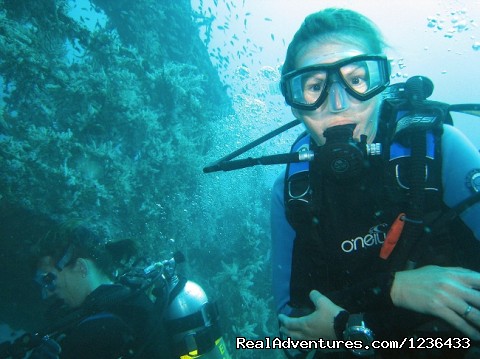 Leisure diving along the beautiful coral reefs within the Tunku Abdul Rahman Marine Park (TARP), just 15 minutes on our spacious Borneo Dream 3 catamaran boat OR Wreck diving to the Usukan WWII Wreck in Usukan Bay, less than an hour half from Kota Kinabalu on our super fast RIB.
We offer leisure diving trips 365 days a year within the TARP. Easy diving along pretty sloping coral reefs with plenty of marine life. Perfect for those wanting an easy diving whilst on holiday. We visit all 5 islands within the park (Suluq, Sapi, Mamutik, Gaya and Manukan).
For the advanced divers, our wreck diving trip to Usukan WWII Wrecks takes place from April - October. We visit the Rice Bowl Wreck, Upside Down Wreck and Usukan Wreck. We also visit Pulau Tiga for our leisure diving trips.
Rebreather divers shouldn't miss the chance to dive Gaya Wreck. The large Gaya wreck sits upright in 36m - 50m of water which also makes it accessible to Rebreathers divers only and is rarely explored. The site is just 20 minutes off Kota Kinabalu pier.
If you haven't dive and wish to learn, we offer scuba diving courses in Tunku Abdul Rahman Marine Park. From Discover scuba Diving Experience to the getting certified as an Open Water Diver, we offer only the best of experience with high quality and safety standard.
If you only want to snorkel, be sure to go on PADI Discover snorkeling Experience. Your guide will be very much happy to show you skills you can do to echance your snorkeling experience.
Typical Day
Crew between 2-4 for 8 divers. Experienced and passionate Dive Professionals with years of experience. Well versed with the local dive sites and all along the West Coast of Sabah. The Dream Team crew are made up of English, Bahasa and Mandarin speaking instructors. Some are even Marine Biologist so you are sure to know every single marine life you see along the way.
With over 25 GPS logged dive sites, dive sites are chose based on best diving condition of the day. Easy diving along pretty sloping coral reefs within and just outside of the Tunku Abdul Rahman Marine Park.
Leisure diving in the morning followed by a nice lunch in one of the local islander restaurant and second dive after. After your second dive, you will be transferred back to the pier in Kota Kinabalu.
Sleeping and meals
From affordable rooms and beach resorts, our aim is to give you your Borneo Dream holiday.

Other Information
-Boat transfers on the best diving day boats in Kota Kinabalu - Borneo Dream 3 our spacious, well equipped 10m x 4m catamaran and our new, fast and comfortable 9m x 3m RIB (used for our long distance trips).
-Borneo Dream 3 is equipped with fresh water shower, toilet, cabin, sun deck and a full range of refreshments and fish identification material.
Refreshments and towel are provided on board our boats.
-We have small groups per PADI Professional for our guided dives meaning you get personal attention and you can see the marine life your Dive Guide finds for you.
-We take you to the best dive sites on the day based on weather, sea state and diver experience levels (all with GPS co-ordinates so we start the dive at the nicest part of the dive site). You'll often be the only divers in the water.
-We only use qualified Staff - PADI / SDI/TDI Dive Professionals in 'active' status and qualified Offshore Skippers.
-We only use new, fully functioning, high quality dive gear
-We have a full range of safety equipment on our boats - personal buoyancy aids, VHF radio, GPS Plotter, emergency medical grade oxygen with DAN portable oxygen kit.
-We can provide diving briefings in English, Mandarin and Berhasa Malay.
We also provide FREE Nitrox (EANx30 / EANx32) to PADI Enriched Air Divers
-And we'll do our best to show you a fun and enjoyable diving day out :)