Del Sur Adventures in Ponce, Puerto Rico. offers adventure tours of Canyoneering, rappelling in waterfalls, rock climbing and ziplining. Please view our review on Tripadvisor or google our company name to request a tour.
Send an Email For More Information & Reservations »
Activity/Tour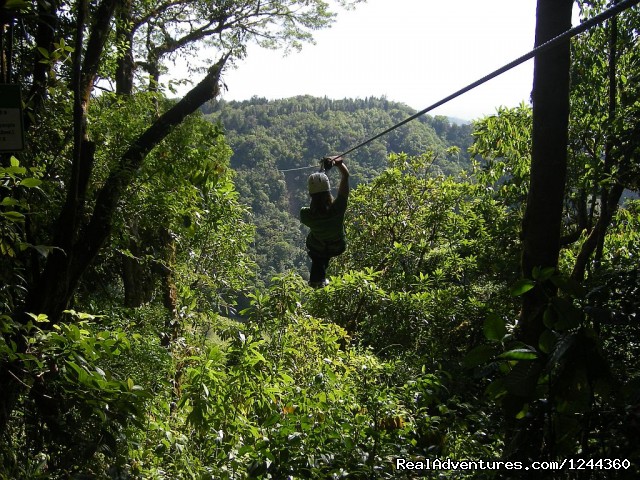 The drive to the adventure location is about 30 minutes from Ponce. You will notice, that vegetation gradually turn greener, mountainous and prettier. After we arrive to the private land, all participants meet each other, if they came in a separate car. After presentations, we begin the safety briefing, responding questions and doubts, equipment selection and gearing up for a nice adventure.
Depending on the tour selected, we hike between 30min to 1:15 hour, thru centenary old jeep trails , that in the past, where used to connect farms in the country side of Puerto Rico. The forest begun to reclaim the trail, because there is no traffic. We only use a little hiking trail, with no intention off widen up, to avoid the passing of motorcycles or atv's. Both trails immediately begin on incline from moderate to some steeper parts, then flatten out, and the final part, after crossing few clean drinking water streams, the trail go down, until the first adventure. A zipline of 100 feet long, to cross the river.
As the adventure progresses, we integrate the participants as assistants in the tour. The first rappel consist a 50 feet, not vertical waterfall. In this waterfall, we explain all the basics and techniques of rappelling. All rappelling stations, have a canyon guide in the bottom, doing "bottom belay", that consist in a case of a slip or an error made by the participant, the guide put little tension on the rope, and the descending device on the participant, will stop immediately. The guide is grabbing the rope at all times and giving pointers. He's also the first one to go down.
The Second rappel, is a 80 foot descend, vertical, that ends on a cold 20 feet of water. If you bring cameras, we can shoot pictures of you during the tour!
After the second rappel, we begin canyoneering down river, passing obstacles, like: down climbing from big rock, jumping in to water, short swims. The principal rule, when walking in the river thru wet stones, you have to be very careful about slippery stones. If the stone is very obscure or greener, is possible it will be as slippery as soap. Always check first to avoid falls.
The third rappell, is a 60 foot waterfall. It is a intense rappel, because of the current of the water facing you, but it is a lot of fun. If you prefer, you can use the down river left, for a drier rappel.
After this rappel, we take a break for a light lunch, pictures, anecdotes, etc.
The 4th rappel is a 25 foot, easy one, then 2 waterfall jumps. 4-8 feet each, before getting to the famous all you can rappell waterfall. It is a 35 foot rappel, that ends in a 25 foot of cold water. If you prefer, you can walk up, to do it as many times you want. There is also a section, where you can jump from 15-20ft high! We call it, all you can rappelling waterfall, because it is the last part of the tour, at 5 minutes from the car.
Co-Owner of Del Sur Adventures.
for this listing.