Come and discover the natural beauties of Corfu, The Corfu beautiful olive covered country, savoir wonderful home cooked meals.7 nights full board Local fish tavernas Packed lunches for the road Route Instructions/maps Free Transfers
Contact Owner For More Information »
Active Adventure
We would like to Welcome you to our walking, sightseeing and Leisure holidays in the beautiful, breathtaking island of Corfu, Greece.
Corfu is declared a UNESCO World Heritage Island thanks to the unique and undisputed beauty of its landscape, Corfu coast plunges into the sea from great heights, where a fantastic series of terraces support a culture known for Its History, Unique beauty, excellent cuisine and passionate people. It is no surprise that visitors leave with strong emotions, pleasant memories, and a strong yearning to return. The charming, seductive landscape inspired the Sirens in Homer's Odysseus, and is often known as the "Green Gate to Greece". The intense scent of lemons, the wild flowers, wild grown orchids, the olive covered hills, the bright colors of bougainvillea, the celebrated flavors of Greek cooking, and ancient centuries old villages all enhance a holiday of walking on a heady network of pathways overlooking the sea: lifelines between terraced land and rural villages. Visit Unesco Heritage Corfu town, with its maze of streets, Venetian, and French Architecture, alfresco cafes, markets and Byzantine buildings and the breathtaking fortesses that surrown Corfu town.
This unique walking sight seeing, kayaking and food tasting vacation is a guided vacation, and if you wish to have sometimes of self guided tours on your own, all you will have to do is to let us know. This vacation with us will show you the highlights of the Corfu, discover its natural beauty, walk over Rolling hillsides, olive groves, vineyards and panoramas, visit Hundreds of friendly mountain villages, taste and feel the smell of wild flowers, walk though old mule and donkey paths, see some of wild life and enjoy the breathtaking views.
The beautiful olive covered country side of Corfu and Corfu Trails is a walking route on the Ionian Island of Corfu, it has some spectacular natural beauty.
Corfu has remained very authentic and picturesque, featuring Venetian architecture, white beaches, clear blue waters and lustrous vegetation. During your walks you will wander amidst wild flowers on the slope of Mount of Agie Deka in the middle of Corfu, admiring the stunning views over the Greek Mainland, Corfu town, The mouse Island and Albania. You encounter traditional villages where real Greek food, home made Bread, wine & refreshments are served.
Visit Hundreds of ancient, friendly villages, come and walk on age-old tracks and mule paths.
What is Included
Free transfers, 7 day accommodation that is with breakfast and large home cooked dinner , Free packed lunches
7 day accommodation (double sharing) with breakfast , lunch and dinner included in the price, in our beautiful rural quiet and relaxing hotel, 1 day free kayaking to explore the nearby beaches and bays,
Packed lunches for the road
Route Instructions/maps
Luggage transfers
Transfers to and from Corfu airport
Rides back to the hotel after your walks, rides to the beach and Corfu town
Other Information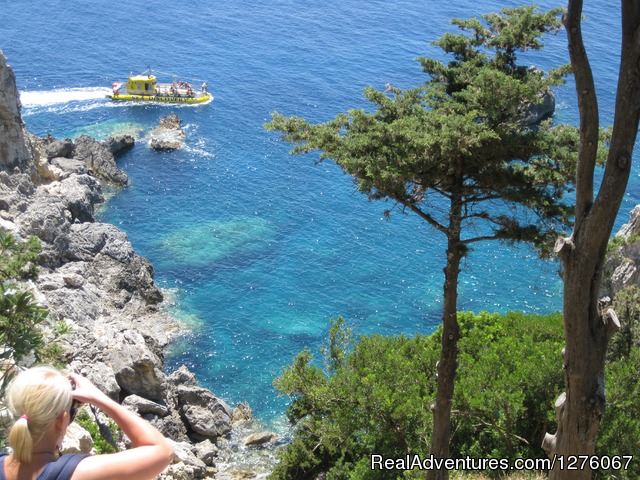 Our Location
After a day walking, come and Enjoy a home cooked meal, and enjoy a swim by the pool, a glass of home made wine by our pool bar. which is surrounded by green olive-clad mountains . At the village you can find everything you need. There are restaurants, bars, shops, supermarkets and all the kind of services.
The beaches of the island are waiting to be discovered
Within a short drive from our hotel there are 3 traditional Greek villages (Giannades, Pelekas, Pentati & Sinarades) where you can go by foot through picturesque paths and enjoy the beauty of the nature. Each village has to offer something to its visitor and is definitely worth seeing all of them as well as other Corfu resorts.
Corfu island offers a splendid coastal scenery and some excellent secluded beaches like Agios Gordios. On this cosmopolitan island, you'll be able to combine relaxation with good times and a full nightlife. Corfu is an international tourist center which can satisfy the demands of the most difficult visitors.
Corfu island is a unique holiday destination which can satisfy all the budgets and has everything to offer to the in depended travelers and to those who enjoy the Greek beauty and hospitality. This is the reason we have a big number of repeating visitors and many fans.