Karanga Adventure Tours always have a briefing and technique class before any ride to avoid accidents as we start a trip, and the ride will be only in day light hours. Karanga Adventure Tours provide good quality protective gear, and hand guards.
Contact Owner For More Information »
Active Adventure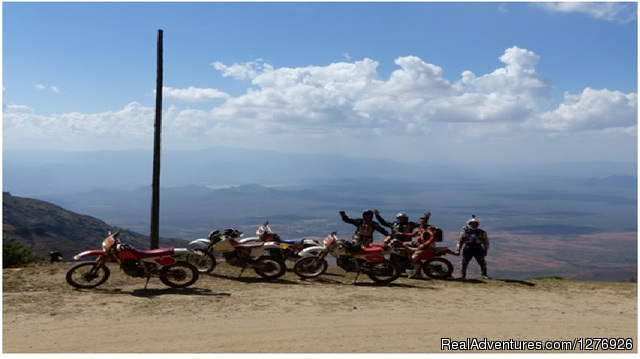 The motorbikes are off-road models prepared in our premises (HONDA 250, 400cc XR). These bikes are light, maneuverable and easy to ride, yet has enough power to ensure plenty of fun! All our bikes are kept in top condition and are serviced before every trip.
Our Tour leaders are all trained in first aid response and we always take a medical kit, we take our time to guide you and the tour leader is always available to advise you.
Drivers need not to have a special level of driving skills to participate; the circuit is open for off road learners.
Typical Day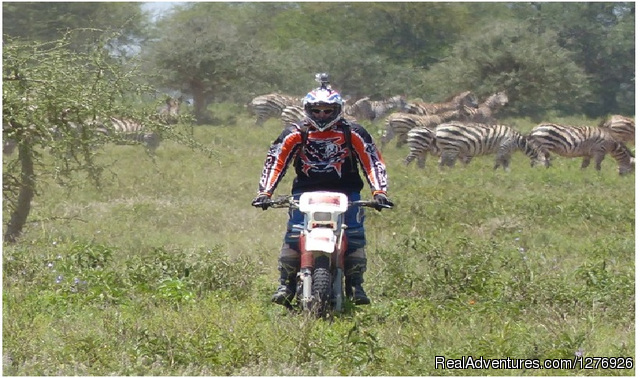 DAY 1: ARUSHA TO MAASAI STEPPE
After breakfast you will be picked at the hotel and transfered to Arusha outskirts where the bikes and the rest of the crew will be waiting for you. Today we are riding down to Naberera town in Maasai plain south of Tarangire National park, terrain will be few hills and mostly plain, dry land on earth road. We will be arriving at the camp for hot lunch and later after lunch we will have a game drive on Maasai land. This area is a refuge area for wildlife from the National park during the rain season and some of the game are resident here. Lots of bird species, antelopes, zebra, giraffe and probably elephants are clearly observed here. We will be back for dinner and experience Maasai warrior dance during the night.
DAY 2: MAASAI STEPPE TO HEDARU
Soon after breakfast we are going to break the camp and ride southeast of Naberera town, it's the typical African road, sand and dust. The ride will be typical endure loop to Hedaru and we will have several stops on the way for lunch and other activities. We will spend a night at the river bank of Pangani where there is a camp located. There is a lot of mosquito and during the night, please make sure you apply your repellants.
DAY 3: HEDARU TO LUSHOTO
Our adventure motorcycle ride will be on tarmac road for a few kilometers at the start then, catch up with earth road which will take us to the range of Usambara Mountains. We will enjoy a ride on these hills where the view is stunning. We will get lunch on the way and stop at different villages to get the interpretation of the cultural and traditions since colonial invasion.
We will spend a night at this old German Colonial town with wonderful sounds of crickets and night jars during the night.
DAY 4: LUSHOTO TO PANGANI
The adventure of the riders is today soon after the breakfast, we are going to ride on Usambara mountains passing Amani rain forest while watching the scenic beauty of the area. The supply truck will turn down to Muheza town with chefs and tents to prepare a hot lunch for the bikers. As we show up at Muheza town, lunch will be ready and there will be time for a nap. After the short nap we are going to take the bikes down to where the coast lays with an easy ride to Pangani town, where we are going to put the bikes on a ferry to cross this massive river.
We will start a 15min ride down to Ushongo beach for a night, might be humid, hot and mosquitoes will be around. Soon after your shower, it's an effective time to use your repellants.
DAY 5: BEACH CRUISING
There will be bunch of activities to do in Pangani beach like visiting the Marine park of Maziwe, scuba diving and snorkeling. During the night we will have a camp fire with all staff and crew and say good bye.
DAY 6: DEPART AT PANGANI TO OTHER DESTINATIONS
Departures will be soon after breakfast with other means of transport whether by car or flights and that will be end of our tour.
Asante Sana!!!
Other Information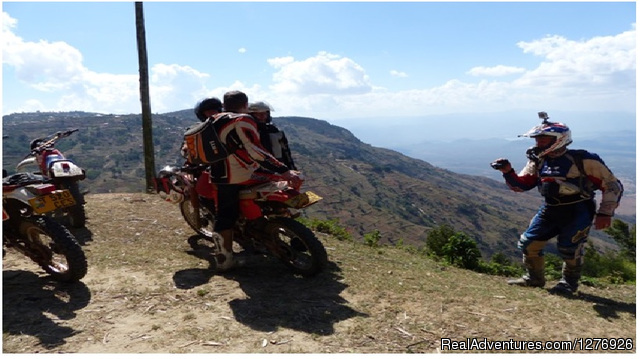 What we offer
Support car with professional crew; driver, mechanic, cook and tour leader guide by motorbike
Medical assistance and link up Air Rescue and Evacuation to Nairobi in case of emergency
Radio link between the support car, Arusha HQ and Flying Doctors
Visit of Parks and reserves with entry fees and game drives by 4WD car
Honda XR 250, 400cc trail bikes
Fuel and regular maintenance
Helmet, goggles and knee protectors
3 meals a day
Double tents with foam mattresses
Guide, mechanic and camp crew
Basic spares, tools and first aid kit
Bottled mineral water everyday
What we don't offer
nternational air tickets
A courageous gut
Visa and yellow fever vaccination
Hiking boots or motorbike boots
Personal travel & medical insurance (compulsory)
Sleeping bag for camping
Drinks in hotels
Money for personal expenses (drinks, cigarettes, souvenirs, tips…)
Refundable deposit for the motorcycle: US $700