Family Friendly Guided horse trailrides. 1 hour, 1.5 hour, 2 hour,3 hour rides as well as beautiful sunset rides in the Sonoran Desert in North Scottsdale. Dress up in our boots, hats and chaps for a true western horse riding experience. Gentle horse
Active Adventure
We offer a variety of
horseback ride
s through the beautiful Sonoran Desert. All of our horses are gentle and experienced and take great care of our guests. We specialize in family friendly, safe horseback rides that are perfect for beginners and experienced riders alike. Our trails provide an excellent view of the Go John Mountains and the Phoenix valley below. We offer the best horseback rides in the Phoenix area.
Our guides are always friendly and courteous and love to share their knowledge about horses, the Sonoran Desert, and Cave Creek's history.
Cave Creek trail rides offers a true western experience! We even include cowboy boots, hats and chaps to wear on your ride or just for great picture opportunities. We are dedicated to making your trail ride with us the highlight of your trip.
Typical Day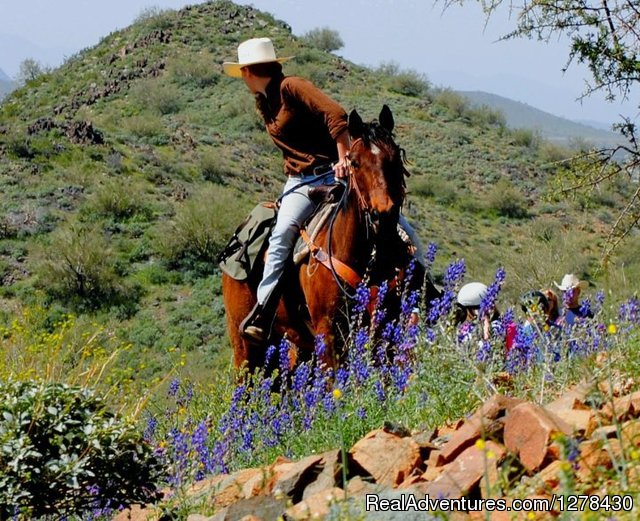 orseback riding in Phoenix, Arizona, and Scottsdale, Arizona, offers great views of Phoenix and the surrounding desert. Our cowboys and cowgirls will introduce you to the mining history of Cave Creek, Arizona and unique flora and fauna while on the back of a gentle mountain horse.
Our location in the foothills north of Phoenix at the top of Scottsdale, allows you to experience Sonoran Desert horseback riding near the historical areas of Cave Creek, Arizona and Scottsdale. Arizona. Enjoying a trail ride in Arizona offers you the opportunity to get a taste of life near Phoenix, Cave Creek, and Scottsdale, Arizona 150 years ago!
Age range, type of group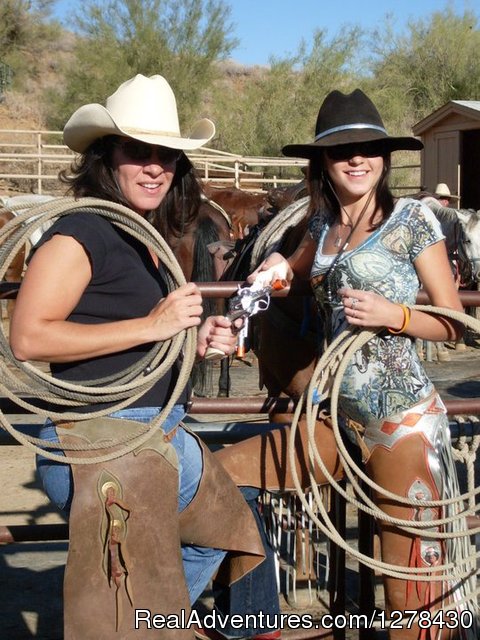 Minimum age is 6 years old
Because safety is our #1 concern, children 6 - 12 yrs old shall wear an equestrian helmet that we supply.
Complimentary horse rides for children under 6 years old. We request that you tip the horse wrangler.
Maximum weight is 250 pounds
All rides are guided, walking horse trailrides
Because of safety, younger riders have their own horse and can be led by the guide.
Arizona sunset on the back of a horse.By making a reservation we can guarantee you a horse for your horseback riding adventure. If you would like to stop in and chance availability please feel free to do so. Either way, please plan to arrive one half hour prior to ride start time.
We are recreation service partners with Maricopa County Parks and Recreation.
We accept Cash, Visa and MasterCard.
Tax is 9.3%
The park has a $6.00 entrance fee. Please stop and register when you enter the park. This money goes directly to trail maintenance and upkeep of the park.
Rates
1 hour loop ride:
$46.00/person + tax. 6-12 years old $41.00 + tax/child. This is our easiest ride which goes around the southern end of a hill with not much elevation gain. Get a taste of the Sonoran Desert and the true west with this one hour trail ride. Daily at 9:00, 11:00, 1:00, and 3:00.

1 hour sunset ride:
$56.00.+ tax, 6-12 years old $51.00 + tax/child. This spectacular ride puts you out on the trail as the sunsets and you ride into our corral at dusk. Please call for times of this ride. A perfect way to view the desert and a world class sunset at a quiet time of the day. Call for times and additional information.

1.5 hour ride: $ 56.00/person + tax, 6-12 years old $51.00 + tax/child. This ride has several trail options, depending upon the size and riding ability of the group. We feel our 1.5 hour ride is one of the best rides we offer. A perfect length, a spectacular ride and several trail options for different group needs. Call for additional information. Daily at 9:00, 11:00, 1:00, 3:00.
1.5 hour sunset ride: $66.00/person + tax, 6-12 years old $61.00 + tax/child. Our premier ride offered at a quiet, peaceful time of the day. Ride times vary as we want you on the horses as the sun is setting, coming in at dusk. Call for times and additional information
2 hour ride: $76.00 + tax, 6-12 years old $71.00 + tax/child. With a 4 person minimum during peak seasons. This longer ride is for guests that enjoy the desert and horses. Again, deeper into the park, with spectacular views and great riding opportunities.
Daily at 8:30 am & 1:00 pm
2.5 hour ride: $86.00 + tax, 6-12 years old $81.00 + tax/child. With a 4 person minimum during peak seasons. This new Quartz Trail is quickly becoming one of our favorites, with it's quartz outcroppings, gentle slopes, and beautiful Sonoran Desert views this trail is a must see.
Daily at 8:30 am & 1:00 pm
3 hour ride: $96.00 per person + tax 6-12 years old $91.00 + tax/child. with a 4 person minimum during peak seasons, minimum age 10 years old. Go John Trail tours through rugged backcountry passes, mines and rides through different ecosystems. You will see the best of the Cave Creek Recreation Area.
Daily at 8:30 am & 1:00 pm