Kruger National Park Game Hotspot Safari's
We offer Mid-Range Accommodated / Budget Accommodated and Camping Tours in the World Famous Kruger National Park.Tours range from 3 to 7 days and are inclusive of Transport, Park Entry Fees, Game Drives, Accommodation Fees and all Meals
Starting at
USD $
406
per Trip
---
Get More Information or Make Your Reservation »
Activity/Tour
Our Safari's allow you to get up close and personal with the Fauna and Flora of the Famous Kruger Park. We are Kruger Park Safari Specialists and our intimate knowledge of the park and which areas of the park are most likely, dependant on the Season to be the Game Hotspots, maximises your chances of seeing the Big Five, even on short Safari's. Our Overland Safari Vehicle simply amazes all who travel in her and offers great facilities (see below) with spectacular comfortable game viewing. Our Safari's have NO hidden costs and include Transport, Park Entry (Conservation Fees), Accommodation, Meals as specified (see Below) and Daily Game Drives in our Safari Vehicle.
GENERAL INFORMATION
We try to depart from a central point in Johannesburg by 06H00 on the morning of the Safari. Generally this is from the Gautrain Rapid Rail Station in Midrand or OR Tambo International Airport Bus Terminal. If you require inexpensive but upmarket accommodation on the night before or the night at the end of the Safari, we can arrange this for you and can collect and drop you off at this accommodation in Beaulieu. If you are a group of 6 or more you can book a Private Safari or if you are travelling Single as a Couple or a Family you can join an existing Safari which requires a minimum of 4 travellers to be confirmed.
Typical Day
We will collect you at the OR Tambo International Airports Bus Terminus where you will board the Safari vehicle. Our Safari vehicle is spacious and seats 12 with seat belts, the seat layout is such that it there is a very social atmosphere on board. There are storage boxes for valuables and personal gear you want to keep with you in the floor of the vehicle. Each set of seats has a table between and the seats face each other rather than our guests all facing forward in rows of seats. After a short introduction to the many facilities on board the vehicle such as the music system, flush toilet, heating system and Honesty bar facilities and completion of the indemnity forms we depart for the Kruger National Park. Once we drop off the Highveld Escarpment and into the more temperate almost tropical climate of the Lowveld the scenery becomes spectacular. We head for our Kruger entry gate where we will not only enter the park but have a full sit down luncheon. The excitement of entering one of the premier Game Parks on the planet is palpable and we offer a small prize to the first guest to spot an animal once we enter the park. We now meander on our first game drive towards our first overnight Rest Camp, en-route we will provide interesting information about the park and the various Fauna and Flora we encounter. Depending on your accommodation preference we will either set up camp or book into our accommodation. We will have an alfresco dinner around the fire or in our chosen accommodation. Each day we keep a record of the wildlife spotted and by whom on the sighting board on the back wall of the Safari truck and at the end of the Safari the winner is presented with a surprise gift…just a little fun and keeps everyone on their toes. We do have a couple of spare sets of binoculars available for those who do not have.
Day 2
After a Breakfast of Coffee, Tea, Rusks and Muesli with Yogurt or Milk, we will follow one of the game drive routes to our next rest camp stopping along the way at a picnic sites for a full Brunch. Our Safari truck is very high and each set of seats has a huge panoramic opening window with a smaller opening window at the top for ventilation which affords great Game Viewing and Photography. There is a more than adequate Charging System with adapters on board for charging Cameras, Go Pro's, Laptop's etc. There is a comprehensive nature library on board…everything from the grasses and trees to mammals, arthropods and insects to mention a few. Besides Elephants and possible other Big Five animals we should be spoilt with sightings of the various Plains Game such as Zebra, Wildebeest and other Antelope. There are areas of the park well known for the number of Cat sightings…Lion Leopard and Cheetah and we choose rest camps in these areas. For example Satara is a wonderful rest camp with a swimming pool and beautifully appointed accommodation and excellent camping facilities. We regularly spot the resident Honey Badger padding around camp going about his business. Once we have arrived at our rest camp we will book into our accommodation before relaxing in camp and then going out on our afternoon game drive. Night time in camp is always interesting, the whoop of a Spotted Hyena, the roar of a nearby Lion pride and the very unnerving cry of the Thick Tailed Bush Baby (Galago). Fiery Necked Night Jars, Crickets and Frogs add to cacophony. If you are on a camping safari the lighting system on our vehicle insures that when you need to get drinks or access your personal gear on board the truck at night, you won't be fumbling in the dark.
Day 3
With an early start after a quick breakfast we follow one of the many game drive routes to one of the beautiful picnic sites where we will have Brunch. Our Safari truck has a heating system for those chilly mornings and Pillows and Fleecy Blankets for your personal comfort. We will Game drive back to our rest camp in time check out of our accommodation. The Safari vehicle has fridges to keep your drinks ice cold…for your convenience we offer an honesty bar at prices much lower than those of the park shops but you are welcome to supply your own drinks and use our fridges. A flush toilet ensures that a fantastic sighting will not be cut short because someone needs the toilet, especially useful when we have children on board. We now head out on our second Game drive of the day en-route to our next rest camp arriving in the late afternoon, check in and prepare dinner…we may spot the resident Spotted Hyena who patrol many of the camp fences and possibly a Small or Large Spotted Genet. Weather depending we do some Star gazing and if you are from the Northern Hemisphere we will point out a few Constellations that you never get to see like the Southern Cross. Our Safari vehicle is equipped with fridges and cooler boxes on board and once the day warms up access to cold water and drinks is always appreciated. If you have chosen the Budget or Mid-Range accommodated option we will check in and have an alfresco dinner in camp.
Day 4
Following the usual early morning Breakfast we now head for our last overnight rest camp…we always try to include the fabulous Letaba Rest Camp. Situated on the banks of the Letaba River with beautiful views over the river and surrounding bush, a variety of game is often spotted in the river bed. The camp houses the awesome Elephant Hall Museum, a tribute to the Tuskers who have graced the park over the decades…entry is free and a must see. As in most of the larger camps there is a swimming pool for your convenience. The park shop sells anything from snacks to a range of clothing and various curios. Birdlife is prolific in the rest camps and the sounds of Mourning Doves and Woodland Kingfishers fills the air. We will do a morning game drive and be back in camp for Brunch. We spend the hottest part of the day in camp around the pool or visiting the Elephant Hall. In the late afternoon we will again head out on a Game drive back at camp we will prepare dinner alfresco style around the fire discussing the events and sightings of the past few days and drinking in the sounds of the African Bush.
Day 5
The sighting boards in each rest camp are very useful since we can see what large mammals have been spotted in the area and where. Our on board sighting board should be looking pretty comprehensive by now but if there are any of the Big 5 we have not spotted yet we now go in search of them using the information on the rest camp sighting board. As usual we will have a scrumptious Brunch in the park.
We spend the hottest part of the day in camp, around the pool, doing some birding if this interests you, sipping a cool drink at the restaurant or posting a postcard. We head out on our afternoon game drive in the late afternoon and hopefully add substantially to our sighting board. Some of the larger camps have outdoor cinemas and if there is an interesting show you may just want to go and sit under the stars and watch while we prepare your dinner.
Day 6
This is our last full day in the park and we definitely want to make the most of it…a quick breakfast and we are at the gate for opening time. On seven day Safari's we try to stay 2 nights at two of the rest camps, this means no pack up on one of the mornings and we can really get into the park very early. Although the theory is that early morning and late afternoon as the best game drive times our experience is that you can spot game any time of the day and some of our most spectacular sightings have been in the late morning.
A leisurely game drive with Brunch in the park sees us back at camp. A little free time allows you to browse the shop for a few last minute gifts and curios you may want to buy. If you have chosen to do the Panorama Route (additional cost of R 350 per person) on the way back to Johannesburg then we will exit the park to day and head for the Forever Resorts Blyde which poises us perfectly on the brink of the Blyde River Canyon for the Panorama Route we will do tomorrow en-route back to Johannesburg. If we are not doing the Panorama Route then we will do an afternoon game drive ending up at our last rest camp where we will have a full Dinner.
Day 7
We sadly pack up for the journey home but not before delighting in the fact that we still have time for a last game drive to the park exit gate at and trust us some of our most spectacular sightings have been on this very last day. We will have a full Brunch at a suitable establishment once we have exited the park (included) before making our way back up onto the escarpment from the Lowveld back to the Highveld and heading back to Johannesburg. We will end up back at the Bus Terminus at OR Tambo International Airport from where you can access hotels and guest houses in Sandton and Pretoria via the Gautrain. If your post Safari accommodation is near the Airport these establishments usually offer free airport transfers to their guests, Taxi's are also available. We will say our good buy's and see you on your way.
If we are on the Panorama Route we visit the Three Rondawels, Bourkes Luck Potholes and Gods Window before heading for home stopping en-route for Brunch (included) and then on to Johannesburg.
JUST SO YOU KNOW (Footnotes)
1. On 4 Day Safari's the last night will be at a Rest Camp near a Park gate where we will exit the park after a morning Game Drive.
2. Entry Gates, Rest Camps and Routes may differ due to accommodation availability.
3. We generally end up doing around 400 to 600 Km of Game driving while in the park.
4. SANParks offer various activities in the park such as Night Drives and Early Morning Bush Walks with SANParks Rangers, if you want to participate in any additional activities these are Booked and Paid directly to SANParks.
Age range, type of group


We offer the personal attention and impeccable service that you will only ever get from the owner of a business…it is in our best interest to give you an unforgettable tour since word of mouth is our principal method of attracting travellers…
Our rates may be lower than other tour operators but because we own and run the tours ourselves, our overheads are lower and we pass this saving onto you!!
Target travellers:
There are mainly two types of travellers who utilise our services…
The 20 to 35 age group who are happy to Camp or stay in Budget accommodation and…
Family groups of up to four families travelling together, either Camping or staying in Budget or mid-Range accommodation. This makes up a large part of our customer base since the Overland Vehicle we use suits their purpose perfectly (see vehicle facilities below)
Single or small groups can join other groups to make up the 6 minimum…
..or groups of 6 or more can design their own personalised tour.
Sleeping and meals
Camping Accommodation is in Canvas Dome Tents that you can stand up in with Lighting for each tent, Comfortable Foam Mattresses with Sheets, Pillows.
Budget Accommodation varies between Bungalows, Huts and Fixed Safari Tents in Rest Camps, Bush Veld Camps and Tented Camps. Even though this is a Budget Accommodated Safari we always strive to find accommodation that has Private Ablutions but this is not always available and there may be times when Communal Ablutions are the only alternative.
Luxury Accommodation consists of Guest Cottages, Guest Houses or Chalets in Private Bush Lodges, Bush Veld Camps and Rest Camps. In the Bush Lodges and Guest Houses, we book the entire lodge or Guest House for our private use and in the Rest Camps and Bush Veld Camps we only use Guest Cottages that have Private Ablutions, mostly En-suite.
CATERING
Day 1 includes Full Lunch (en-route) and Full Dinner and the last day includes a Full Brunch at a convenient venue outside the park. On all other days we have Breakfast (Coffee/Tea, Rusks and Muesli with Yogurt), Full Brunch and Full Dinner.
Policies & Restrictions


There is no smoking on the tour vehicle
We accept children from the age of 2
Rates


Budget Accommodated rates from R 1842 per person per day sharing
Mid-Range Accommodated rates from R 2752 per person per day sharing
Other Information


This tour is family friendly and welcomes children from 2 year old.
The Overland vehicle has ample space for baby prams, push chairs and car seats.
Our tours are ideal for up to 3 to 4 families travelling together.
For mixed groups, the tour itinerary is fixed but private groups of 6 or more can customise a tour.
Tours require a minimum of 4 and maximum of 12 participants.
Your safety is our primary concern and no compromise is made in this regard.
Discounts Offered


Book 9 places and pay for 7
Book 12 places and pay for 9Get More Information or Make Your Reservation »
Map Legend
Kruger National Park Discoverer - South Africa
Kruger National Park, Nelspruit, South Africa
| Description | Distance |
| --- | --- |
| Panorama Route | |
| God's Window | |
| Bourkes Luck Potholes | |
| Blyde River Canyon | |
| Kruger National Park | |
| Description | Distance |
| --- | --- |
| Elephant Whispers | |
| Moholoholo Wildlife Rehabilitation Centr | |
| Hoedspruit Endangered Wildlife Centre | |
| Sudwala Caves | |
| Elephant Hall Museum | |
Get More Information or Make Your Reservation »
| | Style | Price | Rate Description |
| --- | --- | --- | --- |
| 4 Day Kruger Game Hotspots | Budget | R 7706 | Per Adult Sharing, Children Under 12 Pay 66% |
| 4 Day Kruger Game Hotspots | Camping | R 4997 | Per Adult Sharing, Children Under 12 Pay 66% |
| 5 Day Kruger Park Discoverer | Camping | R 5868 | Per Adult Sharing, Children Under 12 Pay 66% |
| 7 Day Kruger Game Tracker | Camping | R 7610 | Per Adult Sharing, Children Under 12 Pay 66% |
| 5 Day Kruger Park Discoverer | Budget | R 9480 | Per Adult Sharing, Children Under 12 Pay 66% |
| 7 Day Kruger Game Tracker | Budget | R 13028 | Per Adult Sharing, Children Under 12 Pay 66% |
| 4 Day Kruger Game Hotspots | Luxury | R 11006 | Per Adult Sharing, Children Under 12 Pay 66% |
| 5 Day Kruger Park Discoverer | Luxury | R 13880 | Per Adult Sharing, Children Under 12 Pay 66% |
*Please
contact advertiser
for rates & availability for your travel dates.
Christopher Holl
(View My Profile)
Tour Operator specialising in Kruger National Park Tours.
Mid-Range Accommodated / Budget Accommodated and Camping Tours
No reviews yet, be the first to
write a review
for this listing.
Christopher Holl
Kruger National Park Game Hotspot Safari's
Armadillo Africa Overland Safari & Adven
Kruger National Park
Skukuza, South Africa
Get More Information or Make Your Reservation »
Show Filter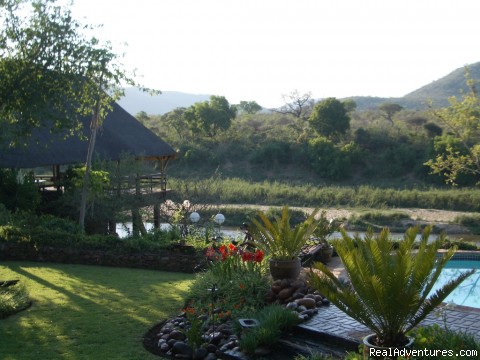 'Old fashioned' Country style lodge DINN...
76.3 mi away
Malelane, South Africa Wildlife & Safari Tours
From

EUR €190

per Night
Private Kruger Park open vehicle safaris...
27.1 mi away
Hazyview, South Africa Wildlife & Safari Tours
From

EUR €405

per Trip
Kruger Park Safaris...
25.4 mi away
Kruger National Park, South Africa Wildlife & Safari Tours
From

EUR €402

per Trip
Exclusive lodge in Nelspruit...
106.6 mi away
Nelspruit, South Africa Hotels & Resorts
From

EUR €72

per Night
Show Filter

Great Vacations & Exciting Destinations Listing
Add a multi-page listing promoting your accommodations, tours or travel services to customers on our network of travel sites. Your listing page can have up to 26 images, unlimited text, interactive map, availability calendar, ecards, photo-gallery and more.
Rates From US $17 Per Month
»
View Details
Search Filter

Skukuza
Wildlife & Safari Tours
Free Travel Ideas Newsletter