Princess Trails is a family business in the romantic city of Udaipur, organising Horsback Safaris and Riding Holidays on Marwari horses in Rajasthan/India. Discover India's fascinating culture and nature from the back of a well-trained horse, a uniq
Active Adventure
Some of our Safaris are connecting major festivals in Rajasthan such as the Pushkar Camel Fair and are bound to certain dates. Many of our safaris are also going through a number of wildlife sanctuaries such as the Kumbhalgarh Wildlife Sanctuary or the Sita-Mata Wildlife Sanctuary so our riders can enjoy the spectacular Indian flora and fauna.
Our Aravalli Wildlife and Nature Safari is especially designed to experience the wildlife of the Aravalli Mountains, famous for Leopards, Wolfs and deer. In the Kumbhalgarh Wildlife Sanctuary also the rare Sloth bear can be spotted.
Our Mewar Trail combines the pleasure of riding through the interesting however less frequented Sita-Mata National Wildlife Sanctuary and the experience of seeing a very historic part of the former princely state of Mewar. Our riders will spend two nights in our beautifully renovated 18th century rawla or village fort, being able to learn first hand about the feudal past of the Rajputs.
We believe in the principle of natural horsemanship. That means we keep our horses as naturally as possible and care for them with love and affection.
Our horses are properly fed, shoed and have fitting, comfortable high-class saddle tack. We do not make use of underfed and untrained village horses.
Most of our horses are Marwari horses, indigenous to this region, perfectly adapted to the geographic and climatic conditions of Rajasthan and very comfortable to ride. Their ears are distinctively curved inwards in a lyre-shape, which makes them unique and easily recognizable. Like many other ancient breeds they have a forth gait, the so-called Revaal, a type of rack, very relaxing for the rider.
We have horses for both beginners and advanced riders and also provide riding lessons if necessary.
All our horses are forward going, well trained and a pleasure to ride.

All our safaris are organized as close to nature as possible and are eco-friendly. We use local supplies and groceries and prevent unnecessary waste. Cooking and lighting is done with gas as not to cut done forest wood.
Our safaris provide rural employment as we occupy local people as helpers, guides or artists. We strongly emphazise local culture and try to help preserve it in giving the peaople a sense of value and pride.
Our main aim is to show the unique culture and ecology of Rajasthan to our guests and connect this with an unforgettable equestrian experience.
On our safaris, the guests stay overnight in our tented safari camp in the Indian bush. Every evening we set up our camp at a different location, sometimes next to a little village, sometimes in the loneliness of the Indian landscape.
Each of our camp-site is chosen with the greatest care in order to ensure the safety of the guests and the scenery of the surroundings.
If possible we set up the safari camp at a place near a small lake or on top of a hill thus giving our riders prime views and lots of things to see such as watching kingfishers or flamingos fishing for food in one of the many lakes of Rajasthan or observing a village farmer farming his field with a pair of oxen.
In some places we offer activities such as night safaris or nature walks so the riders can enjoy some of the local fauna and flora, spotting animals or rare plants.
Our safari camp, designed in the fashion of the traditional hunting camps of the former Maharajas and Jagirdas, is equipped with comfortable double tents, a bathroom trolley, a central dining area and an open-air kitchen.
The tents are deluxe double tents (size 10x10 feet) with comfortable beds and a carpet on the floor. There is a roofed entrance where the guests can leave their shoes.
In our camp we cater to all of our guests wishes. We serve a continental breakfast with fresh fruits of the season, packed lunch, tea and an Indian style dinner, prepared by our chief. In the evening we organize an extensive entertainment program with Rajasthani folkdances, music performances, etc.
A sanitary trolley provides toilets and cold/hot showers.
During the ride or afterwards we offer local sightseeing trips if possible. That can be a village haveli, a castle or fort, a temple or a natural sight.
If no sight of interest is at hand, something else is prearranged, such as a bullock cart ride, henna application, an elephant ride, etc.
In the evenings the days are ending with a discussion or pleasant talk around a cozy campfire watching the stars.
For beginners or families we also arrange stationary programs in and around Udaipur with overnight stays at a hotel in Udaipur or on our farm.
The program is flexible and includes sightseeing, riding, riding lessons or other activities such as camel cart rides, elephant rides, horse carriage rides or jeep safaris.
Age range, type of group
We however do not take non-riders without prior riding experience on our safaris. For beginners we arrange special "light safaris" with reduced riding hours and easier terrain.
Sleeping and meals
Included in our price is full boarding with all non-alcoholic beverages. We serve continental breakfast with fruits of the season, milk and yoghurt are usually available.
Lunch is taken as picnic lunch, usually a choice of light vegetarian Indian food and fruits.
After arrival in the safari camp we serve afternoon tea including tea/coffee/cold drinks and different snacks such as pancakes, sandwiches, fruits, etc.
In the evening a three-course Indian dinner is served including soup, main course and dessert.
Other Information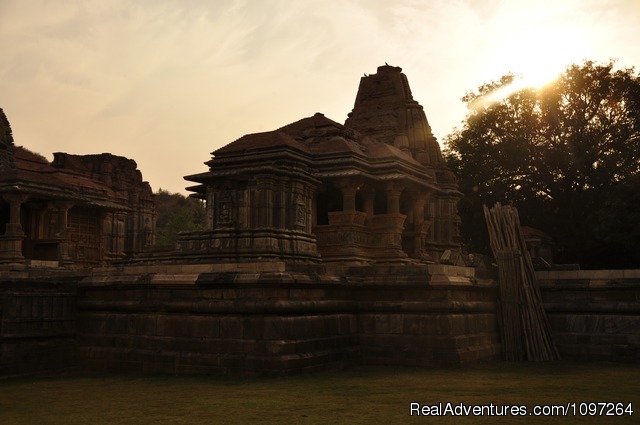 Please note:
Our safaris are special for a number of reasons. First and foremost we offer the riders the chance of getting to know rural India with its fantastic countrysides, little villages, its great nature and ancient culture, still detectable through scattered monuments such as forts, temples, havelis, etc.
Further on our safaris we introduce our riders to the unique Indian Marwari horses, the former mounts of the Maharajas and princes of India. All our horses are in perfect condition, well trained and friendly. Spare horses are taken in case a horse falling sick or getting lame. Each horse has fitting, well-maintained saddle tack for the comfort of both horse and rider.
We handle every safari personally so that our riders feel at home. Every detail is taken care of and no wish is left open.
NEWS-NEWS-NEWS-NEWS-NEWS:
Castle-to-Castle Safari, 09.09. â€" 16.09.2013
6-days luxury horseback safari into the Aravalli-Mountains with overnight stay in Heritage & Palace Hotels
= 2600 US$ per person
Autumn Safari, 23.09. â€" 30.09.2013
7-days horseback safari into the Aravalli-Mountains
= 1540 Euro per person
Festival Safari, 03.10. - 12.10.2013
9-days horseback safari over the Malwa Plain (Mewar Trail) during the Indian festival of Navratri and Dusshera.
= 1980 US$ per person
Diwali Safari, 26.10. - 04.11.2013
9-days horseback safari over the Malwa Plain and participation in the Indian festival of Diwali.
= 1980 US$ per person
Pushkar Fair Safari, 06.11. - 15.11. and 15.11.2013
9-days horseback safari to the Pushkar Fair and Camel Market
= 1980 US$ per person
Castle-to-Castle Safari, 27.11. - 03.12.2013
6-days luxury horseback safari into the Aravalli-Mountains with overnight stay in Heritage & Palace Hotels
= 2600 US$ per person
December Safari, 08.12. â€" 17.12.2012
9-days horseback safari over the Malwa Plain.
= 1980 US$ per person
New Year Safari, 26.12.13 â€" 02.01.2014
7-days horseback safari into the Aravalli-Mountains (Aravalli-Nature-and-Wildlife-Safari) with a special New Year's Program.
= 1540 US$ per person
More safaris for 2014, just contact us!
We arrange safaris at alternative dates for a minimum of 2 riders!