A weekend at ROLLING THUNDER RANCH is a getaway within a getaway, a lavish oasis within one of the most idyllic regions in the world OJAI. It's lingering leisurely in a hammock. It's unwinding in the sprawling gardens, jungle spas, and swimmi
Surrounding Area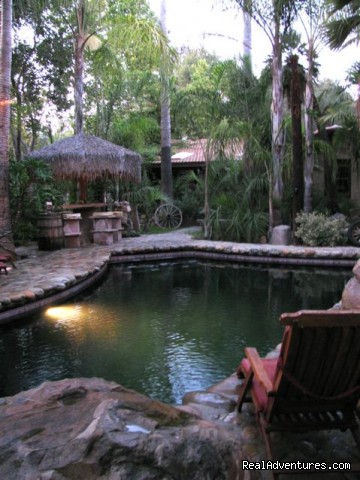 OJAI ATTRACTIONS
Long known for its scenic beauty and abundance of open spaces, the Ojai Valley is a paradise for outdoor recreation and nature lovers, but it offers much more. From antiquing and gallery hopping to shopping, sightseeing and personal pampering, there's plenty to see and do in Ojai.
find out more...
Ojai Music Festival
Ojai Valley Tennis Tournament
Calendar of events
The Ojai Valley Museum
Official Website of the City of Ojai
Ojai Vineyard
Hiking
Hiking Trails
Lake Casitas Recreation Area
Something for everyone! Over 400 campsites, picnic areas, fishing and boating, biking and hiking, special events and for the most family fun: SNOW BIRDS PROGRAM.
find out more...
Golfing
Hot Springs - Matilija Canyon
fun things for kids to do in Ojai
Old Creek winery
Amenities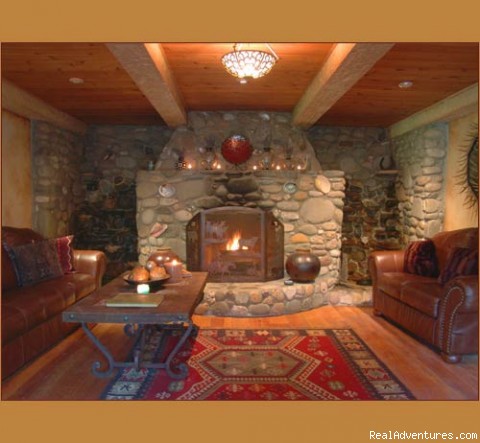 Large Black Bottom Swimming Pool
2 Large Spas
2 Huge Fireplaces and dinning areas (furnished with firewood)
2 Huge Poolside Santa Maria BBQ Grills
River Rock and Stainless Steel Modern Kitchen with Appliances
Exotic Gardens & Over 500 Palm Trees Surrounding House & Pool
Outrageous Outdoor Dinning Area for 12 -14
2 Poolside Tiki Bar Seats -7
2 River Rock Bathrooms with Rock Shower
Wireless Internet Connection
Cable Television & DVD Player
I Pod Speaker Deck
Ceiling & Floor Fans
Indoor Koi Ponds
Wood Floors
Central Heating
Central Air Conditioning
2 King Feather Beds
2 Queen Feather Bed
1 Pull Out Sleeper Queen Couch
3 Bathrooms
Indoor Dining Table (seats 6)
Washer and Dryer
Plush Leather Furniture
Persian Rugs
Pool Lounge Furniture
Hammocks & Pool Rafts
24- Hour assistance
5 total fireplaces on property
Beauty Everywhere
Services Offered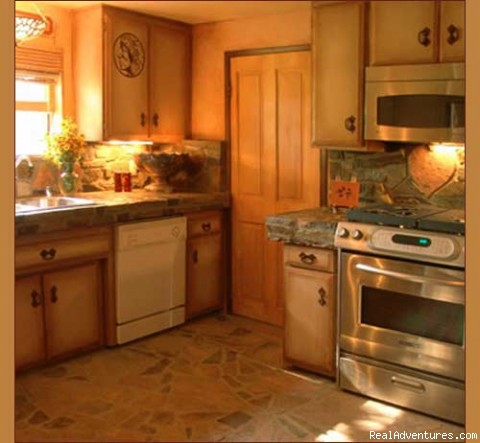 Private Chefs in Ojai Valley
We will provide the precise culinary experience that best suits your taste. Our professional chefs provide the highest quality service and food. Whether you desire meals for the week or day, fresh or frozen in your kitchen, we can arrange it all. Our chefs are professionally trained and have the talent and experience in fine dining, catering and nutrition.
We will provide the perfect set of offerings.
• Interested in a romantic meal without the preparation?
• Want to provide your infant the highest quality food possible?
• Desire to learn some new skills?
• Want to throw a party or are too busy to cook and shop? Our chefs are passionate about sharing their great talents and offer unparalleled attention.
• We provide meal services that range from completely custom to more moderately priced options that are detailed to your needs.
• We offer are in-home meal preparation of daily cuisine.
• We coordinate meal planning, menu development and meal production for special diets.
Massage and Facials
Ojai is well known for Spa treatment facilitators. Let us schedule you a day of pampering rejuvenation and at one of our private therapists. Offering extensive variety of facial, skin, and body treatments designed for men and women for pampering, relaxation and detoxification.
Bicycle Rentals
There is no need to drive while vacationing in Ojai. For free family fun rent bicycles to ride through town for sight seeing. Ride the Ojai Bike Path that begins on the East end of Ojai and runs all the way to Ventura. You can get anywhere in town from the bike path and enjoy the peace and quiet.
Housekeeping
Standard cleaning service is included upon your departure. Additional, housekeeping services can be arranged at any time during your stay.
Grocery Delivery
Want to cook your own meals while you stay in Ojai? Don't feel like going through the hassle of shopping and standing in line wasting your vacation time! Give us your shopping list and we will have your cupboards stocked with all your favorite groceries prior to your check in.
Flower & Welcome Basket Delivery
Celebrating a special event? We will help you find the perfect theme flower arrangements for your event.
Let us have the most beautiful flowers delivered to your vacation home during your stay in Ojai.
• Exotic or tropical
• Wildflowers or traditional roses. Welcome amenities we can provide for your stay.
• Welcome baskets
• Breakfast baskets
• Wine and cheese baskets
• Children's goodie baskets
Planning a romantic evening? We will be happy to spread rose petals romantically in your bedroom, or in a person's name.
Transportation and Limousine Service
Let us arrange for all of your transportation needs. What best suits you? Our staff can arrange the details.
• Rental car?
• Rental van?
• Limousine?
Enjoy the pampering of our premier limousine service with highly experienced, courteous and knowledgeable safe drivers, during your visit to Ojai.
Rest assured that we will take care of every detail and you can relax knowing that whether it be to take you to and from in Ojai, an early morning ride to the airport, a late pick up from a night on the town or a short run to and from the store, it will be handled with utmost diligence and professionalism.
Yoga and Pilates
Cultivate a steady mind and exercise during your stay through Yoga and Pilates. Let us schedule you rejuvenation with the most highly respected instructors in Ojai.
Warm Water Massage
This unique massage is known as Watsu Massage. The Watsu Massage is a manual aquatic bodywork technique that uses the flow of 96 degree water and buoyancy to provide gentle mobilization of joints and tissues. With continuous support from the practitioner and the floatation devices, the client is floated and moved through a series of gentle yet deep stretches in the water. This technique is profoundly relaxing, moving your body beyond its limitations, thus bringing new life into the body and deep relaxation for the mind. Book yours today.
Horseback Riding
Take a guided tour by professional trail riders of Ojai through the ancient trails of the Chumash Native American tribe. Discover the wilderness, relax, and smell the fresh Mountain air.
Guided Hiking Tours
Hike in the Los Padres National Forest- It's always fun to walk in the wilderness, and there's a lot to learn if you bring a book on plants and herbs. Let our experienced tour guides of Ojai lead you on an exploration adventure. Hiking to breath taking views, over looking Ojai Valley and Lake Casitas. Hike to Natural Hot Springs, water holes, and creeks of Ojai that were used by early settlers of Ojai and the Chumash for drinking water, natural hot tubs to ease pain, bathing, etc
Decorating - Holiday or Special Event
We have a highly respectable Event coordinator of Ojai Valley.
• Celebrate the holidays in style with our creative decorator.
• From Christmas to Hanukkah... New Year's to birthday celebrations... we can provide a simple and elegant decor or an extravagant array of color and lights.
• Indoors and out, we have the resources to turn your vacation home into a grand festival or wedding event.
There is no request to difficult...we look forward to serving you!
Local winery & picnic
Let us arrange a gourmet picnic and wine tasting just minutes away from your vacation home.
for rates & availability for your travel dates.
for this listing.